Since MySpace's fall, music has been almost entirely absent from social media.
In their current interactions, Facebook, LinkedIn, Twitter, Instagram, and Snapchat all lack a convenient way to share music amongst friends, the way that MySpace once encouraged. When Facebook knocked the site out of the social-media stratosphere in the early 2000s, the thing that longtime users mourned the most about MySpace was its eye on entertainment—and on music, specifically.
Facebook is useful. MySpace was expressive, emotional, creative.
Music-streaming services, which are now the predominant way people listen to songs and albums, have also been too busy trying to turn a profit to develop social-networking features—until now, that is.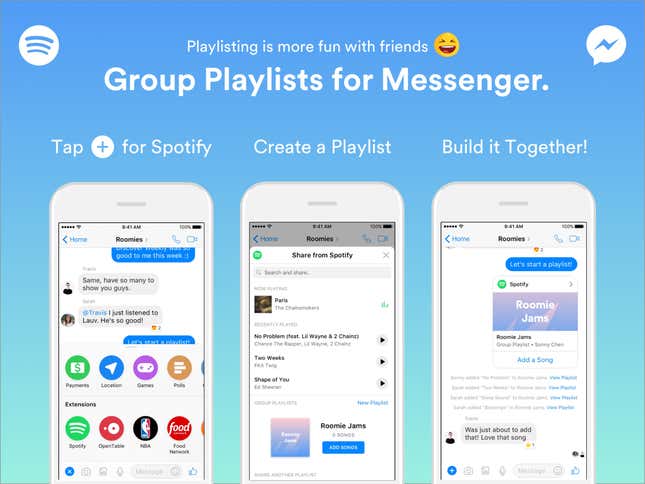 This week, Spotify—which recently hit 140 million active users and is angling for a direct listing on the New York Stock Exchange in the near future, suggesting it has finally reached some level of stability in the volatile music market—announced a new feature within Facebook's messaging app that allows Messenger's 1.2 billion monthly users from around the globe to collaborate easily on Spotify playlists from within chat conversations. The feature follows Spotify's introduction two months ago of a bot inside the Messenger app that lets people search and share music; that bot, according to Spotify, has already shared "millions of songs."
"Playlisting is more fun with friends, and starting today, the process is getting even more social," Spotify said in a press release about its new collaboration feature. But that makes it seem like the feature is some forward-leaping innovation. This is, instead, a return to an old idea.
Joining forces with the immensely popular Messenger app signals Spotify's intent to move in on at least part of the space that MySpace once occupied: the sharing aspect.
It may have fierce competition yet. Facebook itself is said to be interested in striking music deals in order to host official music videos and let users add soundtracks to their personal videos. Even MySpace realized the lack of a proper social-music platform—one that goes beyond streaming services' utilitarian aim of delivering songs alone—in 2013, when it, in a last-bid attempt to save itself from utter irrelevance, made a pivot to music and video content. Between 2013 and 2014, the previously decaying site grew 469%.