What do Unilever and Rolls-Royce have in common? Both companies' stocks will probably be blocked from "dark pool" trading when new EU regulations kick in next year. In fact, some 94% of the 100 biggest companies on the London Stock Exchange are likely to be barred from trading on the secretive alternative markets, according to Rosenblatt Securities using data from Bats Europe.
Dark pools are so called because price quotes aren't displayed publicly like on a normal stock exchange. The idea behind them is to make it easier for portfolio mangers to trade large blocks of stock, shielding orders from traders and algorithms that try to identify their intentions and bet against them before they can complete their transactions. Various pools are run by banks, specialist firms, as well as traditional exchange operators.
Starting next year, the EU plans to limit the amount of stock market trading that can take place in dark pools. For example, it will stop a particular stock from trading in dark pools once they account for 8% of trading by volume in the company. Breaching that threshold triggers a six-month dark-pool ban for the stock.
Based on recent trading, stocks in the UK, Ireland, and Nordic countries will be most affected by the new rules. (London traders will have to comply with the regulations when they're implemented in January, but whether and how the UK will comply after Brexit is an open question.)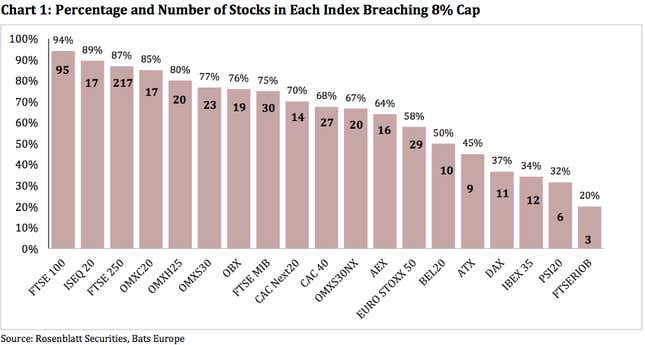 Estimates suggest dark pools account for about 8% of overall trading in Europe—right at the ceiling set by the new rules—according to Rosenblatt. In the US, dark pools now account for more like 16% of total trading.
EU regulators are concerned because dark pools have taken market share from traditional exchanges, and also because the size of trades on some dark pools is similar to normal exchanges. If the purpose of dark pools is to facilitate large trades, shrinking order sizes suggest something else is going on inside these opaque markets. A series of fines against US dark pools operated by brokers hasn't helped their reputation (which also suffer, in general, from their ominous nickname).
Critics of the EU's new rules say dark pools are widely used for a reason, making some types of orders cheaper and easier. They also contend the limits were chosen arbitrarily by Brussels. The risk for stocks like Unilever and Rolls-Royce is that trading may become more expensive and complicated, which is what regulators were hoping to avoid in the first place.