US consumers are borrowing again, and that's a good thing. Really.
Consumer borrowing rose by $19.6 billion in May from April, to a seasonally adjusted level of $2.84 trillion.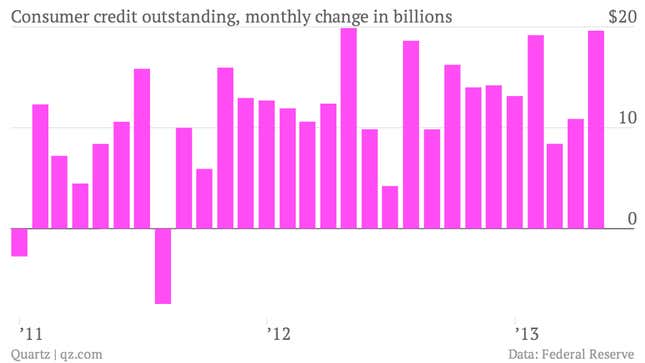 The bulk of the gain came from nonrevolving credit—a category that includes student and auto loans. That category jumped by $13 billion in May. Revolving debt—mostly credit cards—posted one of the biggest jumps since the most recent recession, rising $6.6 billion. That bodes well for both consumer confidence and retail sales. Back in the go-go years of 2006 and 2007, revolving debt used to increase by an average of $6 billion a month. Oh, and for the record, the Fed's consumer debt report released this afternoon doesn't cover the largest category of American retail borrowing: mortgages and real estate loans. Here's a look at the revolving and non-revolving numbers.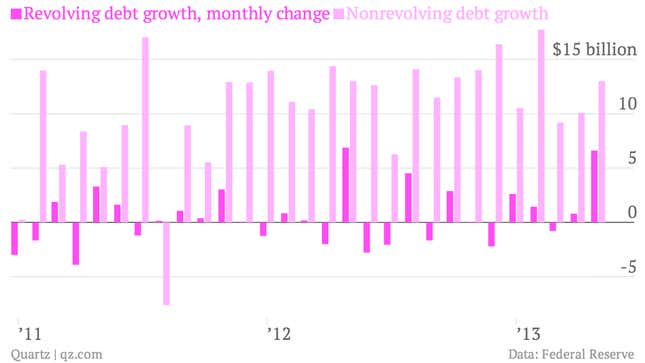 Debt's gotten something of a bad name in recent years. Virtually any uptick in borrowing prompts people to cry bubble. And there are some reasons for concern. As we've reported before, the staggering growth in student borrowing has been one of the only areas consumer borrowing that never shrank in the aftermath of the financial crisis. Here's a look at the most recent detailed quarterly numbers, released by the Federal Reserve back in May.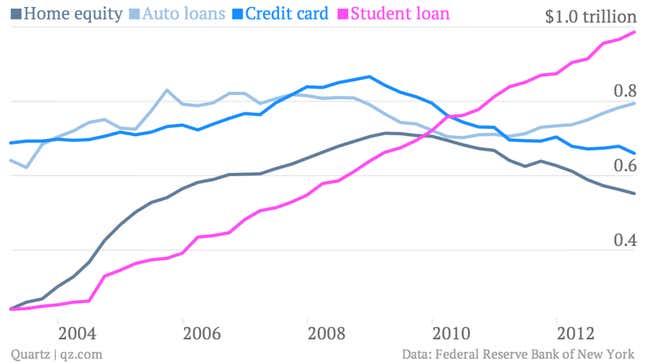 But the consumer-driven US economy runs on credit, which helps boost growth. Easy access to automotive credit has been one of the key reasons the US auto business is going gangbusters at the moment. In June, auto sales hit a seasonally adjusted annualized rate of nearly 16 million. That's the best pace for sales since way back in late 2007. Take a look.