A tree has to be pretty tough to weather torrential monsoons of Southeast Asia's dense forests. And teak trees happen to be the toughest—so tough, in fact, that they've long been coveted by makers of luxury boats (the Titanic's decks were teak) and of upscale outdoor furniture. It's scarce though. Natural teak forests grow only in four countries on the planet (pdf)—Myanmar, India, Laos and Thailand.
That's made it expensive—and it's about to get way more expensive. Starting April 1, 2014, the Myanmar government will ban the export of virgin teak.
That will deal a big blow to global supply; around 75% of the world's teak market originates from Myanmar forests. The country has long dominated the market despite import bans that the US and the European Union instituted in the early 2000s. Teak traders have evaded sanctions by shipping Myanmar logs to neighboring countries, which process the teak and sell it to the luxury boat industry (pdf, p.32) and other luxury wood-working industries in Western countries. India is by far the biggest market, followed by China, Thailand and Vietnam (pdf):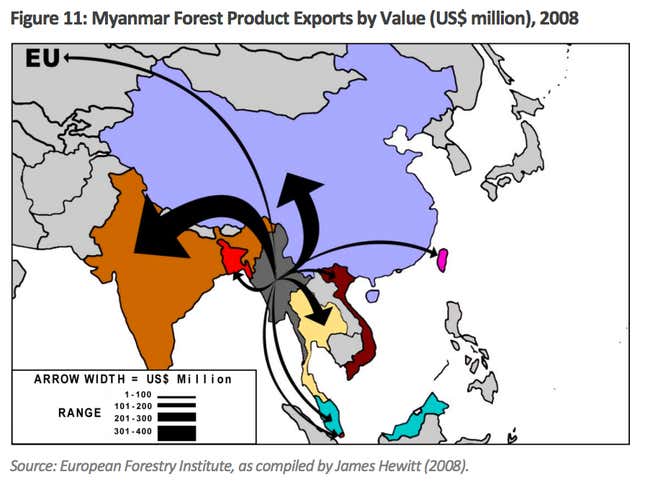 However, that trade has come at the expense of Myanmar's local processing, or "milling," industry, as you can see: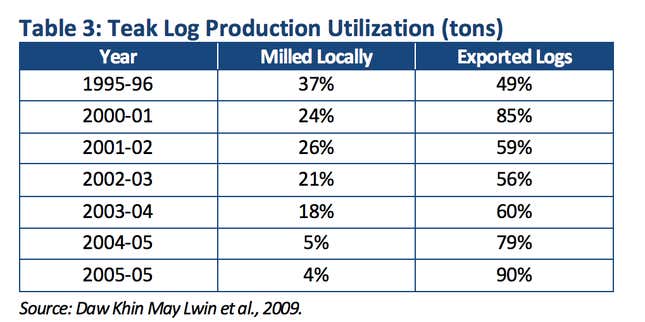 That's thanks in large part to trade bans, which left Western businesses unable to import Myanmar-milled teak. Myanmar is now the only country in the world that still exports a sizable volume of virgin logs (pdf, p.4). The government now hopes that banning that trade will give domestic millers a chance again.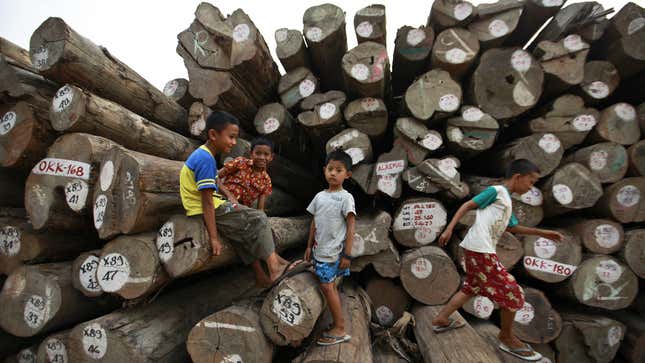 Deforestation is another consideration for the government, though. Despite the $600 million Myanmar's teak trade earns annually, the toll has been severe. Forests that covered 51% of the country in 2005 now occupy less than a quarter of it. If the logging bonanza continues at the current clip, Myanmar's wood supplies will be gone within a decade (pdf, p.15), reports the Environmental Investigation Agency (EIA). And falling supply is already dragging down total exports: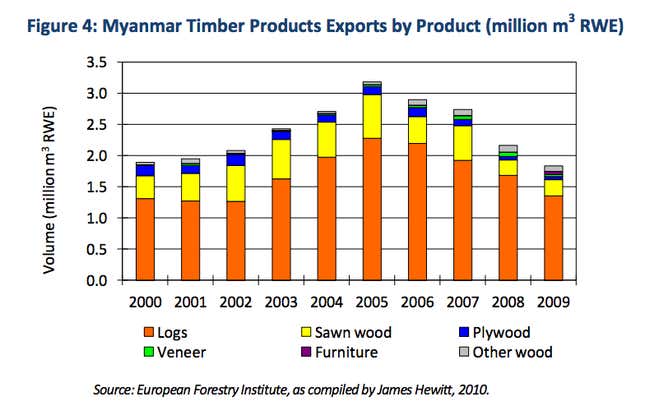 That's why Myanmar's teak log ban is necessary. But the ban could also backfire.
Once milled, it's nearly impossible to tell where teak came from, giving rise to a huge illegal logging sector. The price teak commands from luxury yacht and furniture makers has only grown as supply has shrunk. Though the Chinese government banned illegal Myanmar teak imports years ago, the plundering by Chinese smugglers continues, in part because enforcement is weak in areas where Myanmar's ethnic armies still control the border. They haul about 500,000 cubic meters of teak across the border each year.
And since the US and EU have dropped their bans on teak, pent-up demand has sent already high prices climbing. Now stockpiling among teak suppliers in anticipation of the ban is now causing prices to surge even more. Those implied profits may promise good things for Burma's infant teak milling industry. But if short supply encourages still more illegal logging, Myanmar's protectionism could turn out to be in vain.