That China plays a key role in ivory smuggling is well established. Less known is that, within China, a single town dominates the trade.
That town, according to London-based watchdog group Environmental Investigation Agency, is called Shuidong. A city of about 90,000 inhabitants, Shuidong is noted for sea cucumbers and sits on the southern coast of China in the Guangdong province. According to a new report from the EIA, over 80% of the poached elephant tusks making their way from Africa to China pass through Shuidong (pdf, p. 3).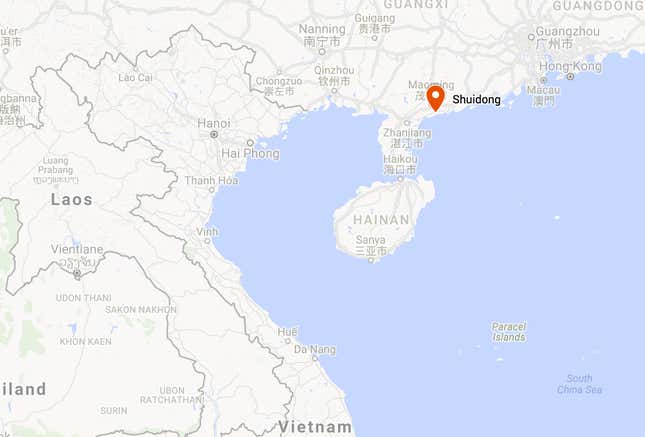 That makes Shuidong the world's biggest hub for wholesale ivory trading.
The EIA investigation started last April, involved researchers working undercover at times, and ran for about a year. Researchers discovered the smuggling routes and the family businesses behind the town's black-market ivory trade. They also, while undercover, met three Shuidong smugglers in Mozambique, which by 2015 had lost over half its elephant population to poaching.
Last year, smugglers shipped 2.5 tons (2.3 metric tons) of elephant tusks from Mozambique to Shuidong. In one case the tusks, concealed among plastic pellets, were first shipped to Busan, South Korea. Then they were sent to Hong Kong, the world's largest ivory trading market. From there, they were shipped to Shanghai, before finally being delivered overland to storage houses in Shuidong.
Ivory carving centers like Putian, a city in the southeastern Fujian province, supply much of the demand for the tusks passing through Shuidong.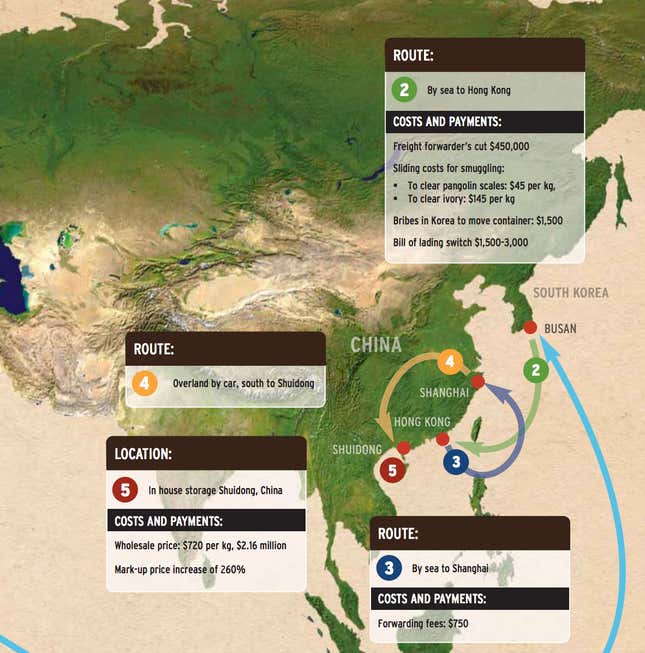 In Shuidong, ivory smuggling has long been a lucrative and even safe trade for the family businesses involved in it. Two smugglers—Ou and Xie—told undercover investigators that they were second-generation traders. They inherited their businesses from their uncles, who established the entities in Tanzania as early as the 1990s. (Between 2009 to 2014, Tanzania lost more than half of its elephant population due to poaching.)
Ou told the investigators that in over two decades there had been not a single incident (pdf, p. 14) of authorities seizing ivory shipments in Shuidong. The EIA notes of their business (pdf, p. 13):
For the Shuidong syndicates, their role in smuggling ivory tusks across international boundaries and into China is a lucrative speciality, with a consignment of three tonnes netting a profit of RMB20 million ($3 million) during the peak years of the trade.
China will ban the ivory trade by year's end, it says. For now, the smugglers in Shuidong are still very much active.