The world is anxiously waiting for China's Q2 GDP, which it announces July 15. That's why export data that China's customs authority just released are particularly important. Because net exports have become an increasingly heavy drag on China's GDP growth, June's data offer a preview of what to expect next week.
The short answer: it might just be time to assume crash positions. June's exports were down 3.1% from June 2012. Here's a look at the trend: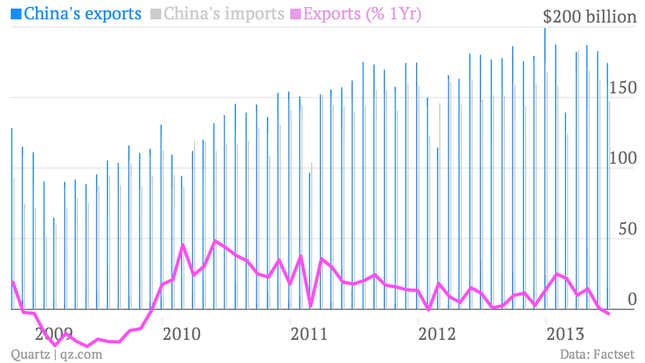 One of the likely reasons that June's exports tanked so hard is the same reason they did in May, when exports grew only 1% after having surged 15% year-on-year in April: a crackdown on fake invoicing, which exporters had been using to channel speculative investment into China in search of high returns from wealth management products (see this post for more detail on how the speculative trade worked).
If the crackdown was responsible for choking off May exports, it practically throttled June's. Not that that should come as a surprise—May exports cratered even before new regulations on documenting export trade went into full effect.
One way to check this theory is to compare trade data from Shanghai and Shenzhen, the port through which speculative trade had been flowing. Comparing that city's trade with Shanghai, which doesn't enjoy lax trade regulations, should give you a sense of how much that trade invoicing has caused export data to overstate actual business. Shenzhen exports have fallen steadily since the government began scrutinizing trade invoicing, while Shanghai's have stayed fairly steady, as you can see from this data through May (the government hasn't yet broken out June data):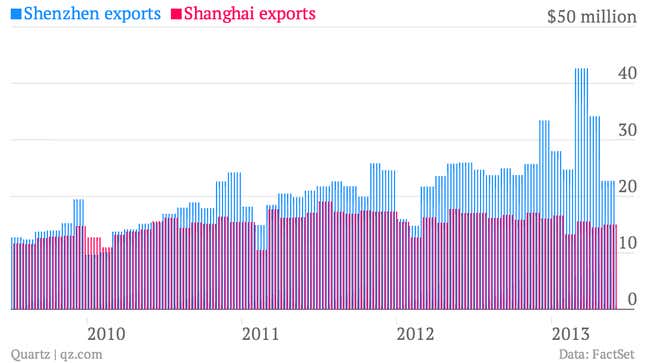 What this implies is that exports have been inflated since the beginning of 2013, if not earlier. Given that the government deflated that trade in two out of the three months of Q2, it's a reasonable assumption that the quarter's headline GDP figure is likely to grow by less than the government's 7.5% target.
Will the central government let scary GDP data shake confidence in its ability to push through reform? We'll find out next week and, more definitively, in October, when the government convenes key policy meetings.