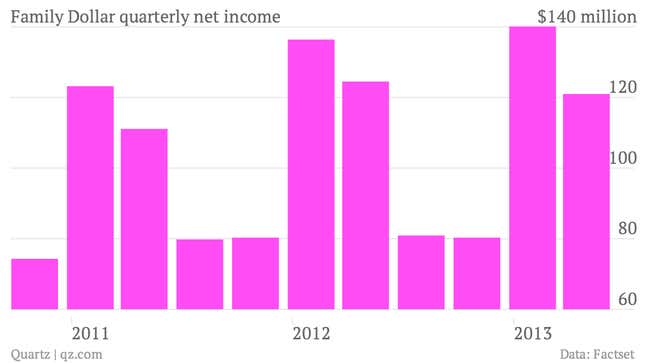 The numbers: Weak. Total revenues rose 9% to $2.57 billion in Family Dollar Stores's third quarter, but profit at the dollar discount store fell 2.9% to $120.9 million due to dwindling profit margins. The company's profit forecast for the fourth quarter is grim, consistent with overall negative expectations. But analysts expected an even worse showing, and shares rose 2.5% in pre-market trading.
The takeaway: It didn't take much for Family Dollar to beat remarkably low analyst estimates. When Wal-mart posted underwhelming earnings back in May, the question was whether its cheaper competitors—namely the likes of Family Dollar Stores and Dollar General—were stealing its mojo. Apparently they weren't. Dollar General already lowered its full-year outlook last quarter, and, like Walmart, Family Dollar has been subsisting on disappointing earnings.
What's interesting: A poor performance for Family Dollar Stores reflects the dire straits of low-income American families, who rely on variety discounters for discretionary items like clothing and bedding. CEO Howard Levine stressed the implications.  "Our discretionary sales remained challenged as our customers have been forced to make spending choices between basic needs and wants." The future looks equally grim, he noted. "Consistent with market trends, we expect that our customers will continue to face financial headwinds." And this time around, the slump can't be blamed on payroll taxes and delayed tax refunds.