Just 10 days after Donald Trump gave a speech showering Poles with praise for their resilience and freedom-fighting spirit in Warsaw's Krasinski Square, thousands of people gathered there for a candlelight vigil to protest the actions of the government that enthusiastically welcomed the US president.
They came out to speak out against the conservative, populist ruling party's latest moves as it consolidates its power. Protesters, the political opposition, and the European Union say the Law and Justice (PiS) party is trying to undermine democratic institutions and to eliminate the separation of powers. Two separate bills take aim at the country's judiciary, seen as the last check on the party's power.
The parliament passed one of the bills last week. It reorganizes the system of appointing judges so that lawmakers and the minister of justice can do so without the participation of the judicial community. The other legislation mandates that the current judges in the country's Supreme Court be dismissed—except those approved by the minister of justice. One of the high court's tasks is to call the outcome of elections.
The government says reforming—and purging—the judiciary is necessary because it is corrupt and dominated by post-Communist elites.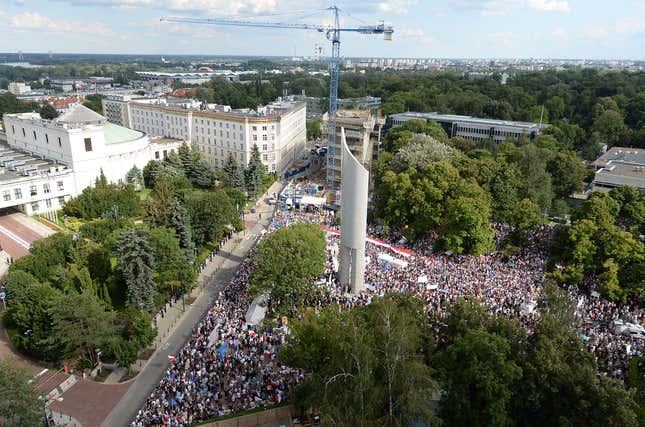 Anti-government protests were held in the country's capital, and in other cities. A daytime demonstration near the parliament in Warsaw was estimated to have drawn from 4,500 (according to police) to 10,000-plus (according to the city authorities that hail from the opposition). At night, thousands more gathered at Krasinski Square, the site of Trump's speech, and the location of the Supreme Court. Asked to leave political paraphernalia at home, the protesters only brought candles, forming a "chain of light."
In his remarks on July 6, Trump told Poles about "America's commitment to your security and your place in a strong and democratic Europe," and cautioned against "forces, inside and out" that threaten to undermine "individual freedom and sovereignty." It was clear he wasn't speaking about the Law and Justice government, which bused in its supporters to guarantee the US president a warm reception, and Trump did not raise concerns about rule of law in Poland.