British and EU officials met in Brussels Monday, kicking off a four day stretch of negotiations to determine terms of the UK's exit from the European Union. But photos from the talks suggest that Britain's not quite prepared to move on.
Reports from the first day noted that EU representatives arrived ready and willing to discuss the specifics of Brexit, including a proposed "divorce bill" for several billion euros. In response, British representatives seemed to be dragging their feet, and did not offer specific details of their agenda.
Brexit chief David Davis reportedly left shortly after talks began July 17, but even before that, wire photographers captured telling images of the negotiating table. Below, EU representatives (left) appear armed with stacks of notes, while all three British negotiators (right) seem to have brought only a journal and a single pen to share between them.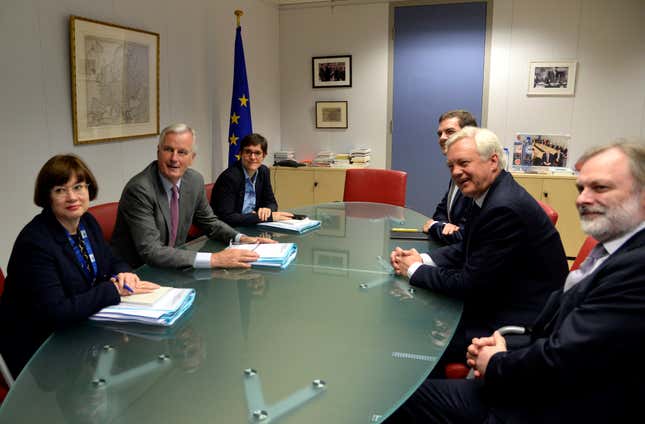 Pictures from the photo-op showed [EU negotiator] Barnier and two other EU negotiators with stacks of briefing files in front of them, sitting across the table from Davis and two U.K. negotiators who had not pulled out any paperwork.
And the swift departure of Davis from Brussels drew as much, if not more, criticism in the U.K. as in Brussels.

Labour's shadow Brexit secretary, Keir Starmer, said the government was in disarray over the Brexit talks.

"The clock is ticking and the risks are increasing day by day," he said. "David Davis can hardly say this is the time 'to get down to business' and then spend only a few minutes in Brussels before heading back to Whitehall."