Nike's eight-year term as the NBA's exclusive apparel provider—a role it took over from Adidas—has officially begun. Today the company unveiled its new uniform for the defending champion Golden State Warriors, and its most notable detail is something you can't actually see.
The company revealed that its new NBA jerseys will be made of a fabric blend that includes polyester derived from recycled plastic water bottles. According to Nike, each uniform represents approximately 20 discarded bottles, which were reclaimed, melted down, and converted into new yarn.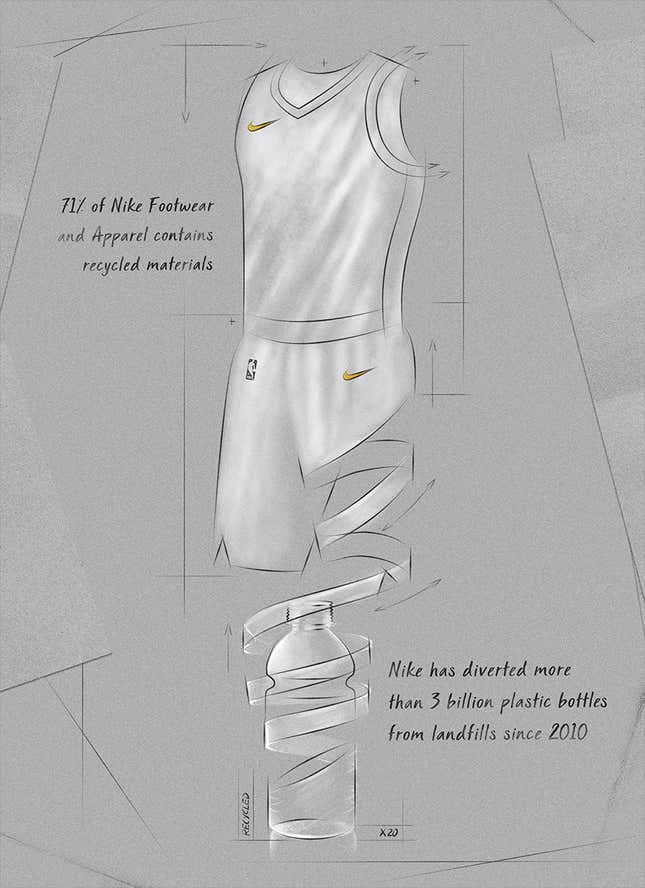 The company hinted recycled plastic might play a role in the new jerseys when it included the material in its uniforms for the US basketball team during the 2016 Olympics. It had also used it in the kit for the US women's national soccer team during the 2015 FIFA Women's World Cup. In that instance, each uniform was made with polyester from the equivalent of 18 bottles.
For Nike and a number of other brands, sustainability has become a top priority, and using ocean plastic is one way for companies to make a difference. Adidas, for instance, uses the material in a line of sneakers, as does Dutch denim label G-Star Raw.
The uniform is also the first to include a sponsor's logo on the jerseys. The logos will appear on the upper left portion of the jersey, opposite Nike's trademark swoosh. (So far only nine teams have announced their sponsorships.)
Nike says its unique fabric blend is highly functional for the athletes, wicking sweat quickly away from the body. It created 3D body maps of players, including heat and sweat maps, to optimize the uniform, and had NBA players test them. Other changes include altering the construction of the back shoulder of the jersey and moving the armhole, neck, and side seams for a fit that Nike claims provides more movement.
Another big change: Nike and the NBA are eliminating "home" and "away" uniforms. Instead, home teams will pick which uniform they want to wear and the visiting team will select a contrasting uniform from its assortment. Each team will have four uniforms to choose from (Nike calls them "editions"): the standard predominately white or predominately colored uniforms, as well as two others that Nike says will draw from each team's heritage.
The full launch of the new jerseys will take place in early fall, and will include tights and socks to complete each look.