Google's forthcoming, Samsung-killing Moto-X Android "superphone" is also going to have a super-size advertising budget of up to half a billion dollars, reports the Wall Street Journal. That's half as much as the $1 billion Apple spent advertising all of its products in 2012.
So why is Google—or technically its subsidiary, Motorola, going so crazy with the ad spend? Probably because the Moto X is up against Samsung's unbelievably huge marketing budget, which topped out at $4 billion in 2012.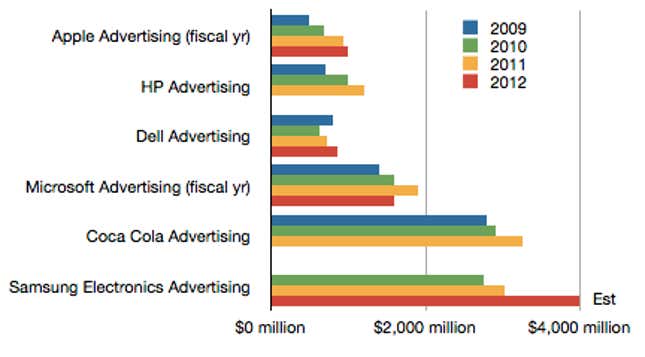 To put that in perspective, that's more than Coca-Cola, more than General Motors, and bested by only a handful of mega-corporations in the world, like Procter & Gamble, which doled out $9 billion in advertising and marketing in 2012.
Google's spend is on par with what Samsung spent on advertising its smartphones in the US in 2012—$402 million—and what Microsoft spent advertising the launch of Windows 8—$1 billion. Clearly, Google/Motorola views the launch of the Moto X as a tentpole event—something similar to Samsung's new phone launches and Microsoft's reboot of its signature software.
There is some industry precedent for getting ahead by spending heavily on advertising. Some have argued that Samsung's dominance of Android smartphones and its market share victories against Apple are due almost entirely to Samsung's massive advertising budget. While Apple failed to maintain its advertising spend as a percentage of revenue on its mobile devices—essentially coasting on existing brand recognition—Samsung ramped up its ad budget to more than 15% of sales.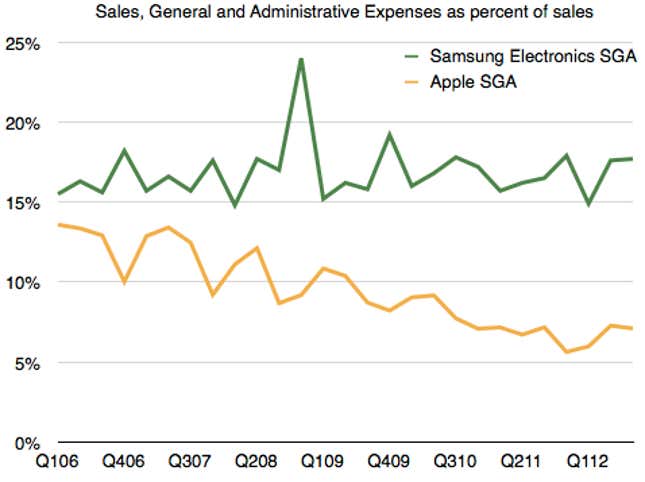 Similarly, Google's half-billion dollar advertising campaign could threaten Apple, but it's more likely to threaten Samsung, which until now has been the market share leader in Android smartphones. Consumers will benefit as Google begins to compete directly with the companies that made Android so popular—so long as they can see through the massive fog of marketing that's about to roll their way.