Amazon's latest feature in its mobile app, Amazon Spark, is a scrollable and shoppable vertical feed of photos with captions, all uploaded by other users. You can leave comments or show your approval by clicking the "smile" button, and you're able to follow other users.
This may sound familiar. Amazon Spark feels quite a lot like the big image-based social networks, Instagram and Pinterest. (Amazon declined to comment on the similarity.) There are also some significant differences: Most notably, users can link the products in the photos to the actual items for sale on Amazon. If you're scrolling through and spot an image with, say, a sun hat that you happen to like, you can tap it to see if it's linked to the item's product page on Amazon. If so, you're able to click through and purchase it within the app. (The two screenshots below show how it functions.) The feature, which you can find under "Programs and Features" in the app menu, has been beta-tested for several months.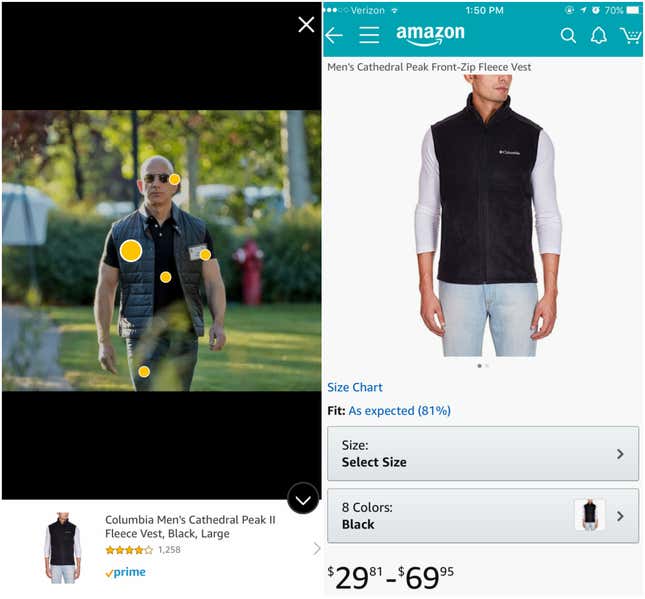 The posts are created by Amazon's "enthusiasts"—the company's term for contributors to Spark. These enthusiasts are rewarded with badges for posting or submitting product reviews. As TechCrunch points out, this dynamic is an extension of Amazon's current system for reviewers: "To some extent, the retailer sees Amazon Spark as a new frontier for product reviews," TechCrunch says. "With Spark, Amazon is moving away from rewarding 'Top Reviewers' who write up their thoughts and rate items, and is rather embracing a new system that rewards those who are 'Enthusiasts' instead."
Of course, people are probably more inclined to share products they like than those they're unhappy with. Spark seems unlikely to be the place to find a real mix of opinions, including the helpful negative reviews, that you currently see on Amazon.
And Amazon won't soon replace Instagram as people's go-to for sharing images, of course. But it does show that the company also wants to grow as a place to discover new products, not just find something that you're already looking for. The key to the platform is the users. Amazon already has a cadre of fervent product reviewers. Now it wants to turn them into something like "influencers"—those people with hordes of followers that you find on Instagram—promoting the stuff they like.
Instagram itself has proved a great place for finding stuff to buy, but has it been slow to integrate a simple way for users to click through to products. Users can get information about the items they see in photos, but they still have to leave the app to make a purchase.
Spark functions like an Instagram feed that's seamlessly shoppable. When you first sign on, Amazon asks you to select categories you're interested in, meaning your feed will include products that are relevant to what you like.
The new format also makes user profiles more relevant, particularly as you're able to follow individual users, and users with a lot of followers can be valuable to brands looking to market their goods, especially on a platform where they can buy them directly.
Sponsored posts, which mean that a brand has in some way paid the user to post that content, are already appearing on Spark. This post highlighting beauty brand bareMinerals, for instance, is marked "#sponsored," a hashtag commonly seen on Instagram (though not as often as it should be). We've reached out to bareMinerals to confirm they paid for the post and will update this story with any reply.
At the moment, only Amazon Prime members can be "enthusiasts" on Spark. Non-Prime users may still use the feature, but they're aren't able to post or comment.
As Amazon keeps growing, it's clearly looking to be more than just a destination for convenience and price. Amazon Spark is an experiment in making shopping on Amazon a social experience, too.