🎶 Life is a mystery, everyone must stand alone. 🎵
 🎹 Madonna read her name. 🗞️
🎸 And it felt like…someone stole from her homes. 🏠 🏘️ 🏡
[Chorus: Madonna explains]

 Madonna filed a prayer 🙏 for relief and a conversion summons.
✋ Down on her knees, she sought to halt the auction. 🛑
❣️In the midnight hour, she could feel justice's power. 💪
🙏 Just like a prayer, she recited her litany. 🎤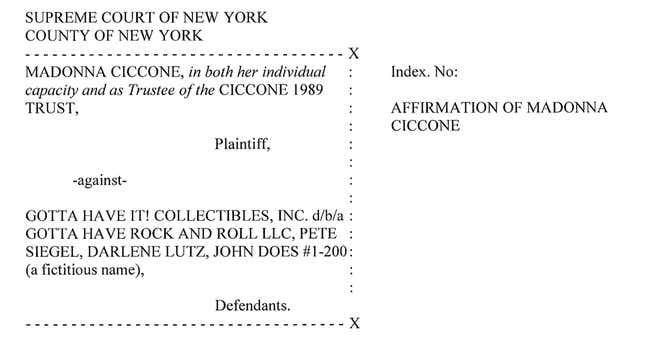 Madonna's art consultant, 🎨 Darlene Lutz, seemed like an angel. 👼🏼
But for selling her stuff. 👙
🎵  The star raised her voice, she had no choice. 🎙️
⏲️ It felt like time. 🕗
👀 Don't close your eyes. Oh Judge! Madonna called. 🎻
 That stuff is mine 👁️ don't close your eyes.
Heaven help me!
[Chorus: Madonna lays out the goods she never gifted]

👿 Unlike a child, Lutz whisked away 🔬 DNA 💔, letters 💌, lingerie.👙
👨‍⚖️ You're in control, Madonna told the judge. 👨‍⚖️
Now … 🥁 … her wish is granted.
 Like a dream, relief! ⏰ But not the end, just beginning. 🕰️
🕛 There will be more hearings 🥋 in the coming season.
[Chorus: Judge Gerald Lebovits halts sale of memorabilia]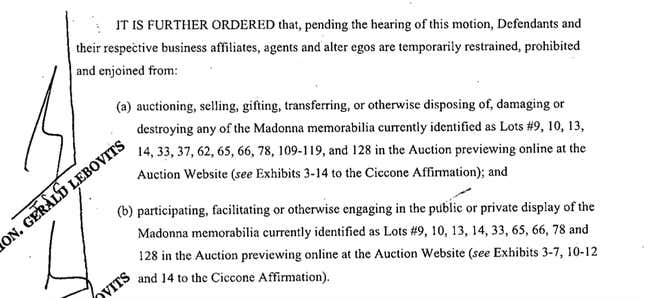 Let Justice sing. ⚖️
🙉 Just like a prayer 🙊 she's always answering. 🙈
Just like it should be, piercing through mystery. 🔭
Just like a dream ☁️ things are not what they seem.
Just like a prayer 🙏 no choice, Madonna used her voice.
Just like a prayer 📿, she got what she sought if not a dream. 🙀