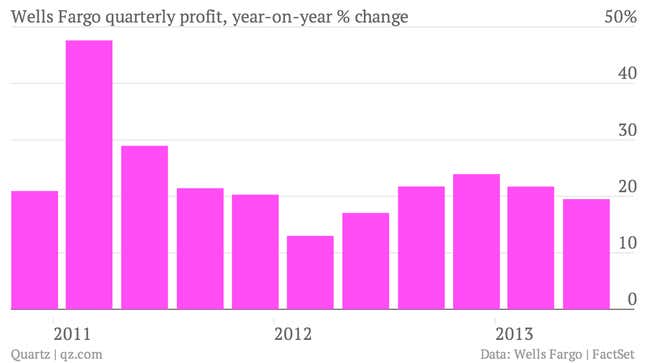 The numbers: Good. Wells Fargo posted a 19.5% jump in second-quarter profit. Revenue was up just barely, 0.5%, to $21.4 billion. The stock rose in pre-market trading.
The takeaway:  With 22% of the US market for mortgage originations—home mortgage lending for purchasers or refinancers—Wells is a closely watched bellwether for the US housing market. Mortgage originations, which slipped slightly last quarter, rose 2.8% to $112 billion in the second quarter from the previous quarter. Non-interest mortgage banking income slipped by 3% from the prior year period, to $2.8 billion.
What's interesting: Some worry that the recent rise in interest rates, brought on by a change of tone coming out of the US Federal Reserve, could pinch the US housing recovery. And mortgage refinancing has indeed dropped sharply. But as recently as April, Wells executives had said they expect mortgage origination for new home purchases to pick up some of the slack. "Remember, housing is improving every day," John Stumpf, Wells' chief executive, said on the first-quarter earnings call back in April. "Americans have not lost their emotional attachment to homeownership." Will his sentiments be the same after the more recent surge in mortgage rates? The earnings call is slated to start at 10 a.m. ET.