Necessity is the mother of invention but marketing is the engine of sales. He who tells the best tale captures the market. Jack O'Neill, founder of the multimillion-dollar wetsuit and surf lifestyle brand O'Neill, was a seaman who spun a strong yarn.
Once upon a time, the surf- and business-legend invented the neoprene wetsuit. Or so he said. Whether he really believed in this origin story or whether it was just marketing genius isn't clear. It's one of surf history's great mysteries.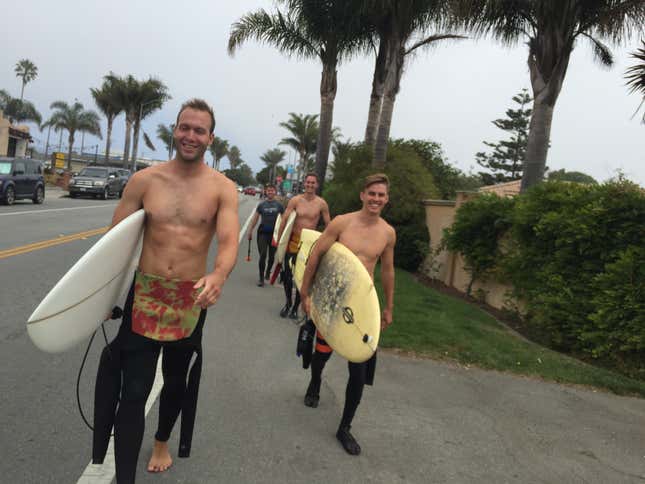 What is certain is that O'Neill was instrumental in selling the world on surfing, helping to turn the relatively unknown rogue sport with no stores, little equipment, and minimal commercial activity into a $7 billion a year industry by the time he died in June in Santa Cruz, California at the age of 94.
Until the end, the beach bum with business acumen who founded an eponymous surf-gear company claimed not to be into commerce, only "into the ocean." He played it cool. But that too may have been part of the mythical surfer image O'Neill was cultivating in the cultural imagination to market his sport, his business, and his legend. He always claimed to have no plan, yet somehow managed to leave behind a surf empire and adoring fans worldwide.
Procession for a seaman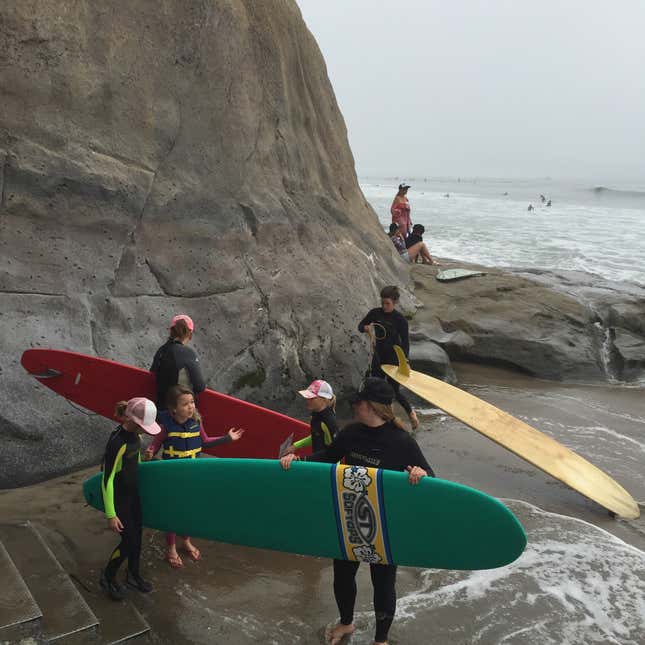 O'Neill's first surf shop was founded in San Francisco in 1952—the O'Neill corporation is now headquartered in Santa Cruz, where he moved in 1959. He's a local hero there, and thousands honored him on July 10 with a fittingly aquatic funeral procession: A mass paddle-out from the surf break by his oceanfront home at Pleasure Point, the city's prettiest beach, was timed to coincide with similar global surf events in the legend's memory.
Images of O'Neill were hung lovingly on trees, and flip-flops were nailed to tree-trunks to commemorate his signature laid back beach dwelling style. Throngs of onlookers lined the ocean to watch as surfers of all ages braved the chilly Pacific waters, snug in neoprene wetsuits and the belief that O'Neill invented them.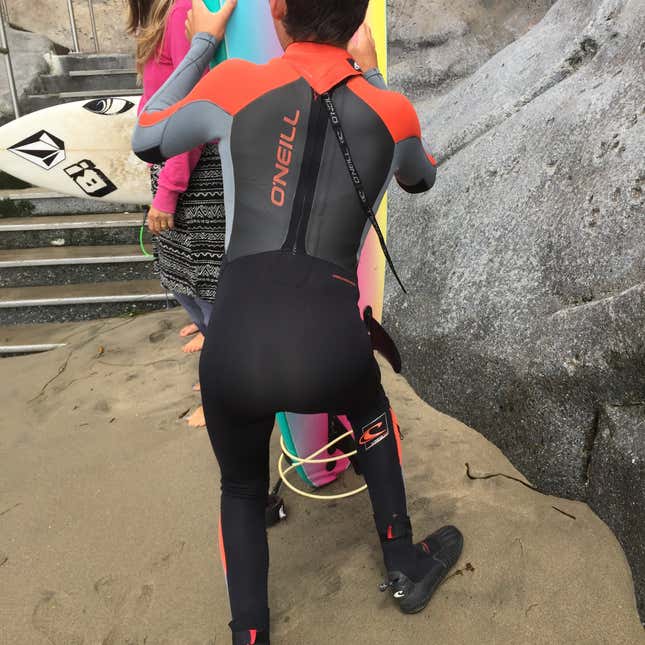 In Santa Cruz, O'Neill is unquestionably credited with being the wetsuit inventor. It's a claim he and his company have made since 1952, and one that is oft repeated by proud locals in Northern California.
A disputed title
Proud locals further south beg to differ. O'Neill's title was contested by Los Angeles surfers Bob and Bill Meistrell for decades before they died, though never in a formal lawsuit. The twins founded another California surf company, Body Glove, and also claimed to have pioneered surf's uniform, the neoprene wetsuit. But their company was formed in 1953, a year after O'Neill went into business.
In fact, neither O'Neill nor the Meistrells invented the neoprene wetsuit. It was likely invented in the late 1940s by Hugh Bradner, a University of California-Berkeley physics professor, who tested his first prototype—initially conceived for military purposes—in 1950.
The Navy found Bradner's invention novel: it could get wet and still maintain body temperature with an insulating layer of air between water and flesh. Nonetheless, the Navy passed and Bradner never patented his design—when he tried to sell it, the response was lukewarm, and he didn't imagine there would be much demand for the product. Today annual wetsuit sales worldwide are estimated at about $120 million.
What's in a wetsuit?
In the 1940s, O'Neill spent time as a pilot in the Naval Air Corps before settling in San Francisco, CA, where he took gigs as a taxi driver, fisherman, lifeguard, longshoreman, traveling salesman, and draftsman.
He also pursued his passion for an impractical, unknown sport called surfing. By the early 1950s, O'Neill was going to the beach daily for pre-work surf sessions. One day, the surfer, working as a draftsman then, stained a document with seawater from his sinuses. O'Neill lost the office job but found his calling.
With time on his hands, he bought balsa wood and began shaping surfboards for sale in his garage. In 1952, O'Neill opened one of the first surf shops in the US near Ocean Beach in San Francisco. Friends predicted he'd go out of business fast, but thanks to the neoprene wetsuit, he proved them wrong.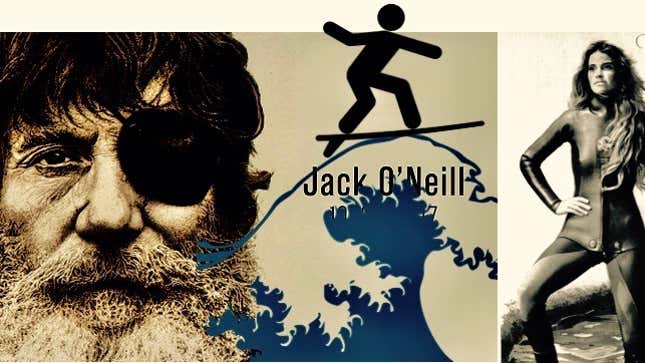 According to his version of events, around the same time he opened his store for business, O'Neill was also experimenting with different ways to stay warm while surfing chilly waters.
Previously, surfers wore oil-soaked wool sweaters to keep in heat and repel wetness. O'Neill claimed that he got the idea for neoprene vests, which later led to full-body wetsuits, from the neoprene carpeting of the aisle of a DC-3 passenger plane. O'Neill then started gluing together neoprene vests and was selling them by 1952.
That was his story and he stuck to it…even after the evidence suggested he hadn't quite invented the wetsuit as much as contributed significantly to its evolution.
Sleuthing through surf history
In 1998, Carolyn Rainey at the University of California-San Diego's Archives of the Scripps Institution of Oceanography concluded that Hugh Bradner invented and tested the first wetsuits in 1951, based on his correspondence with the military (pdf).
There's also evidence that Bradner's ideas about neoprene were already circling amongst surfers when O'Neill got started. In 2005, the Los Angeles Times—intent on solving the surf whodunnit which was then and remains kind of an open secret—talked to another early surfer, Bev Morgan, who explained he found out about Bradner's neoprene suits and shared the news with his friends the Meistrells after seeing a report written in 1951 for the US Navy and the National Research Council at the Scripps library.
Yet when the LA Times asked O'Neill if he knew of Bradner's earlier invention, O'Neill wouldn't concede. "I've talked to Hugh [Bradner] and I told him what I had done and how I got started. We didn't conclude anything," he said. (Quartz contacted the O'Neill company for comment on this story but got no response).
Bradner never made any money from his invention—nor did he jostle for credit.
Making of a legend
Meanwhile, O'Neill pioneered an entire industry by pushing wetsuits relentlessly until neoprene at the beach became de rigeur. He warmed the frozen ocean-goer's heart with the happy motto, "It's always summer on the inside" and demonstrated the efficacy of his wetsuits by dunking his neoprene-clad children in ice baths at trade shows.
But as much as he demanded from his family on behalf of the surf business, he also sacrificed for the cause. In 1972, O'Neill lost an eye after a surfboard snapped while he tested a leash prototype that his son created.
He managed to make the accident work for him, of course, turning crisis into opportunity. O'Neill donned a black eye patch. It suited his seaman and surf-pioneer persona perfectly, giving him the mythical air of a fairytale pirate and fueling the legend he invented.