Given all the violence, drama, dragons, and—let's face it—nudity on HBO's hit Game of Thrones, it's understandable that viewers might not pay close attention to the clothes. But they should.
Like everything else in the high-budget series, the characters' clothes are painstakingly considered and meticulously crafted. Costume designer Michele Clapton oversees a team of 80 to 100 people who labor to get every detail right and make every look believable, down to the elaborate embroidery on the dresses and the wear, tear, and grime—literally—on the clothes of each knight in Westeros. "It's really working the grease into the neck and thinking where it would get most worn—along the elbows and the knees—it's that," she recently explained to Time.
Beyond being a critical part of the show's distinctive look, the costumes also reflect the psychology and narrative arc of the characters wearing them. The stories they tell enrich the main narratives, and add a subtle layer to the show that viewers may not always catch.
Here's a look at where some of the characters stand in the show's seventh season, as told by their clothes. (Warning: Contains spoilers if you aren't all caught up with the show.)
Cersei Lannister
Cersei has worn a lot of dresses over the course of the show. In earlier seasons they have been colorful, flowing, and traditionally feminine, pinched at the waist and sometimes baring the shoulders of actress Lena Headey.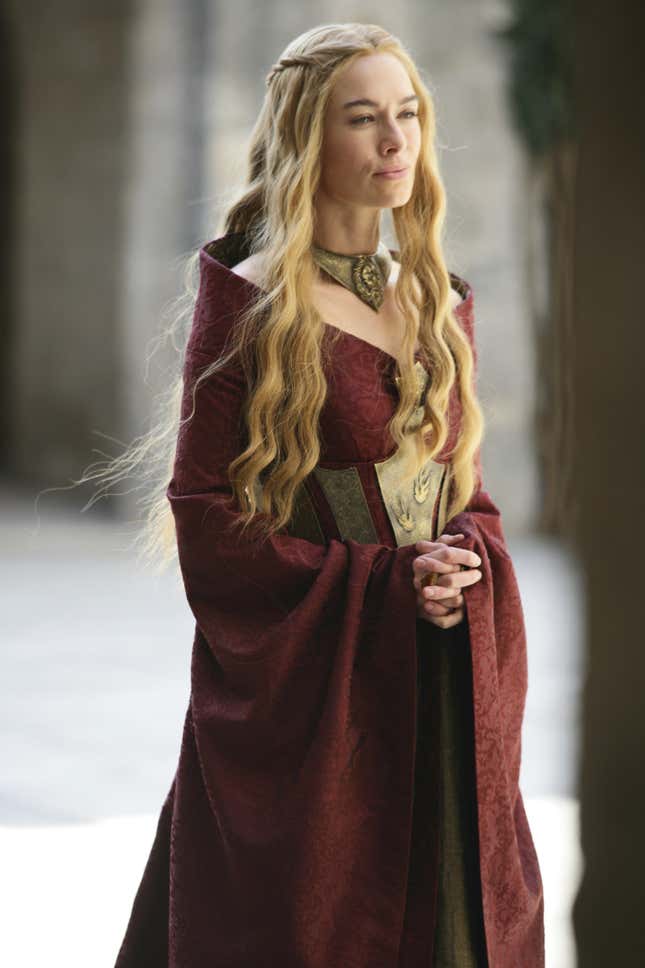 But Cersei's look has radically changed since her son Tommen's suicide at the end of last season. Her black mourning clothes quickly evolved into a dark, structured look as she claimed the throne for herself at the end of season 6. That image continues in the current season. It's imposing and militaristic, suggesting Cersei is battle-ready.
It also makes a direct reference that viewers may not have noticed. Of one particular dress, made of leather layered over silver brocade, Clapton told Vanity Fair, "I knew it had to be leather and I knew it had to be linked to Tywin."
Tywin, who was Cersei's father and the patriarch of the Lannister family until his death in season 4, wore a jacket that was remarkably similar. The echo in Cersei—even more pronounced with her long hair recently cut short—shows her assuming Tywin's former role as powerful, merciless leader of the Lannisters.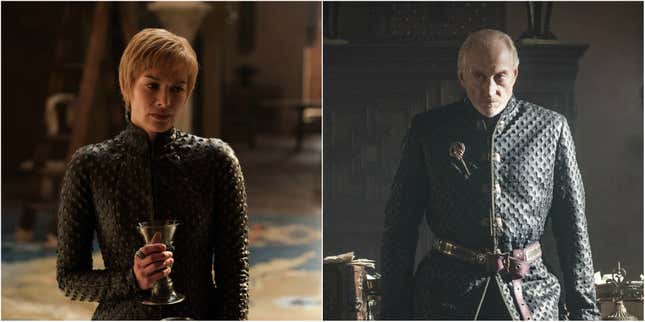 Daenerys Targaryen
Daenerys's image has changed quite a bit over the seasons as she's graduated from refugee to mother of dragons to conqueror. Her clothes have often reflected her environment.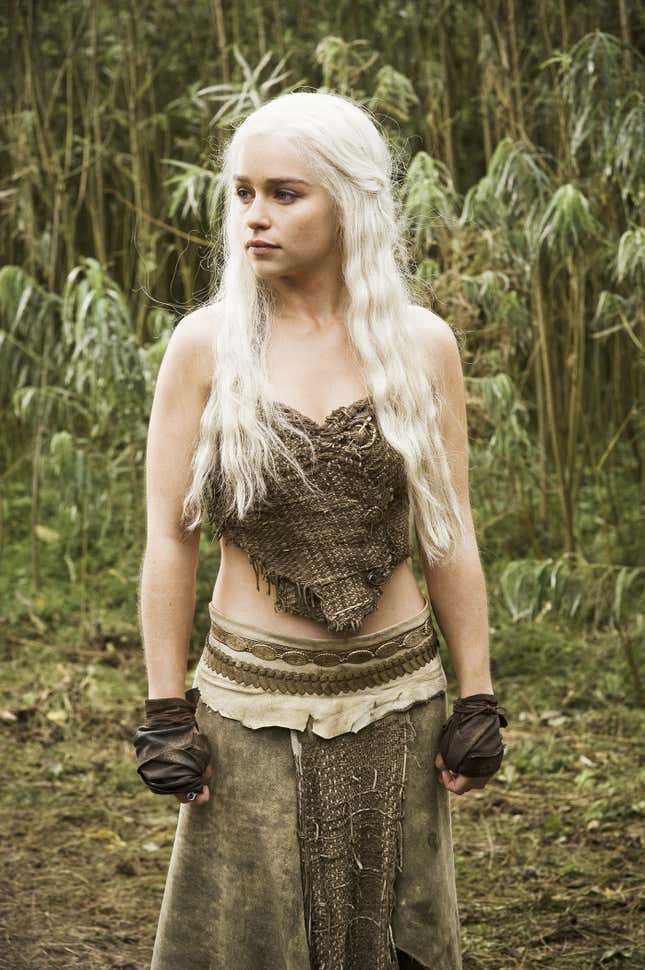 As a Dothraki khaleesi, she wore outfits ready for riding, including simple midrift-baring or sleeveless tops and pants. Later, as the ruler of Meereen, she often donned elegant light-colored dresses—blue and white were common—sometimes off-the-shoulder with a V-neckline, or with a crossed-over halter neck. Pants were still part of the look, whether they were visible or not.
At the end of season 6, she was sailing toward Westeros in another off-the-shoulder dress, but this one was black, with red embellishments. That's significant because black and red are the Targaryen house colors, and because Daenerys had rarely—maybe never—worn them previously. "Now you do finally start seeing it creeping in through the scaling and embroidery on her dresses," Clapton told Insider. "It's just a touch."
In the current season she's clad almost entirely in black, and wears a sort of mantle with a broad, strong shoulder that gives her the look of a military commander. The new look, like Cersei's, is meant to project strength, Clapton said. Both characters' costumes recall uniforms, and are "almost less feminine," she said. "They are the leaders, and so the femininity doesn't come as quickly into it."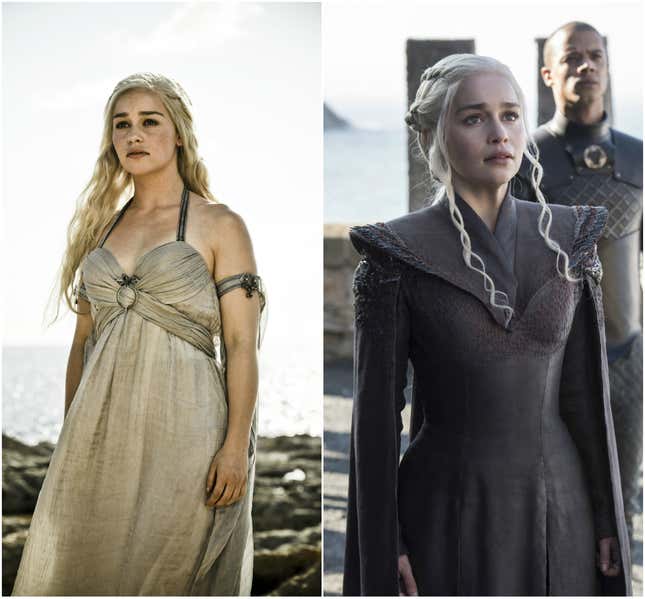 Jon Snow and Sansa Stark
Jon Snow and Sansa Stark grew up together, and are siblings of sorts. Those following the show know that they were raised together, except Sansa is a legitimate daughter of Ned Stark, the family's now-deceased patriarch, and wife Catelyn. Jon Snow, however, was always considered a bastard, the offspring of Ned and an unnamed woman. Now, however, the show has more or less confirmed that Jon was really the son of Lyanna Stark, sister to Ned, and Rhaegar Targaryen, the much older brother of Daenerys. Of course, Jon and Sansa aren't aware of this.
After Jon went off and joined the Night's Watch early in the series, he dressed in the order's mandatory black. His usual attire included a heavy cape with a rather gnarly looking black shearling collar.
But back at Winterfell now, Jon's look has changed. He looks increasingly like Ned Stark, sporting the same kind of cape trimmed in what looks to be a wolf pelt. "That's a big heavy cape and yes, it is him as Ned, but he's actually not Ned," Clapton told Uproxx. The resemblance indicates that Jon Snow, the new King in the North, has essentially stepped into the role of Ned, and to some extent fulfilled his desire to become a full-fledged member of the Stark family.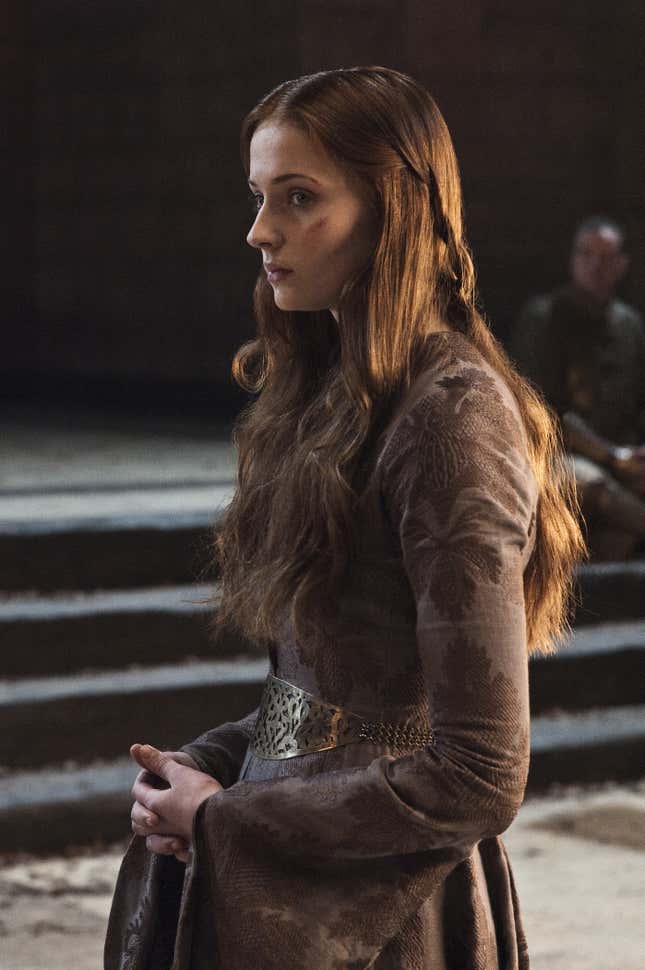 Sansa, by contrast, started out the show wanting to stand apart from her Stark family, preferring the brighter colors that the Lannisters favored (though somewhat muted), rather than the blacks and browns of her ancestral home.
Since leaving Winterfell, her costumes have, like Daenerys's, changed according to her environment. When she first arrived in King's Landing, she adopted the clothing that was fashionable there, exemplified by Cersei's look. After she escaped and headed back north, her dress changed again, growing darker until she was wearing a noticeable amount of black by season 5.
Now back in Winterfell, Sansa has finally embraced the classic Stark look, wolf-pelt cape included, and her armor-like dress arguably makes her look more like Ned than her mother. The suggestion is that Sansa and Jon have both come into their roles as Starks, and they appear to be sharing, or perhaps vying for, the position of lord of Winterfell.

Everyone else
These costumes offer some of the most symbolic examples, but the clothes on other characters in Game of Thrones hold similar hints:
Sandor Clegane, better known as the Hound, has appeared almost exclusively in armor for much of the series, but now he jas literally shed that armor as the story reveals the more vulnerable, introspective side of his character.
Back in Westeros, Arya Stark has adopted a look more fitting for a warrior than any she has previously worn.
Relatively new addition Euron Greyjoy looks like a rock 'n roll pirate.
Perhaps Euron draws from Clapton's own past. In a short video posted to YouTube by HBO ahead of the season 7 premiere, Clapton explains how when she was younger she fell in with the New Romantics, a pop culture movement in the UK around the start of the 1980s that centered on music and a totally unique, eccentric new look.
"It was a great time to be a fashion student," Clapton says in the video. She's still dreaming up new worlds in clothes today.