When Zhou Chenguang invited his mother to take a trip with him, he didn't tell her that the Glory Sea wasn't just another cruise. It wasn't until she was boarding and saw a guy unrolling a rainbow flag that she realized her son had brought her onto a ship packed with "comrades," as gay people in China often call themselves.
"You fooled me," she told him. "If they let me leave, I'm leaving."
The Glory Sea, bought and refurbished by a Shanghai-based tour operator, began sailing from China last year amid a boom in popularity of family-oriented cruise trips. In mid-June, China's largest gay support group rented it to take LGBT people and their parents, 800 individuals in all, on a four-day journey to help them figure out how to understand and support one another. It's a gathering that happens every year, usually in a hotel ballroom. This year the organizer, PFLAG China, the country's most prominent gay rights group, took stock and decided to move the gathering to international waters.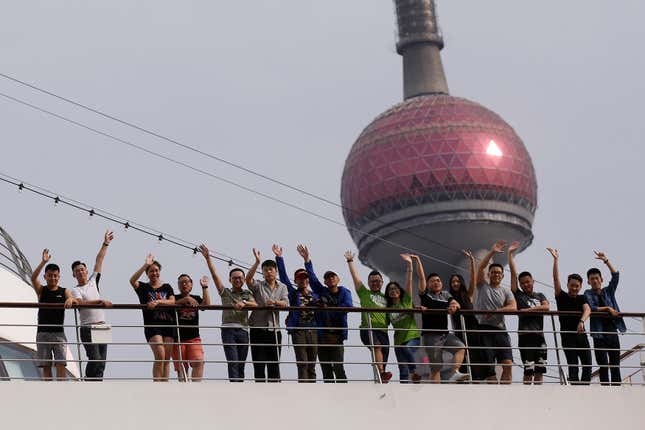 Several LGBT events were forced by authorities to cancel in recent months, as the ruling Communist Party tightened control over civil society in the run-up to a leadership reshuffle meeting that begins next week (Oct. 18). Days before setting sail, PFLAG activists warned passengers against waving rainbow flags or any signs with pride slogans at Shanghai's port for fear the tour could be shut down at the last minute.
Although there's growing acceptance in cities, most Chinese LGBT citizens still live fractured, closeted lives: Only 15% have come out to their parents, and only 5% have disclosed their sexuality or gender identity in public, due to fears of discrimination and abuse from their families and society, according to a 2016 survey from the United Nations. This is what PFLAG has been trying to change since it was founded about a decade ago.
Over the next four days, as it headed to Japan, the Glory Sea tour embarked on a journey of contradictions, as a hidden minority fleetingly experienced being mainstream, while their parents' beliefs faced relentless questioning. It was a family trip and a hookup party, a rebellion against stifling social mores—and an attempt to run away from them for a little while.
Unfilial children

The Glory Sea has seven decks that are named after Greek gods and planets, such as Apollo, Venus, and Neptune. Like in a three-star Chinese hotel, there are golden handrails and door frames, a piano, and a goofy robot to welcome the passengers. On the top deck, a wooden stage had been installed over the ship's lone swimming pool, putting it out of commission for the trip. The paid wi-fi service usually didn't work, leaving its passengers cut off from the outside world, floating in the middle of nowhere, and forced to interact with one another.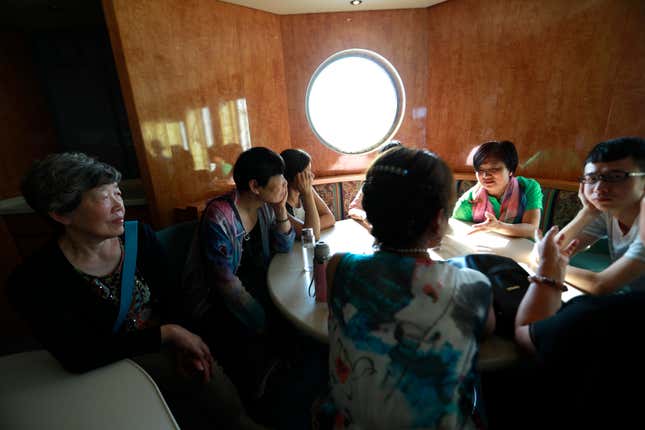 On the first night, Zhou Chenguang, a 23-year-old skincare sales representative, decided to formally come out of the closet to his mother, one of 300 parents onboard. The parents were from different parts of China, and all walks of life. Most of them chose not to use their real names while on board, instead introducing themselves with social-media aliases or by their relationship to the person who had asked them to come aboard: Li Li's mom, Ah Guo's dad, and Wood Leaf Mom.
Zhou took his mom to the cabin of three other mothers whose children are already out, and who had previously agreed to act as a buffer.
Li Li's mom broke the ice in the room. "Do you think your son loves you?" she asked Zhou's mother, but only got an awkward smile as a reply. She then turned to Zhou: "Introduce yourself. We don't know you. Your mother doesn't necessarily know you, either."
After long pause, Zhou recounted his story. He told them that he was called "ladyboy" by more than half of his high school classmates because they thought he was "too sissy." He said he suffered depression before he accepted his sexuality. "I had contemplated suicide. I felt like I was a zombie," he said. He couldn't hold back his tears while speaking. Then, his mother started crying. The other mothers cried too.
Like many of its Asian neighbors, Chinese society places a high value in filial piety, the virtues of showing respect and obedience to parents, elders, and ancestors. Chinese parents often dictate every step of their children's lives, from marrying young to having a secure career. Any kind of behavior that challenges mainstream conventions is something of an embarrassment for the family. And when the most filial of virtues is to marry and have a child, being gay is seen as especially shaming.

Zhou's mother shared her feelings with Li Li's mom over breakfast the next morning. "I feel my world is collapsing," she said.
Try not to be who you are
Zhou isn't the only passenger who tricked his mother into joining the cruise. Little Lin, a 35-year-old communications technician who wanted to be identified only by his nickname, did the same. A graduate from a top Chinese university, Lin lives with his parents in Hangzhou, a city near Shanghai, where he has a stable job with a state-owned company, and owns an apartment in the city's expensive downtown. His mother would think he was the perfect son if he were just able to "find a wife and bear a child," Lin told me in his cabin.
It's not that he hasn't tried. In 2005, soon after Lin first realized he was gay, he allowed his mother to take him to a psychiatric hospital in Hangzhou for conversion therapy. The doctor told his mother that homosexuality was no longer an illness—China had removed it from the list of official mental disorders four years earlier—but he could try fixing her son anyway.
At the hospital, they gave him sedatives. He gained around 30 lbs (14 kg) during the month he was there, and for a long period afterwards, felt forgetful and sleepy. Lin's therapy, which cost more than 10,000 yuan (now around $1,500), also included a technique reminiscent of the dystopian movie A Clockwork Orange. In his last few days in the hospital, he was forced to watch gay pornography while a doctor snapped at his wrist with a rubber band for 20 minutes at a time. Lin eventually told the doctor what he wanted to hear: that he couldn't feel anything when watching the movies. "I said whatever was needed to get out," he told me.
Over a decade later, it's still not uncommon for families to admit their relatives for conversion therapy including electro-shock and injections. But in July, a court ruling awarded a gay man compensation from a public hospital that forced him to undergo such treatment—the first victory of its kind in China.
Lin also attended six blind dates his mother arranged for him, dating one woman for about a year. But he never held his girlfriend's hands or kissed her, and they eventually broke up.

Lin's mother tried one last resort. The family converted to Christianity six years ago, after Lin's father, who now lives on dialysis, was diagnosed with kidney failure due to diabetes. Since then, Lin's mother has started to pray every day for his husband's health, as well as for her son's conversion. "What can't be changed by humans can only be changed by God," she told her son.

"Creating a new world"
Zhang Jian, a tall, skinny 35-year-old, and his straight friend, Lu Nao, my roommates on the trip, are often mistaken for a couple. Zhang and Lu, who with his tattoo of a carp and bulky muscles presents a contrast to Zhang, have known each other for more than a decade. They've just started a medical-content search business together, out of their apartments in northern Shanghai.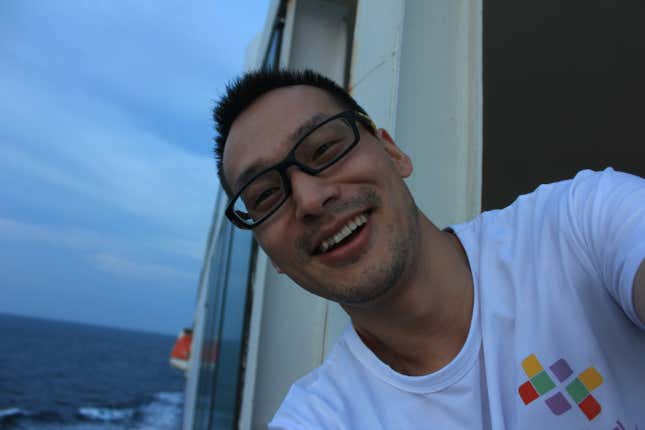 Zhang's mother didn't want to come on the trip—she'd never traveled far from her home, a small city in northwestern China, and she also hasn't fully accepted the fact that he is gay. He never got the chance to come out to his farmer father, who died in April at age 67.
As a parent himself now, Zhang is trying to do things differently than he did as a son.

Back in 2008, he married his former colleague from an internet company. A year into it he finally admitted to himself he was gay, a realization his ex-wife had also reached. Although his ex-wife didn't want him to, Zhang came out to his daughter when she was around four. "I like men," he told her. At times, Zhang picks up his daughter, now nine years old, to stay with him, and over time she's met some of his previous boyfriends. It's been fine, he said. After all, he said, "a child's impressions are shaped by grown-ups and this world."
For its part, PFLAG China is devoted to reshaping as many people's impression of homosexuality as it can. PFLAG China's head, who goes by the nickname Ah Qiang, said that the group's first national convention in 2008, the year it was founded, only attracted around four dozen parents and kids, who "did nothing but cry." Now, the nonprofit has an army of 1,800 part-time volunteers who regularly organize public-awareness events on LGBT rights in over 50 Chinese cities. (It is named after the US group PFLAG, whose acronym originally stood for Parents, Families and Friends of Lesbians and Gays, but the two are not affiliated.)

PFLAG's operation is an example of how nonprofits in China are pushing to change human rights while carefully navigating the authoritarian state's extremely limited toleration of such activities. This year Ah Qiang said he has seen more events by PFLAG and other gay rights groups forced to cancel by authorities than he can remember since the organization was founded. He said he has learned from his government sources that LGBT activists are listed among feminists, labor activists, and military veterans as a priority in China's latest round of tightened controls over civil society. He chose a cruise ship as the venue of this year's gathering in part because no registration or pre-approval with authorities for the events on board is required. And even if he had been forced to cancel the formal onboard programs, "You can't stop me from chatting on a ship," he said.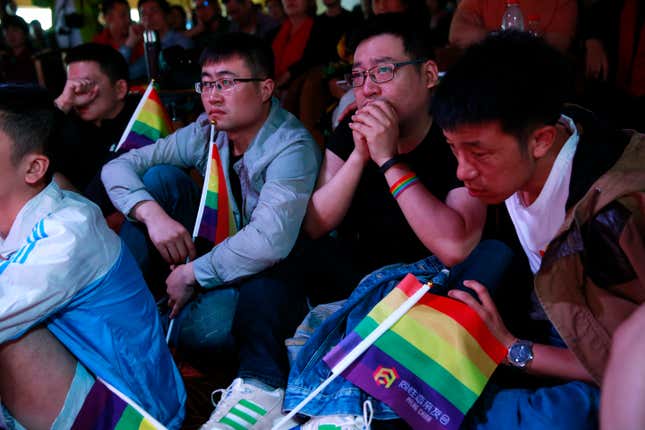 At a workshop onboard, a 48-year-old affluent steelworker who called himself Success Dad told other parents that he is a member of the Hui people, one of China's two major Muslim ethnic groups. He recounted thinking that his 21-year-old son had lost his values because of "not going often enough to mosques." Success Dad said he was confident he could turn his son straight just like he could weld steel into any shape he wanted. But he changed his mind after watching Prayers for Bobby (2009), at his son's recommendation. The film is based on the true story of Bobby Griffith, a young American man who killed himself in 1983, after his devout Christian mother sought to cure him. Success Dad said his heart broke watching the scene where Bobby jumps off a bridge. Then, he said, he realized it was more important to him than anything else that his son live a happy life.

"I want to fight for my son's rights. I want him to live in the sunshine as well," he later told me while smoking on the top deck. "I sheltered him in the past, and now I'm creating a new world for him."

But he admitted it's a tough task: "We are challenging 5,000 years of Chinese culture."

An uncomfortable comparison

China has taken some steps forward, and several steps back, when it comes to gay rights, as it has with many personal freedoms. Every June since 2009, Shanghai holds the country's most high-profile pride event with parties, performances, and film screenings, although, unlike in much of the world, massive street parades are missing from the celebrations to avoid government interference. Businesses built around the needs of gay people have been part of China's overseas acquisition sprees—Grindr, the world's leading gay dating app, is now fully owned by a little-known Chinese gaming firm.
But China also stigmatizes gay people through government policies such as bans on the portrayal of same-sex relationships on television and online video programs. China's official textbooks also contain homophobic content, and earlier this year a college student in Guangzhou lost her lawsuit against the education authority over the matter. No laws in China specifically protect LGBT people.
Two weeks before the Glory Sea tour, Taiwan became the first place in Asia to recognize a constitutional right to marry for same-sex people. The top court of the self-governing island, which China regards as a breakaway province, ruled that legislators should amend or enact laws to make same-sex unions possible within two years; otherwise, gay couples will be allowed to register marriages under the current framework.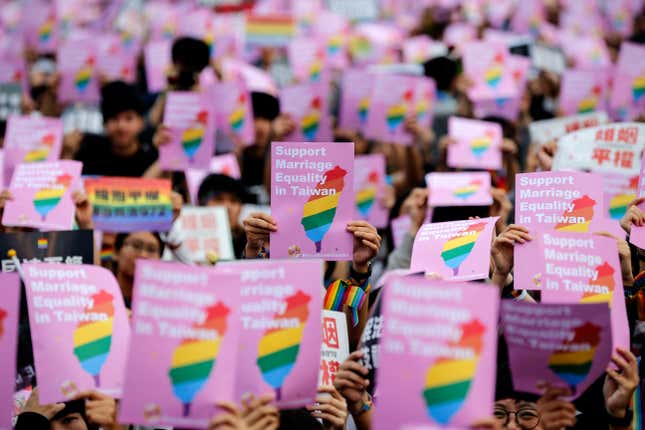 Taiwan is way ahead of not just China, but most of its neighbors in Asia. Some cities in Japan have recognized same-sex reunions, but the issue hasn't become part of the national agenda. Nepal protects its LGBT people from discrimination and violence, but hasn't given them the right to marry one another. Two-thirds of Australians support same-sex marriage, but conservative forces in the political arena stand in the way of a legal right. In 2016, a year after the US legalized gay marriage nationwide, a Chinese gay couple sued their local government for not allowing them to register their relationship as marriage. A court accepted the groundbreaking case, but after hearings, ruled against them.
PFLAG China had invited Mom Kuo, one of Taiwan's most vocal gay rights activists, to be the main speaker at a session for gay children, something that would have been hard to do on the mainland. The 62-year-old mother of a transgender son has devoted herself to Taiwan's LGBT movement for more than a decade, and helped push for the island's gay marriage ruling.
Mom Kuo said in her speech that Taiwan's decision would encourage China to follow suit. She said the island finally made a contribution to "the motherland." The audience clapped and cheered enthusiastically, perhaps as much for the way she positioned Taiwan's relationship to China, as for her optimistic outlook. She quickly moved on from politics, and shared her tips for children coming out to parents. One key step is to write their parents a letter addressing five questions, she said, like how they felt about discovering they were different from other people, or about their hopes for the future.
Later, when I asked Mom Kuo whether China can replicate Taiwan's victory for marriage equality, she seemed more doubtful. "It's hard to say," she mused. From her perspective, Taiwan's gay-rights movement is a bottom-up movement that involved demonstrations and high media visibility—but the same approach would almost certainly face a crackdown in China. It already has.
In May, police in the northwestern Chinese city of Xi'an detained nine organizers of a TED-like talk about LGBT rights. Upon their release, a police officer warned that Xi'an "doesn't welcome gays," one of the organizers told me not long after. In addition, China doesn't have a truly independent judicial branch that can force the government to do something it doesn't want. "Our experience can't be replicated [in China]," Mom Kuo said.

What can be replicated, though, is successful ways of coming out. Not only kids coming out as gays to parents, but also parents coming out as parents of gay people to their friends, she said. Through such actions, public acceptance toward gay people will naturally grow, Mom Kuo said, to the point when the government will have to care about them. She calls it "private visibility," as opposed to "public visibility."
It's a journey some parents on the ship were starting to make. After many heart-to-hearts with fellow parents, Lin's mother said to me, "If my son can't be changed, I should start changing myself." 
The same day as Mom Kuo's talk, some of the parents spoke about what they first thought, or said, when their children came out. After her daughter came out to her on Mother's Day, Phoenix Mom, a 65-year-old illiterate farmer from central China, recalled losing her temper and yelling, "Among eight villages within 10 miles, you are the only pervert!" That outburst was just a year ago. Now Phoenix Mom is being trained as a PFLAG volunteer.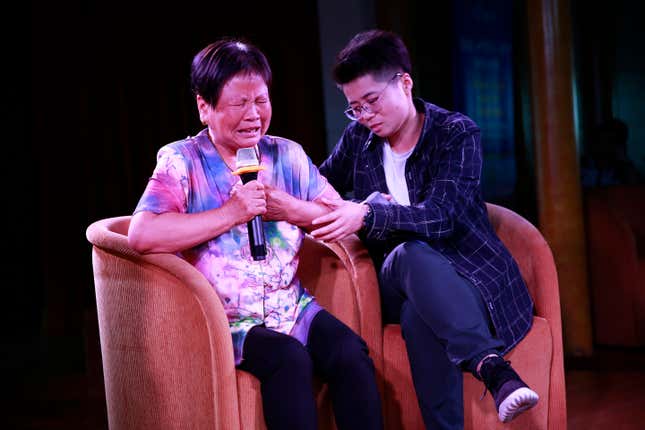 True and false weddings
At 8pm on the second night, lights dimmed in a theater on the sixth floor and then came on in full force, as joyful Chinese traditional music began to play. Women and men in black silk robes pinned with red paper flowers emerged from the two aisles, hoisting red paper lanterns overhead. Nine couples then followed in red or blue robes embroidered with dragons and phoenixes, carrying knotted red silk ribbons with a giant hydrangea in the middle.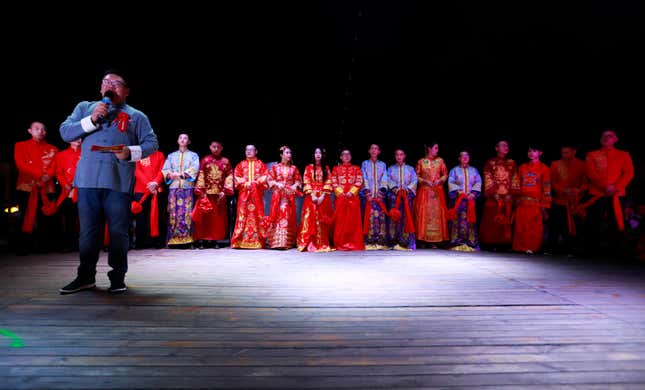 Some 20 couples had competed in online voting for the chance to participate in the onboard wedding celebration, which won't be legally recognized back home. Nine couples were selected. 
Among them were Chen Zhichao, 29, and Yang Jieli, 23, both from China's southeastern Chaoshan region. Chen, a transgender man, told me their relationship began on the very first day of 2015. Chen took Yang home after a New Year's Eve countdown party with common friends in the southern metropolis of Guangzhou. Chen said that was unusual for him—he is not a one-night-stand kind of guy. Yang, who is otherwise shy and happy to let Chen do the talking, interrupted to say that Chen is actually a "lao siji," or old driver, slang for someone who's sexually experienced.
Tian Tian and Xian Xian, who go by their nicknames, were the only lesbian couple among the nine. As they prepared for the evening, Tian Tian, 30, was dressed in an oversized t-shirt, her hair pulled back in a Samurai-style ponytail with the sides of her head shaved. Her partner, Xian Xian, 27, wore a strapless light blue shirt. Back in their hometown city, Lianyungang, they each have a fake husband.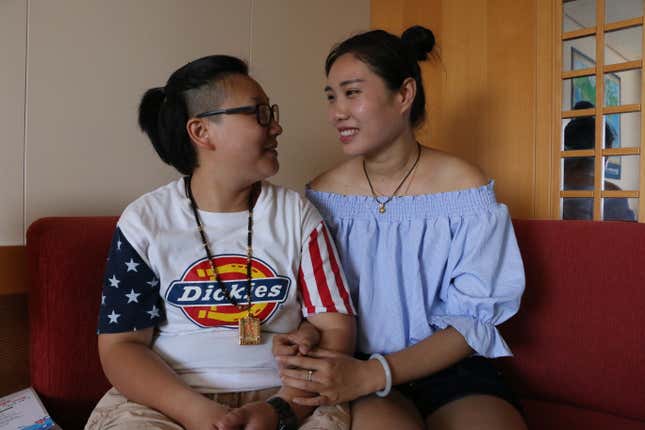 Chinese gay people have two kinds of marriages. Some marry heterosexuals who don't know the person they're marrying is gay—that's the kind of marriage my roommate Zhang had. Others, like Tian Tian and Xian Xian, marry as a quid pro quo: A gay man marries a lesbian woman and they continue to lead their own lives, with parents on both sides in the dark. These arrangements are known as xinghun, or cooperative marriage.
In 2016, Tian Tian and Xian Xian had fake weddings with their fake husbands to satisfy their parents. They fronted the men money for their bride prices, around $2,000, paid from the groom to the bride's side of the family. Tian Tian's father gifted his son-in-law a sedan, which has since been driven by Tian Tian. The fake husbands and wives have never lived under the same roofs for a single day.
But six months into the marriage, Xian Xian's mother began pushing her to have a baby. "The younger you give birth, the better you will recover," her mother said. The couple decided they could pretend no longer, and came out to their parents, who have mostly accepted their homosexuality. (Their parents were not able to take leave from work for the trip.) Still, their fake marriages remain valid for their distant relatives, prying neighbors, and total strangers, and act as a safety net for their parents, allowing them to save face. "They'll quietly take a lot of pressure for us," Xian Xian said.

Five of the couples in the ceremony had at least one parent onboard, including Chen and Yang. Still, Yang said she doesn't feel their parents' acceptance is whole-hearted. "They have never really fully supported [our relationship]. They just say, 'As long as the kids are happy…' They don't think there's a way to change us." At the ceremony, Chen's mother enveloped the couple in a hug, bringing tears to Yang's eyes.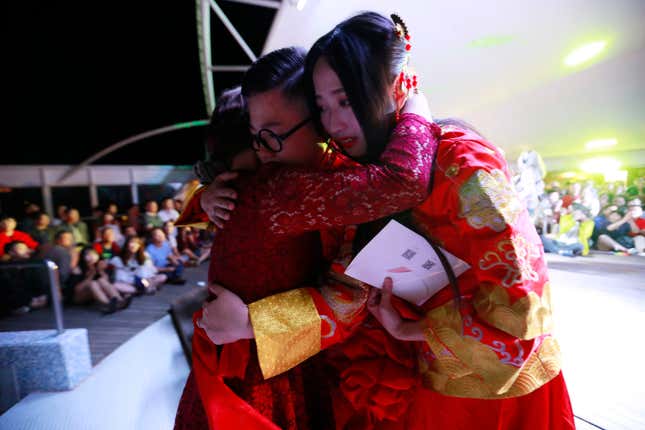 The nine couples moved to the top deck for the final festivities. Under the dark sky, the couples made their vows, exchanged rings, and crossed arms to drain cups of Chinese liquor, which Xian Xian later told me were actually empty. The other passengers jockeyed to catch the hydrangeas the couples tossed, and the lucky candies they gave out. Dozens of mothers—though not the parents of the couples—took over the stage, and danced the night away.
"Love really needs courage"
The Glory Sea finally arrived at the port city of Sasebo in western Japan on the morning of the third day. In less than 12 hours the group was taken around to six tourist spots, including a Dutch-inspired scenic town, a small porcelain theme park featuring a German-inspired palace, and an observatory tower with a view of over 200 islands ranging along the coast. The longest stop, for 90 minutes, was at a Chinese-staffed duty-free store, and a Japanese electronics store, with shopping a major draw for Chinese tourists at popular overseas destinations. "Just because this group has more men, doesn't mean we'll buy any less than the women," one passenger told the tour guide en route to the shops.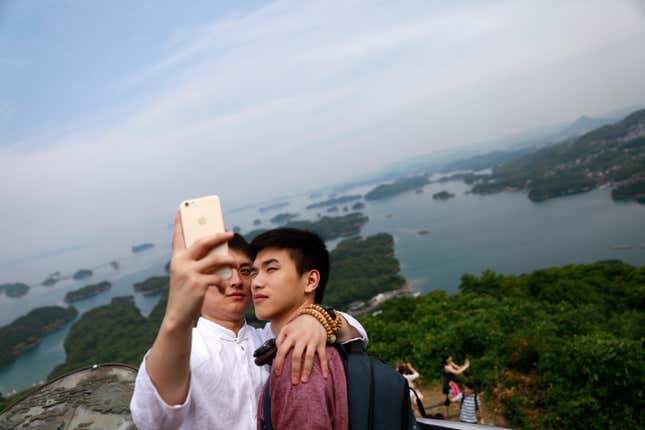 By the last day, Zhang Jian was spending most of his time onboard with someone he had met on the Chinese gay dating app Blued before the trip began. Passengers who had been reserved for much of the trip suddenly seemed afraid of missing a chance for romance. One man, a 32-year-old former financier now in tech, received a Mickey Mouse stuffed toy from a shy admirer in his early 20s. "Thank you for four wonderful days," the attached note read, though the two had not really interacted. Later, he learned the young man had brought a Mickey and Minnie pair and kept the latter for himself. 
That night, people gathered at the stage on the top deck to enjoy music performances from their fellow passengers. One group sang an old ballad called "Courage," made famous by Malaysian singer Fish Leong. The lyrics resonated with a lot of people onboard. Hundreds in the audience turned on their cell phone lights, waved their arms, and sang:

Love really needs courage
To withstand rumors and gossips
As long as your eyes express certainty
My love would mean something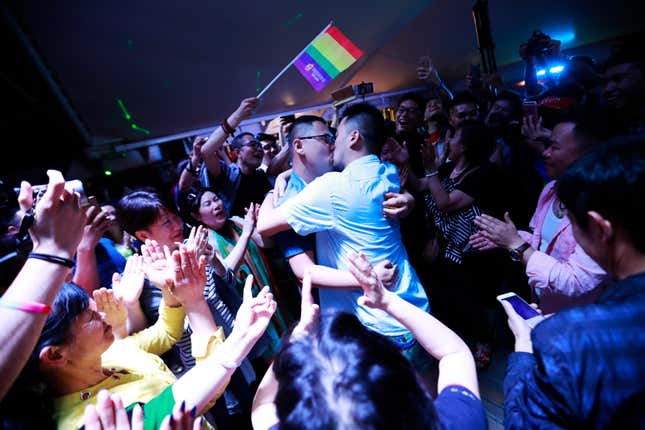 Early the next morning, Shanghai's port was once again in sight. This time, people were not given any warnings about hiding their identities. As the mainland drew closer, rainbow signs were noticeable on t-shirts, and in temporary tattoos on many faces. Zhang wore a grey sleeveless shirt depicting Sun Yat-sen, the father of modern China, over a slogan reading: "Comrades still have to work hard."