Launched in 2015, Honor of Kings is a multiplayer online battle game similar to League of Legends, but for mobile phones. About 55 million people are playing HoK daily in China, making it the world's top-grossing mobile game (paywall) in the first quarter of this year. Now Chinese tech giant Tencent, which also owns League of Legends, is preparing to bring its smash hit to the US and western Europe, according to recent reports from Bloomberg and Reuters.
When the time comes, Chinese and US fans will be playing quite different games.
To begin with, the titles of the game aren't the same. Tencent recently rebranded the global edition of Honor of Kings (or 王者荣耀 in Chinese) from Strike of Kings to Arena of Valor, according to the game's official website and YouTube channel. Previously, Tencent had also tried Realm of Valor. Hopefully, the Shenzhen-based company has decided to settle down with its newest option.
Aside from that, Tencent reinvented most of the game's characters for the global edition. In the Chinese version, the 60-plus characters are largely adapted from Chinese history and myth, which was one of the biggest selling points of the game, but also invited criticism from Chinese state media for "subverting history." As Shanghai-based digital publication Sixth Tone explained:
Tang Dynasty poet Li Bai is depicted as an assassin; Jing Ke, the man who in 227 B.C. tried to kill the first emperor of China, is a scantily clad female character; and China's first known physician, Bian Que, doesn't just cure people but now also poisons his enemies.
Tencent has westernized these Chinese characters in the global version, without changing their core playing methods. In other words, a Chinese gamer and a Western gamer might choose two characters with different names, appearances, and skills, but find themselves having the same gaming experience. For example, Daji, a concubine of an ancient Chinese king, is adapted as a magician with destructive powers in HoK. Her equivalent in the global edition is called Veera, a sexy demon with wings, similar to characters commonly seen in Western fantasy games like Blizzard's World of Warcraft. Both Daji and Veera can seduce their enemies, leaving them disabled in the virtual battlefield for a few seconds.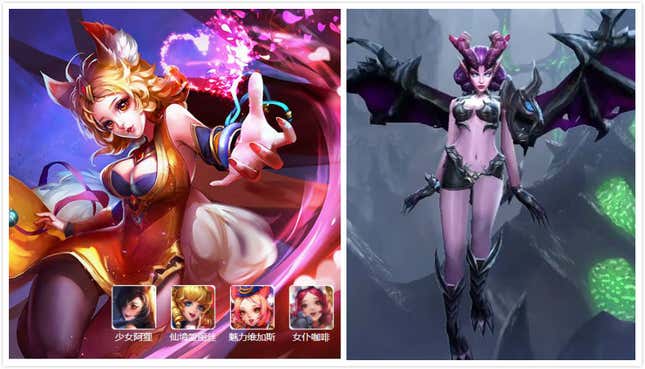 Lu Bu, a warlord from China's Three Kingdoms period (AD 184-280), is so far the only character that appears in both HoK's Chinese and global editions. He uses his halberd to chop off his enemies' heads in the game, as he did in reality.
According to Bloomberg, Tencent has also partnered with Warner Bros. and DC entertainment to bring comic book heroes into HoK's global version. Batman is now available in the game as an assassin who can make himself disappear. His Chinese equivalent is the Prince of Lan Ling, widely known today as one of the four most handsome men in ancient China.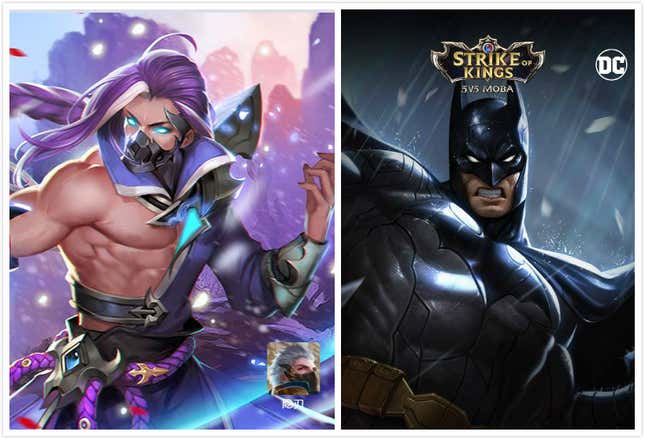 China's top state newspaper, the People's Daily, recently labelled HoK "poison" and a "drug" that turns Chinese teenagers into game-playing addicts. In early July, Tencent rolled out a series of measures to restrict play time for the game's young users.
According to its website, Arena of Valor has been released in northern European countries including Denmark, Sweden, and Netherlands, as well as Asian markets including Turkey, South Korea and Thailand. The upcoming launch will cover the US, France, Italy, Spain, and Germany, according to Bloomberg.
Quartz pre-registered an account for Arena of Valor on its website, and got an email that the game will be available on Aug. 10 "for European regions." Tencent didn't respond to requests for comment for this story.
Arena of Valor will need to compete with similar online battle games like Mobile Legends and Vain Glory. DC characters will perhaps help Tencent catch up with its competitors in the global market.
Visen Liu contributed to this article.