The internet lit up today with news that Paris Jackson, daughter of the late Michael Jackson, and actor Macaulay Culkin had been spotted getting matching tattoos. Part of the fascination is likely in the relationship between the two celebrities—Culkin is Jackson's godfather, though only 18 years her senior. Part likely stems from the design they chose to get inked onto their inner arms: A pair of small spoons.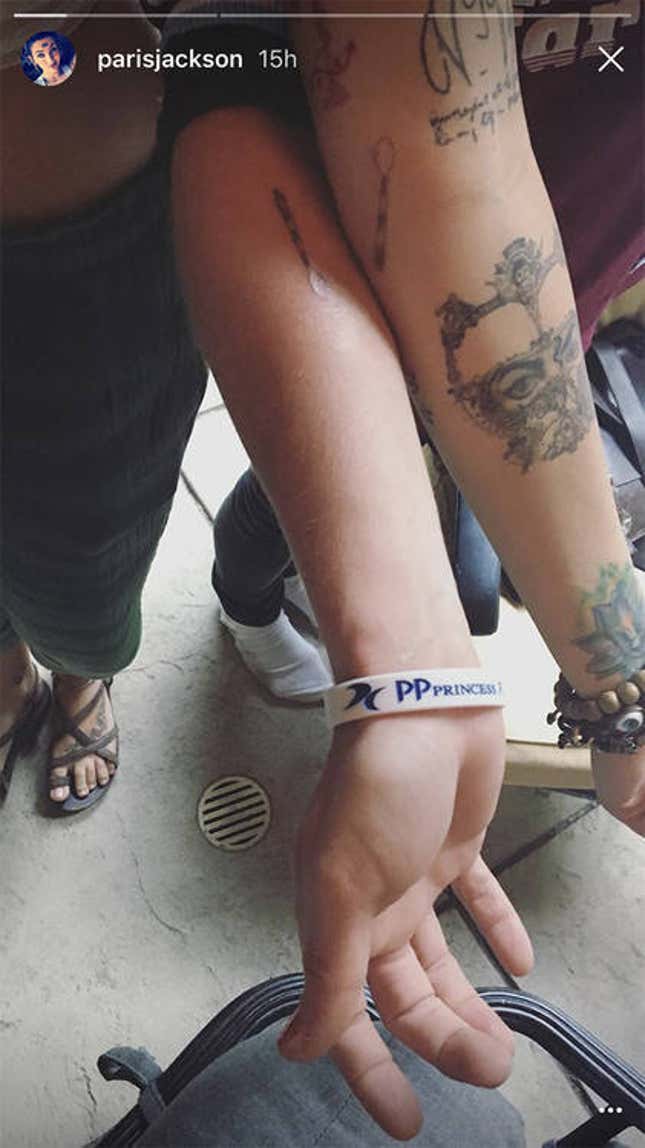 Jackson posted the image in an Instagram story, which can only be viewed on mobile for 24 hours.
But it turns out that spoon tattoos are popular for a very specific reason: Spoon Theory.
How much energy do you have to face the world today—and how would it feel knowing your daily allotment was absolutely finite?
For people who suffer from chronic pain, that can be the case, and one woman who suffered from lupus—a chronic condition that affects the immune system and can lead to a wide variety of symptoms from skin rashes to chronic fatigue and swollen, painful joints—invented "Spoon Theory" to explain it.
The spoon is, in fact, a fairly random metaphor. It's the brainchild of Christine Miserandino, a blogger who advocates for people with lupus and other conditions, who in 2003 found herself trying to explain to a friend what it was like to live with chronic illness. It was late, and the two were in a diner. Miserandino gathered together all the spoons from their and other tables, explaining that each spoon represented a unit of energy, needed to complete an ordinary task.
"Most people start the day with unlimited amount of possibilities, and energy to do whatever they desire, especially young people," she explains in a blog. "When you are healthy you expect to have a never-ending supply of 'spoons.'" But people suffering from chronic illness or pain don't have an unlimited number. They might know they only have ten "spoons" and that it will take three to shower, eat, and dress in the morning. This necessitates a fundamentally different approach to planning time which, Miserandino says, is hard for the non-sick to grasp.
Spoon theory has obviously struck a chord.
People who identified with Miserandino's metaphor began to self-identify as "spoonies," seeking support and connection with other sufferers online. Some have sought to make their condition more public by consciously talking about it rather than suffering silently. Chronic illness sufferer Sophie Cowley likened her status to being part of any other "hidden" minority in a 2015 blog: "Chronic pain or illness is just one kind of invisibility," she wrote. "I can play the part of an able-bodied person for a short amount of time—say, the time it takes to finish my coffee"—but the performance takes a toll.
Solidarity and acknowledgement are some of the reasons people cite for their spoon tattoos, although it's unclear whether this is the reason Jackson and Culkin chose the symbol for their matching ink.