In one scene, Zhang Wang'an, an 18-year-old high school student in Beijing, is shown working out at a gym in order to appear more masculine. A later scene takes place in the bedroom of Zhang's mother as the teenager secretively tries on her nail polish, bracelets, and cheongsam, a tight-fitting one-piece traditional Chinese dress for women.
Such contradictions are the major theme of Escape, a rare Chinese movie about being transgender created by a group of high school students in Beijing. In the 75-minute production, the character of Zhang Wang'an goes on a painful journey of self-discovery, and eventually embraces her true identity as a transgender woman with help from her friends.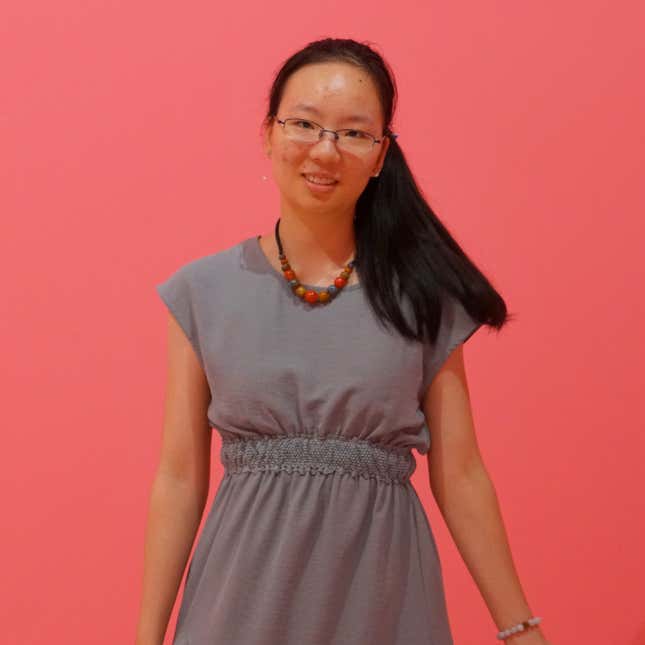 "I'd like to let everyone have a better understanding of the LGBT community through my film. I feel like I have a sense of mission," said the film's director, Hu Ranran in a phone interview. Hu, an 18-year-old woman who just finished high school and will soon head off to major in physics at the University of California in Los Angeles, describes herself as a self-taught filmmaker and has directed a couple of short films previously. The only problem is there are a lot of roadblocks to making her film widely available—and not just because she's a little-known teenage director.

Escape comes at a sensitive time when China has tightened its censorship control of LGBT content. In July, Beijing issued a new ban on the portrayal of same-sex relationships in online video productions, following a previous ban on such content on television. Although transgender themes aren't singled out in the online ban, the new regulations group homosexuality with incest as examples of "abnormal sexual relationships."
Escape was released in three small-scale test screenings in Beijing last week, and drew nearly 100 people, including LGBT students and their parents. The film crew has also sold more than 100 discs of the film for around $3 each to try and recoup some of their production expenses. Now Hu is planning to publish her film on Chinese video portals for people to watch for free, though she knows the film can be pulled offline at any time. "If one doesn't work, I'll just try another," she said.
Hu also plans to upload the film to YouTube, hoping that Chinese internet users will be able to leap the Great Firewall to reach the site—although it's becoming harder. She is still working on English subtitles.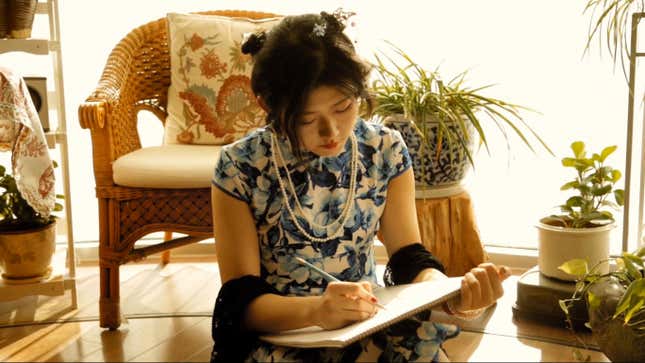 In February, Hu recruited a crew of three dozen fellow students from her alma mater, High School Affiliated to Renmin University of China.
None of them were trained in acting or filmmaking. About a third of the cast and crew identified as gay or bisexual, though they had only come out to a few close friends, Hu said. She added that the lead actor, Zhang Yuge, 18, is straight and has had experience performing in musicals. 
The school was supportive of the shoot—about 70% of the film was shot on campus, and one American tutor even guest-starred in the film as a psychology teacher, Hu said. But she failed to get permission hosting public screenings on campus. After viewing the film, a teacher in charge of student activities told Hu that her work was "way ahead of our time," and not suitable for the many teenagers at the high school.
Not everyone in the audience was impressed by the film though. Some parents in the audience criticized Escape as too dark; others argued that it's OK to support transgender people, but not to "publicize" their lives, Hu said. "Many people have the thinking that if you get along with a trans or gay… you'll be influenced by him and become a trans or gay as well."
Public acceptance toward LGBT people has progressed in China in recent years, but coming out is too big a risk for the vast majority. No laws in China specifically protect them.
Escape is already the talk of China's internet, after the film screenings were covered last week by the Beijing Youth Daily. The newspaper's article about the film (link in Chinese) has attracted more than 100,000 views on WeChat, the maximum number displayed on the Chinese social-media app. "Social progress is shown by acceptance toward minorities," one WeChat user commented under the post.
"I hope anyone can relate to the film, more or less, because it's a story not only about being transgender, but also about everyone finding their true selves," Hu said.