Floyd Mayweather recently posted the following:
It comes after Conor McGregor, whom he will fight in Las Vegas on Aug. 26, mocked all the regulations of his new sport in their first press conference:
All these rules, all these restrictions, it doesn't faze me, it amuses me. The gloves. They have to be 10 oz… He wants the gloves, no problem, give him the gloves. I'll wear 10 oz. No Mexican made gloves, OK, no problem. No gloves made out of horse hair, no problem, I don't give a fuck.
We shouldn't be too hard on McGregor. It is, after all, his first boxing match—ever. He is more used to fights in the anything-goes world of the UFC, where they wear open-fingered 4-oz gloves. When he faces the undefeated Mayweather, the MMA star will arrive in the ring in 10-oz gloves, as is mandatory for boxers weighing over 147 lbs (66.7 kg). Mayweather has said he wants it that way because those are boxing rules. But why are they even talking glove size? Would that 2-oz gap between really make that much difference, or the 6-oz difference in what McGregor would usually wear and the fully covered boxing gloves he will have on in Las Vegas?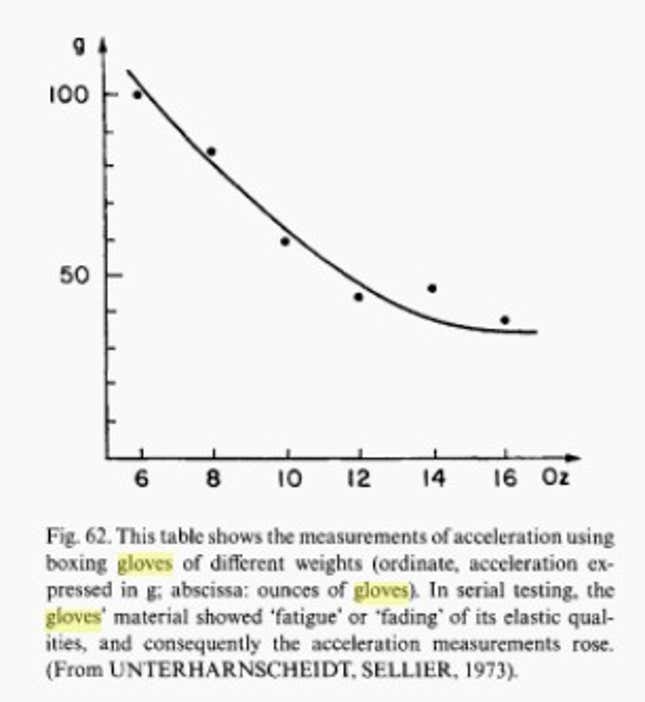 It really would. First of all, there's a misconception that the point of the glove is to make the punch harder Actually, it softens the impact.  In a 2003 book "Boxing: Medical Aspects," the authors cite a 1970 study (see p. 45) that found using any glove weighing between 8 and 16 oz reduces the intensity of punches by about 40% when compared to the naked fist. Nothing is worse than bone on bone.
The book's authors, Friedrich and Julia Taylor Unterharnscheidt, wanted to measure how much of a difference the weight of a glove had, so they found two students who (sadly for them) were "unskilled in boxing," attached accelerometers to their heads, and stuck them in a ring. They found the velocity of punches thrown (by these rank amateurs) using 6-oz gloves was 2.7 times greater than when using 16-oz gloves, which are generally used for sparring. The acceleration of these punches, measured by g-force, was around 40% faster with 8-oz gloves than with 10-oz ones, the Unterharnscheidts found.
Smaller MMA gloves, which are closer to an unprotected fist, are even more extreme. Measuring the difference between the impact of MMA gloves and 10-oz boxing gloves on heads and necks, a 2012 paper in the Journal of Neurosurgery found that the transfer of "kinetic energy was significantly higher" with MMA gloves and they "always significantly increased angular velocity and angular momentum transfer"—all of which is to say that you're much more likely to be waking up on the floor after taking a clean shot while fighting in the Octagon.
Those few ounces could make all the difference in this fight for McGregor, trying to do the impossible. Mayweather knows that the bigger the gloves, the less power McGregor will likely be able to generate in the ring. Important for the American, when his Irish opponent is knocking out world champions in the UFC in 13 seconds flat.
So the question that fans are paying to watch is whether, with a puncher's chance of an upset, McGregor can transfer that knockout power to a different sport with these much heavier padded gloves against Mayweather. So far, we have this example:
"People are talking about his left hand and whether the power will be there with 10-oz gloves—he lifted me off my feet with a right uppercut in 16s!" said the victim in that image, his sparring partner on that occasion. (McGregor is a southpaw, so the right is his weaker hand.) "He will definitely keep his stopping power with 10-oz gloves on." But a pro boxer who sparred with McGregor recently said he will have no power with the heavier gloves on: "It's crazy to think that people can actually compare a fighter that's 0-0 in a boxing ring, to a legend that's 49-0."
Still, there are limits. At that first press conference, Mayweather had shouted: "If you want 8-oz gloves, let's put 8-oz gloves on! If you want 4-oz gloves, let's put 4-oz gloves on! Don't fool the public." McGregor quickly retorted, "Let's do it with 4 oz."
Mayweather didn't reply.