It will keep more than the threat of a US Federal Reserve pullback to keep China from buying US government bonds. In May, China boosted its holdings of US Treasury securities by more than $25 billion, bringing its Treasury holdings to $1.32 trillion, the highest on record. The increase came even as Ben Bernanke's May 22 congressional testimony spooked markets by raising the prospect that the Fed could ease up on some of the extraordinary support it has been providing to the US economy, which sent interest rates sharply higher. (And because interest rates and bond prices move in opposite directions, prices for US bonds fell.)
China's recent buying binge helped the People's Republic pull further ahead of Japan as the largest foreign lender to Uncle Sam.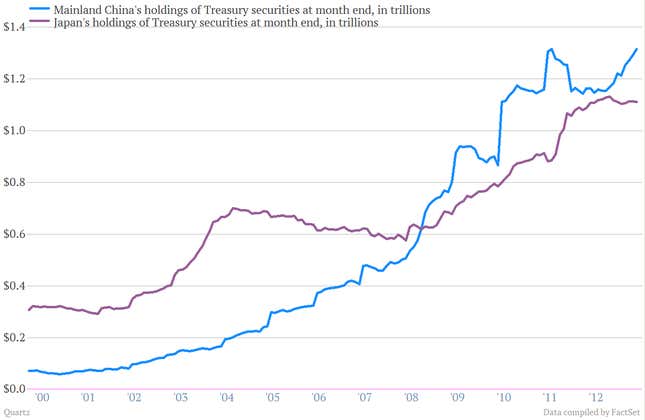 Overall, the US bond market sell-off gathered steam into June. So we'll have to wait to see if China's appetite for buying US paper might have paused during that month.
It's worth noting that a large chunk of the US government bond market is held by "investors" that really don't care what interest rates do over the short-term. Foreign holdings of Treasurys are dominated by central banks, notoriously risk-averse economic players that use Treasurys as a safe place to store their foreign exchange reserves. The Federal Reserve itself now holds $1.95 trillion worth in Treasurys. (That's about 16% of the US government debt available to be traded by the public.)
Also, investment decisions by these large players are driven by policy motivations, not profit. That means they're less likely to sell at the drop of a hat than, say, a hedge fund. That stability will help the Federal Reserve as it tries to wean the markets off all that easy money.