A typical home in San Francisco costs well over $1 million. But a street full of them? That can be a bargain.
Local couple Tina Lam and Michael Cheng bought Presidio Terrace, a private, oval street in a wealthy neighborhood of San Francisco, for $90,000 in a city-run auction in April 2015, the San Francisco Chronicle reports. The block is known for its exclusive, privacy-loving residents, with past homeowners who include US senator Dianne Feinstein and House Democratic leader Nancy Pelosi. From the Chronicle:
So imagine the residents' surprise when San Jose residents Cheng and Lam wound up with the street, its sidewalks and every other bit of "common ground" in the private development that has been managed by the homeowners since at least 1905. That includes a string of well-coiffed garden islands, palm trees and other greenery that enhance the gated and guarded community at the end of Washington Street, just off Arguello Boulevard and down the hill from the Presidio.

"We just got lucky,"said Cheng, a real estate investor.
The auction reportedly came about after the Presidio Terrace Association, the group that has owned and managed the common area at Presidio Terrace since 1905, failed to pay annual property taxes of less than $14 a year.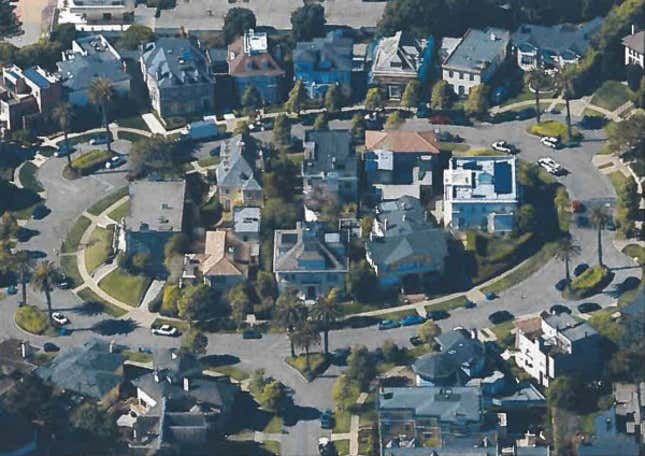 In a letter sent to the San Francisco Board of Supervisors last month, Scott Emblidge, the association's attorney, alleges that those tax bills were repeatedly sent to the wrong address. "On May 30, 2017, the Association was informed that someone named Hiuyan Lam now owns the common area, after having purchased it at a tax sale," the letter states. "The Association was shocked. The property management firm was not aware of any sale or of any taxes owned, nor was any member of the Association."
Lam and Cheng are now contemplating ways to make money from their investment, such as renting out the 120 parking spots on the street. The homeowners association, meanwhile, has petitioned for a hearing in October to rescind the tax sale.
San Francisco home prices have soared in recent years, spurred by the booming technology industry. The city's current median home value is $1.2 million, according to data from Zillow, and the median rent price is $4,350 a month. The median home value in the Presidio Heights neighborhood as of June was $5.1 million.