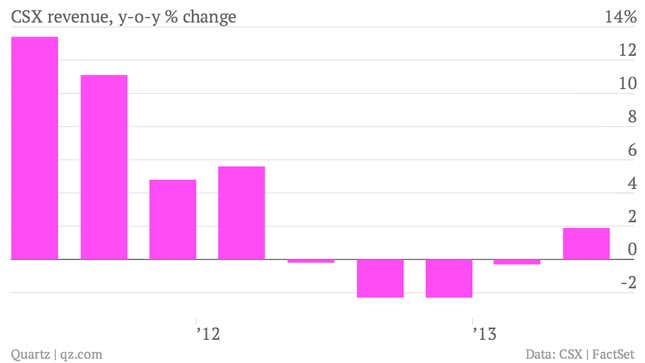 The numbers: Solid, for a business as mature as railroads. Net income rose 4% over the prior year. Sales increased 2%. The shares rose in after hours trading.
The takeaway: CSX is getting a boost from the housing recovery. The railroad—which serves 23 states and two Canadian provinces east of the Mississippi—saw revenues related to moving lumber rise 6%. In fact, a number of products hauled on railroads are closely tied to housing. Cement, rocks, steel rebar and plastic PVC pipes for plumbing are just some of the stuff that need to be moved en masse. CSX reported that revenue from hauling minerals—including the crushed stone, sand and gravel crucial to construction—rose 7% as well.  Meanwhile, revenues from coal transport continue to sag—down 6%—as dirt cheap natural gas prices have cut into a core business for US railroads: delivering coal to power plants.
What's interesting: CSX was formed in 1980 after the deregulation of the US railroad industry. The company was cobbled together by fusing Seaboard Coast Line Industries, which was based in the southeast, with the Chessie system—a large hauler of autos, coal and other industrial commodities centered in the US midwest and northeast. Chessie's roots went back to the merger of the Chesapeake & Ohio and Baltimore & Ohio railroads. When that deal went through in the early 1960s, it marked the end of the line for the Baltimore & Ohio. It had been the last of the four railroads featured in the board game Monopoly to operate independently.