This may be the most important tweet in the history of arms control:
That's Panama's President Ricardo Martinelli revealing missile parts concealed beneath a cargo of Cuban sugar. The compartment was discovered in the North Korean freighter Chong Chon Gang, homeward bound from Cuba. Law enforcement seized the vessel as it traversed the Panama Canal, subdued a rambunctious crew and a captain who reportedly preferred suicide to capture, and discovered a load of what Cuba calls "obsolete weapons"—two anti-aircraft batteries, nine disassembled rockets, and two MiG-21 aircraft," apparently heading to North Korea for repair. The sugar, some theorized, was a payment for the work.
How did Panamanian authorities catch this big fish? Well, it wasn't as hard as you might think.
This isn't the first time the Chong Chon Gang has been caught riding dirty. In 2010, Ukranian authorities found over a hundred capsules of codeine on the freighter, along with AK-47 ammunition the captain said he traded with Somalis for food, 23 bottles of brandy and a secret compartment containing even more illicit drugs. North Korea's government has a reportedly lucrative drug business.
The ship strayed out of home waters. After the Ukrainian incident, arms trafficking expert Hugh Griffiths began monitoring the vessel's location, mostly in Asian and European waters. It hadn't visited the Western Hemisphere since 2009, so when it set course for Cuba, maritime observers took notice. After crossing the canal on May 31, it  apparently shut off its automatic tracking system, only reappearing again on July 10, raising something of a red flag. On July 3, meanwhile, a North Korean military delegation visited Cuba.
The North Koreans are always getting caught in the arms business. The country supplied 40% of the ballistic missiles (pdf) purchased by developing nations between 1995 and 2009. Clients have included Pakistan, Iran, the Congo and Libya, and parts have been frequently seized, most recently in 2010 at the Port of Piraeus in Greece and 2009 in Thailand.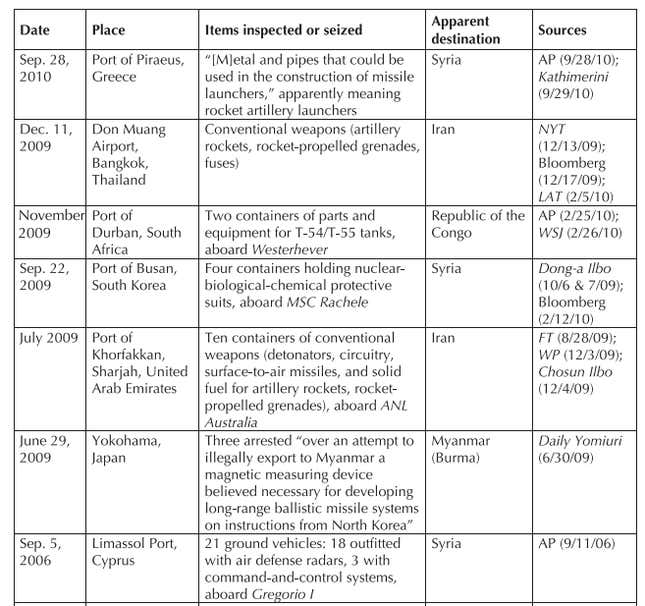 They may have had US help.  US authorities have been praising Panama's decision to search the Chong Chon Gang. While it's not clear how much information from US intelligence sources played into the capture of the freighter, it's known that they keep close tabs on North Korean vessels.
While the fate of the 35 crew members and their captain remain unclear, Martinelli's government has said that it will relay the matter to the United Nations. Inspectors will determine whether Cuba and North Korea violated security council sanctions on weapons trade. Whether that conclusion will matter to the governments in frequently intransigent North Korea is an entirely separate question. But it's a setback for Cuba's government, which has hoped to cultivate better relations with the United States.