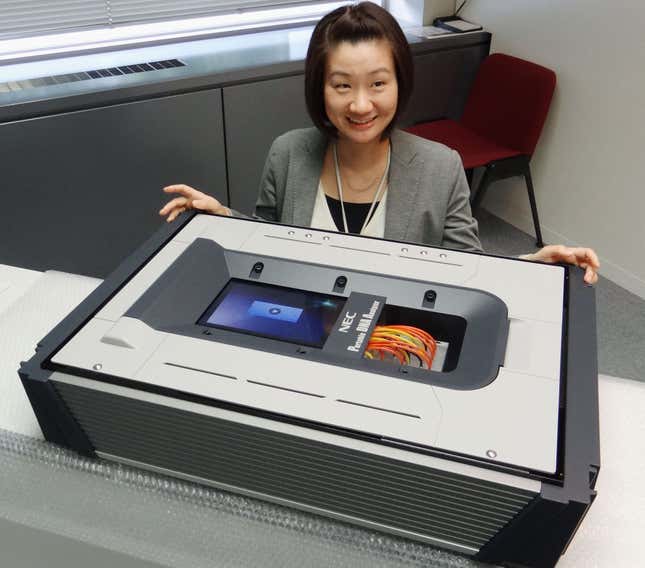 There was a time when NEC was the 500 lb. gorilla in Japan's cellphone market with a 27% market share—then came smartphones. Faced with competition from the likes of Apple and Samsung, NEC's share quickly shrunk to a measly 5%; after spending six months unsuccessfully trying to negotiate a partnership with China's Lenovo, the company has decided to exit the smartphone business entirely, according to a report by the Nikkei newspaper.
Japan's smartphone market is brutal, dominated by fickle mobile carriers and fad-chasing consumers. As in the rest of the world, it is also intensely competitive: In addition to Apple and Samsung, there are five homegrown firms—Sony, Fujitsu, Sharp, Panasonic, and Kyocera—who are vying for a spot in users' pockets.
Still, Japan once had ten handset makers before the relentless economics of smartphones winnowed the crowd. And NEC (which will reportedly keep making non-smartphones for Japan's elderly) won't be the last firm to bow out. Who's next? Well, JP Morgan analyst Alvin Kwock said in a note this week that Taiwan's struggling smartphone vendor HTC may be forced to consider being acquired by the Chinese mobile telecommunications equipment maker Huawei to survive.
"With a hero product [the new HTC One] unable to turn its prospects around, the other game changer could be a merger," Kwock said.
HTC, much like NEC, has struggled to find a foothold in the rapidly changing smartphone marketplace. Once a dominant maker of mid-market handsets, it placed a big bet on building a flagship superphone, the HTC One, that could compete with the iPhone and Samsung's Galaxy 4. Despite positive reviews and a promise from CEO Peter Chou that he would resign if it wasn't a success, the phone ran into production and distribution problems, and HTC's stock has plunged.
In many ways Huawei would be an intriguing merger partner—it has extensive logistics and distribution expertise and a solid business in China, the world's fastest-growing smartphone market, but less experience building consumer-facing brands, or creating the kind of smartphone that spurs consumers' gadget lust.
"Combining Huawei's China expertise with a brand that has a superior product and consumer experience could boost future growth for the company by bringing complementary expertise in-house," Kwock said. Lenovo, also eager to get further into the smartphone business,* is another potential HTC partner.
A combined Huawei-HTC has more than a few complications—it would tie together a major Taiwanese firm with one from mainland China, and Huawei* is politically radioactive in the United States for its perceived ties to the People's Liberation Army. But it would also pair two companies with complimentary weaknesses in a market where it seems that only the strong can survive.
Correction: An earlier version of this post incorrectly reported that Lenovo was not already making smartphones, which it is in China, and that HTC, rather than Huawei, is politically under fire in the US.