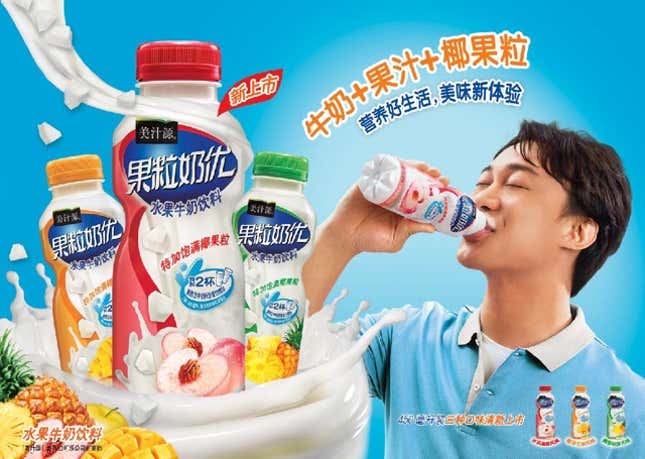 It was a pretty ugly quarter for Coca-Cola. Sales were hurt by monsoons in India, protests in Brazil, economics in Europe, and chilly weather across the globe. Even China was weak. Retail sales in the People's Republic were the slowest the company has experienced in 10 years.
But one ridiculously named Coke product is managing to buck the trend: Pulpy Super Milky. Yeah, that's right. Pulpy. Super. Milky.
That's what the beverage behemoth decided to call the mixture of whey protein, milk powder, fruit juice, and coconut chunks. Apparently the name is some sort of nod to the cutesy, nonsensical English phrases some Chinese consumers find appealing.
The drink was a bright spot for the company during the second quarter. Ahmet Bozer, president of Coca-Cola's international unit, told analysts on Coca-Cola's post-earnings conference call yesterday that Super Milky was seeing "high single-digit" growth. That looks good in comparison to overall Coca-Cola volumes in China, which were flat during the second quarter.
Here's a look at how Coke is selling Super Milky in the People's Republic.
Despite widespread lactose intolerance in the world's second-largest economy, China seems to have a relatively new infatuation with milk and dairy products. And given concerns about the safety of local supplies—the worst example was the melamine scandal which killed some six infants and sickened 300,000 in 2008—that's a huge opportunity for exporters and transforming trade dynamics in the region. For instance, China's dairy binge has turned the country in the biggest export destination for New Zealand, recently overtaking Australia. (For the record, there was a pesticide poisoning scare related to Super Milky a couple years back.)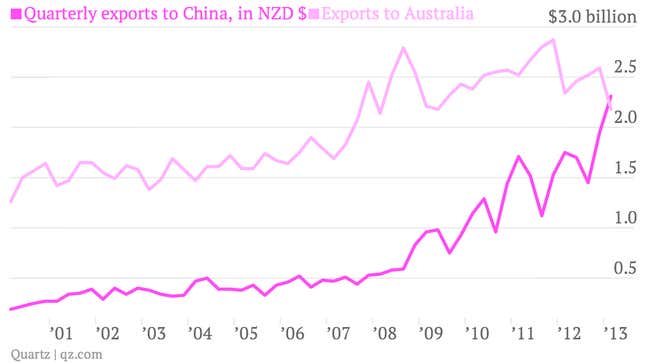 But apparently cheese is still a tough sell. Perhaps Coca-Cola should set its brand-building team to work on that one, too. The traditional word for cheese, nailao, roughly translates into "milk jelly."