When Vancouver wanted to chart the future of the Canadian city's gay village, its planners enlisted the help of Joan-E, one of the city's top drag performers. Joan-E led planners through the village, who interviewed local business owners, bar patrons, and residents about their aspirations.
"People told us they wanted to mark the heart of their community," says Vancouver city planner Holly Sovdi. In response, in 2012 the city's road crews painted over the four standard zebra crosswalks at an intersection in the heart of the village with fat, bright, rainbow-colored bands. The move was so popular that they made the change permanent the following year and turned an adjoining side street into a rainbow-flecked public plaza.

Tactical urban interventions are becoming common as cities experiment with ways to transform streets into social venues that both reflect and build community. In Vancouver, where loneliness and social isolation are pressing concerns, citizens report much lower levels of social trust and connection in the city's dense tower environments than in less dense neighborhoods.
Cities should try to nurture social connections. Social trust is not only a core ingredient of human happiness—it is also a strong predictor of health and longevity. Loneliness and social isolation carry the same health risks as alcoholism or smoking 15 cigarettes a day. But can symbolic changes to public space actually help tackle the crisis of social disconnection that has infected cities like Vancouver?
In the fall of 2016, my team at Happy City partnered with neuroscientists at the University of Waterloo's Urban Realities Lab to create an experiment that explored the effect that Vancouver's new public spaces had on people's happiness, trust in strangers, and attachment to place. We guided more than 100 participants (mostly attendees at an urban place-making conference) to several pairs of everyday urban spaces. Each site pair consisted of an everyday urban space and a similar space that the city had transformed.
We used a variety of methods to test how sites such as the rainbow intersection influenced people's feelings. We tested people's level of arousal by using skin conductance bracelets to measure the skin's resistance to a light electrical charge. (High arousal can signal feelings of stress). We used games to test concentration and generosity. But people's answers to standard survey questions told the most powerful story: They showed that the city's tactical interventions made a huge difference to people's feelings and attitudes.
For example, a block away from the rainbow intersection, the city had transformed a nondescript back alley into a green oasis, lined with shrubs and shared gardens. Our participants reported being much happier here than in a standard, hardscape laneway nearby. They were also more trusting of strangers and more likely to pick up litter in these areas. Visitors cared more and felt more connected to the green laneway than anywhere else on the guided walk.

This did not surprise us. Psychologists have long known that exposure to nature is good for city dwellers. For example, access to green space and parks is associated with lower levels of violence. People living near parks in Los Angeles express higher levels of trust and willingness to help each other.
But we were surprised by the powerful effect exerted by the rainbow intersection. It seemed to produce a flurry of positive emotions in visitors, regardless of their sexual orientation. Visitors reported feeling 40% happier at the rainbow intersection than they did at a standard intersection a block away, and they were 60% more likely to want to meet friends there. They also believed that if they lost their wallet there, they were much more likely to get it back if a stranger found it.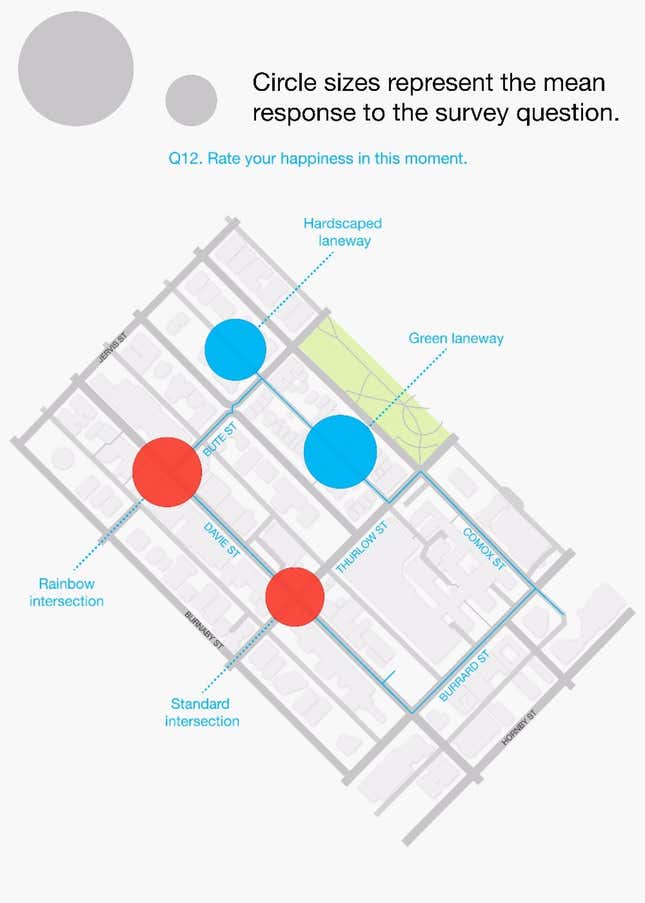 Our results did not tell us exactly why the intersection had such a powerful influence on people's level of trust in strangers. It may have been a response to the cheery colors, or people's moods may have been lifted by the sound of buskers in the nearby plaza. But we suspect that it may have something to do with the symbol itself: The rainbow intersection suggested to visitors that they were in a unique, inclusive place; the heart of a community that locals cared about.
Unique, trust-building places may also boost kindness. In an experiment Happy City conducted in Seattle, we discovered that pedestrians were actually kinder to strangers on streets when the sidewalks and building facades exhibited more detail and local character. We sent out actors posing as helpless tourists to different kinds of environments and watched to see how pedestrians treated them. On street edges with more small local shops and services, passers-by were more likely to stop and offer help than in nearby spaces lined with anonymous blank walls.
For years, public-space designers have measured their success primarily by measuring the number of people who linger in the places they create. Now we are beginning to see that public design influences our feelings and the way we treat other people, too. We've only begun to scratch the surface on the link between place-making and social trust. But the theme demands investigation: Americans report a precipitous drop in their level of trust in their fellow citizens since 1970. We suspect places that feel unique, local, and beloved can be part of the effort to rebuild social connections in an age of mistrust.