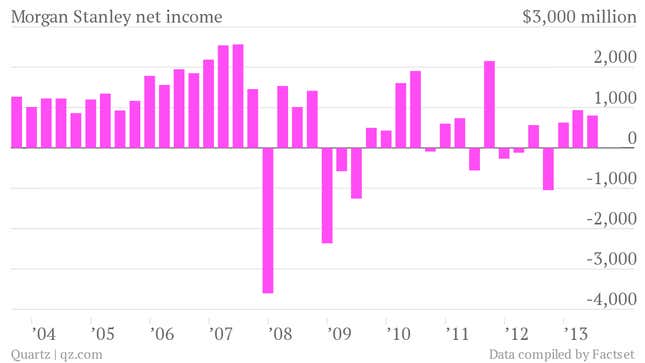 The numbers: Great. Morgan Stanley profits were up 42% from a year ago. The bank reported earnings of $0.45 per share, excluding charges from buying out the rest of its wealth management business and another related to credit spreads. Those earnings were two cents better than Wall Street expected.
The bank also announced that it would buy back as much as $500 million in outstanding stock as part of plans that had been approved by the Federal Reserve but weren't yet public.
The takeaway: Investors are elated. Shares of Morgan Stanley were up more than 5% in pre-market trading (they've since pared some of those gains). Revenues increased across business units, particularly trading and investment banking. Investment banking revenues rose 22% from a year ago, and trading revenues were up 14% over that time period. Although the bank has endured significant change in the last few years, today's numbers suggest that all its businesses may be stronger than analysts thought.
What's interesting: The only iffy number was the bank's return on equity, a measure of profitability. Morgan Stanley has promised to get that measure to 10% this year. Though ROE has risen from last year, it's still at just 4.6%. With a share buyback in the pipeline, we'll have to wait and see whether investors will hold the bank to its word.