Hurricane Harvey is expected to make landfall on the upper Texas coast Friday night, bringing "life-threatening and devastating" flooding, according to US government warnings. Mandatory evacuation notices have already been issued to residents of several counties.
US president Donald Trump and vice president Mike Pence are warning Texans to be prepared. "Remember to #planahead!" Trump tweeted, with a video of him striding through the offices of the Federal Emergency Management Agency (FEMA), which handles the US's natural disasters, then seated at a long table talking to officials. Pence retweeted the message, adding that those in the path of the hurricane should check the National Weather Service's Twitter feed.
The Trump White House has not done much to prepare for the storm, however. Two of the three politically appointed positions in the over-9,000-employee FEMA have yet to be filled by Trump appointees; the same goes with the top position at the National Oceanic and Atmospheric Administration, which monitors storms. Even the Department of Homeland Security, which oversees FEMA, doesn't have a permanent secretary, after John F. Kelly left to become White House chief of staff on July 31.
Trump did make nominees to the two empty top FEMA jobs, deputy administrator and deputy administrator for protection and national preparedness, on July 19. Presidential nominees need to be confirmed by the Senate, however, and that was just before the Senate's August recess. Instead holdovers from Barack Obama's presidency, David Grant, and Kathleen Fox, are holding the jobs.
"Federal civilian employees with decades of experience are currently serving as acting in those positions," a FEMA spokesperson said. "Throughout the transition to the new administration, FEMA has ensured that career civilian staff are in place in key positions throughout the agency."
Many of these FEMA officials, who are crucial to responding to a hurricane, are "acting" officials. They include the heads of the "Office of Response and Recovery" and of "Mission Support." In fact, all of officials below with an (A) after their name are "acting" officials.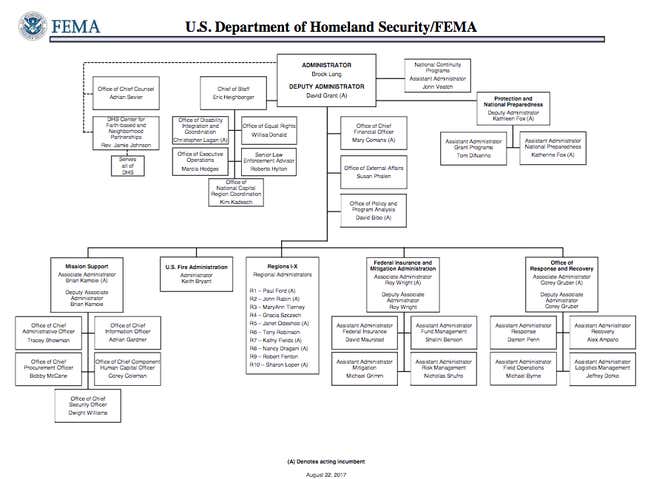 The president has also not nominated anyone to run the 11,000-employee National Oceanic and Atmospheric Administration (NOAA) that is in charge of the national weather service, and of monitoring how quickly storms like Harvey travel and where they are expected to make landfall.
Because there is no head of the NOAA to name permanent officials within it, all the top positions in the agency are filled by "acting" officials, including the nation's most important scientist during such storms: assistant secretary for environmental observation and prediction Stephen Volz. Volz joined NOAA in 2014.
There's no reason to believe an "acting" official would be any less expert at handling a disaster than a permanent one, but it is unclear whether these temporary managers have had the authority to make improvements or changes in the eight months since Trump took office. The failure to fill top disaster preparedness jobs is part of the administration's overall whittling away at US government bureaucracy. Eight months after the inauguration, the Trump administration has yet to nominate people to fill 368 out of 591 total positions that require Senate approval, according to a Washington Post tally (paywall). Trump's proposed budget would also trim funding for both FEMA and NOAA.
When asked about the administration's hurricane preparedness today, White House press secretary Sarah Sanders said, "I think we are in great shape, having general Kelly sitting next to the president throughout this process."
Read next: Where and when Hurricane Harvey could strike this weekend
This article originally stated incorrectly that the Department of Homeland Security oversees both FEMA and NOAA. NOAA is part of the Department of Commerce.