Awkward black girls are finally having their moment on TV.
In the US, this cultural revolution is led by Issa Rae, a black comedian, writer, and actress, who—bored of how black women were being represented on TV and films—created and stars in the HBO dramedy Insecure. Meanwhile, across the Atlantic, the British writer and actor Michaela Coel plays Tracey Gordon, a 24-year-old clueless romantic who lives with her religious mum and sister on a working-class estate in East London in her Channel 4 show, Chewing Gum (available on Netflix).
Hilariously awkward characters that bumble through socially excruciating situations aren't new to television: From Woody Allen to Ricky Gervais, Tina Fey to Phoebe Waller-Bridge, comedians on both sides of the Atlantic often make us cringe. But these are not roles we have often seen black women play.
On screen, black women are often trapped at one or another extreme. On one side are the black women reduced to time-honored stereotypes, where they are either "mammys" (Gone With the Wind and The Help); prostitutes (Hustle and Flow) or addicts (The Corner); or reductive "magical negro" types (Whoopi Goldberg in Ghost). On the other are the fierce, unstoppably powerful superwomen that have risen lately as a sharp reaction to these roles: Olivia Pope of Scandal; Cookie of Empire; Beyoncé of… Beyoncé. These flawless, indomitable incarnations of black womanhood seem capable of overcoming any odds and enduring any pain.
But where are the black women struggling with dispiriting careers? Going on embarrassing first dates? Having brunch? Until Issa Rae and Michaela Coel burst onto our screens, we didn't see black women doing the hard and often ridiculous work of navigating work, family, and relationships.
There's something radical in how mundane the lives of the lead characters are—a point Rae has often emphasized. She told Fast Company Magazine last year: "I don't want to invalidate anybody's black experience. But it seems to me [on television], we're either extremely magical, or we're extremely flawless. But we don't get to just be boring. Like, it's a privilege to be able to be boring and not answer questions like, 'What do you think about this shooting?' and 'How are you overcoming all of these obstacles?'"
Insecure and Chewing Gum are powerful reminders that the narratives of black women don't have to be extraordinary to be worthwhile. In both shows, the protagonists are awkward, dazed, and hapless figures trying to find solutions to mundane problems—and that's what makes them brilliant and relatable.
Rae is rightfully dismissive of these "magical" black characters. The trope denies black characters any real narratives, and instead makes them supporting players or devices to move the plot along for white characters. In both Insecure and Chewing Gum, the black women drive the story with their own, hilarious mishaps. They exist for themselves.
Rae's HBO show, Insecure, premiered in 2016, following her successful web series, The Misadventures of Awkward Black Girl.
The show chronicles the ups and downs in the life of 29-year-old Issa (played by Rae) as she sits through uncomfortable situations as the only black staffer at a non-profit, and struggles with her relationships with Lawrence, her couch potato of a boyfriend, and her high-flying lawyer best friend Molly (who Issa raps about at an open-mic night in a now-iconic song called "Broken Pussy").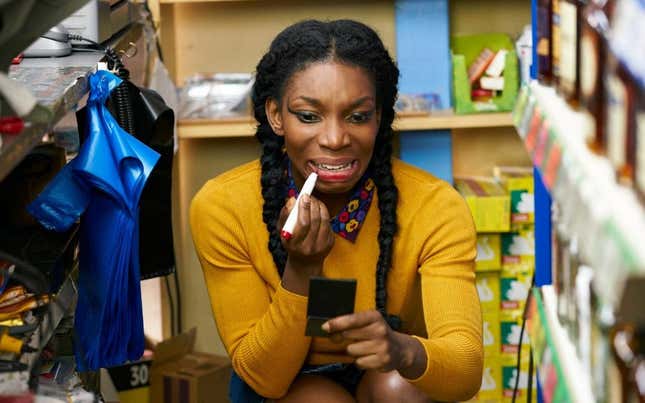 Chewing Gum follows Tracey's attempts to have sex for the first time; finally leave her mundane job at the local shop, and pray to her two idols, Jesus and Beyonce, for strength.
These shows aren't vapid or apolitical. Race, gender, and class are important layers to the characters' misadventures. While The Office takes aim at the absurdities of office life, Rae's Insecure finds humor even in everyday discrimination. ("They're having secret white meetings and they're sending secret white emails!" Rae says of her co-workers at one point.)
The setting in Chewing Gum offers another form of subtle, important social commentary. In the UK, council estates (a form of publicly subsidized housing) have been derided. Former prime minister David Cameron once described council estates as "a gift to criminals … gangs and anti-social behavior" and vowed to tear them down. In this environment, it's particularly powerful that Chewing Gum portrays a council estate and the working class community that resides there as welcoming and warm, funny, and supportive.
They are also a subtle challenge to the hyper-sexualization of black women. With so many music videos, shows, and films grotesquely focused on black women's bodies—and the narratives beginning and ending with how desirable they are—Rae's and Coel's frank and realistic depiction of black female sexuality is in itself a powerful act. Rae and Coel's characters take charge of their sexuality, even through mishaps and hilarities (both shows feature a threesome story gone awry).
Most importantly, Issa and Tracey are painfully uncool—subtly eviscerating the "cool black friend" trope. They can't rap, and they can't dance. They don't have to be any more than their hapless selves. That, for once, is enough.