In an unfortunate marketing slipup, Airbnb sent a "floating world" themed marketing email to users on Monday (Aug. 28) as Hurricane Harvey continued to engulf Houston, Texas.
The email, "Floating homes, waterfall slides, & more reasons to travel," advertises various water-themed homes and attractions for travelers to plan their trips around. "Stay above water," reads one sub-heading in the message. "Live the life aquatic with these floating homes."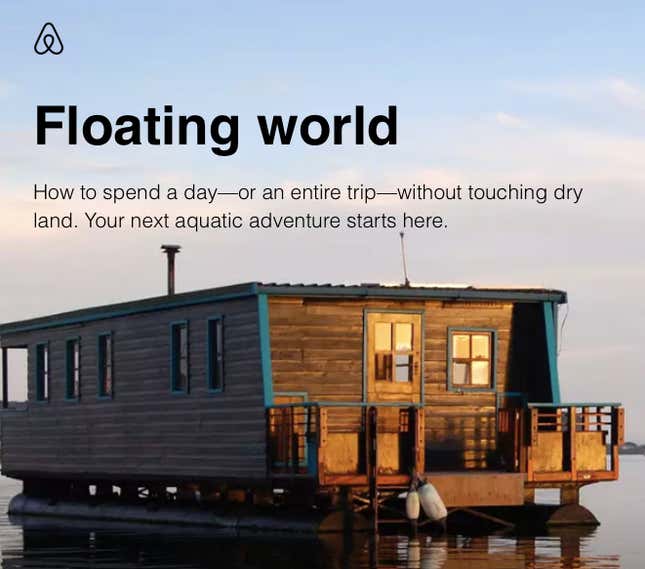 Hurricane Harvey has already left nine people dead, placed more than 30,000 in shelters, and dumped so much rain on Texas that the National Weather Service had to add a new color to its weather map. Up to 20 inches of additional rain is expected to fall in parts of Texas and Louisiana over the next several days.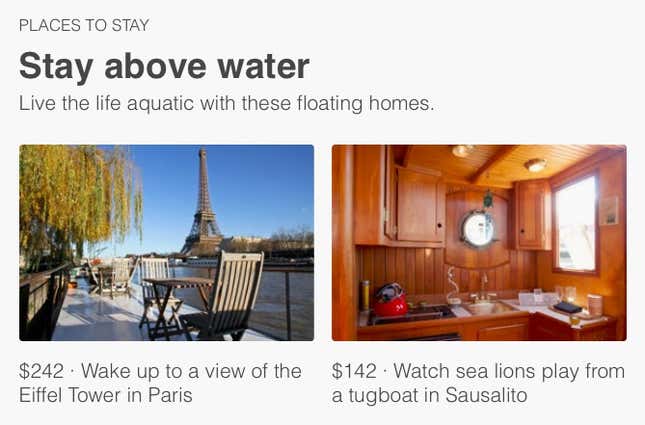 The ill-timed marketing push was quick to draw criticism from recipients on Twitter. A Quartz employee based in Houston was among the Airbnb users to receive the email on Monday.
"The timing of this email marketing campaign was insensitive and we apologize for that," Christopher Nulty, an Airbnb spokesman, told Quartz in an email. "We continue to keep everyone affected by Harvey and all the first responders and their families in our thoughts."
Airbnb has worked hard to build disaster relief into its community-oriented brand. The company has a "disaster response" program it typically activates after natural disasters and other catastrophic events around the world, which connects displaced people and emergency relief workers with local Airbnb hosts who volunteer to open up their homes for free. Airbnb activated this program in Barcelona after the deadly terrorist attacks that occurred earlier this month. It has enabled the feature for Hurricane Harvey, and more than 250 listings with a price of $0 are currently available on the designated webpage.