Oh, the thrills and disappointments of dating apps. Swiping through slews of potential suitors, eagerly anticipating whether they too have swiped to signal interest in you. It was so fun—until it wasn't.
Tinder can provide a confidence boost: It's kinda exciting, kinda creepy to know that a number of random humans within ten miles of me think I'm cute. (More exciting and less creepy after a cocktail or two.)
But Tinder's unpredictability can make swiping feel like a massive waste of time. The complaint I hear most often from friends who use Tinder is this: "I wish I could just know all the people that have already liked me."
Well, they're in luck, if you're a Tinder user in the US you can now pay to see all the people who have swiped right to "like" you, regardless of whether you've liked them—no swiping necessary.
The benefit, called "Likes You," is part of Tinder Gold, the dating app's premium paid service. Tinder Gold premiered today for iOS Tinder users in the US, after being trialled for months in Canada, United Kingdom, Mexico, and Germany. As The Verge reports, Tinder claims that the paid service, which costs approximately $15.00 per month, helps users receive 60% more likes than its free version.
In addition to "Likes You," Tinder Gold members will gain access to a number of other exclusive, previously released features: "Passport," which lets you swipe from various geographic locations at once; "Rewind," which lets you undo an accidental left swipe; "Unlimited Likes" (speaks for itself); five "Super Likes" a day, which lets you indicate extra interest; and one "Boost" per month, which makes you one of the top profiles in your geographic area for 30 minutes.
"Think of it as your personal Swipe Right concierge—available 24/7—bringing all of your pending matches to you," writes Tinder in a blog post about the new "Likes You" feature. "Now you can sit back, enjoy a fine cocktail, and browse through profiles at your leisure." As the post explains, premium members will be able to see a "Likes You grid," listing everyone who likes you; you can auto-match with these people, or click into their profiles to evaluate them first.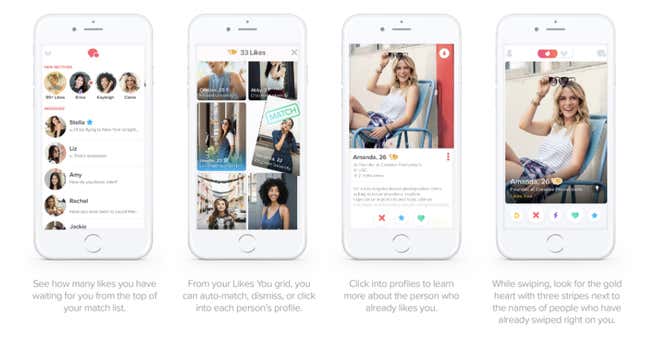 By removing the assurance that the target of your interest will only know you swiped right if the feeling is mutual, Tinder does open up users to rejection—even if that rejection is anonymous. But for many this feature will undoubtedly be a relief. What's more, "Likes You" may make users think twice about people they may otherwise have immediately dissed—as basic psychology says that we're more likely to like people who like us.
The feature isn't particularly unique: Bumble, the so-called feminist dating app, and one of Tinder's primary competitors, has let premium members pay to see who "likes" them since 2016.
As for us poor people, we still have to wait until the feeling is mutual.
Correction: An earlier version of this story incorrectly stated that for a user to access Tinder Gold, they would need to pay $4.99 per month. This story has corrected that price to approximately $15.00 per month. In most markets, it costs a user $9.99 per month to upgrade to Tinder Plus, and an additional $4.99 per month to upgrade to Tinder Gold, which includes the "Likes You" feature, says Tinder.