"But sometimes, my arms bend back."
It's a line from the show Twin Peaks that puzzled fans when the show first aired in 1990. Those few who had access to the internet took to message boards on places like Usenet, the online bulletin board system that Wikipedia calls "the first Internet community," to ponder its meaning and share their theories. "People will be analyzing THAT one for a week," a user said of the line on an April 1990 thread that has since been archived on Google Groups.
This was after Twin Peaks's third episode, when the show fully embraced its wonderful, strange, and supernatural world with a dream sequence that was probably the most bizarre thing on TV at the time. Twenty-seven years later, the following appeared on one of Usenet's many successors, Reddit, in reference to the 2017 Twin Peaks revival.
Twin Peaks, the soapy mystery series that began with an FBI investigation into a small-town murder and escalated into a wide-reaching supernatural saga, was born when the Internet was taking hold in the US. The series wasn't on the air for long. It was cancelled in 1991 after ratings plummeted and was revived this year as an 18-hour miniseries on Showtime.
But when fans went on Usenet and other places to talk about the show, they created one of the first online places to geek out over a TV show. Threads subsequently popped up on message boards and fan sites long after Twin Peaks's original run was through, a precursor to those that would later crop up for cult classics like The X-Files and Buffy the Vampire Slayer. New viewers discovered Twin Peaks as technology evolved through video and DVD releases, social media, and Netflix. Today, more people stream it on Showtime's app then watch it on the US cable-TV channel. And its rabid fanbase takes to Twitter and Reddit daily to dissect episodes.
Fans have spent nearly 30 years using the net to parse out the show's mysteries. This Sunday (Sept. 3), it may all conclude with the revival's two-hour finale broadcast.
Early fandom
Nathaniel Ketcham, 42, a Twin Peaks fan from the suburbs of Detroit, Michigan, was a fan of David Lynch, Twin Peaks's co-creator and main director, before the TV show through films like Eraserhead and Blue Velvet that he tracked down at local video stores. And he was slack-jawed after the first episode of the then-ABC show. "I was completely in awe," he said, recalling a scene in which the death of teen Laura Palmer is announced to her classmates and a girl runs shrieking through the high school in grief. "It felt very real compared to other things on TV."
Those who stuck with the show, like Ketcham, developed a real passion for it. Few had the internet then. Ketcham, who was 15, didn't get access until he went to college in 1993. He talked about it with his friends in person and over the phone. "By the end, I was on the phone with friends drinking coffee and eating donuts for every episode," he said, citing protagonist Special Agent Dale Cooper's go-to meal—when cherry pie isn't on hand.
Their initial phone chats had one major difference to what you'd see on Reddit today. "We didn't obsessively pick stuff apart," said Ketcham, adding that most of his friends who watched the show were into art or music. "We talked about how much it inspired us to do our own stuff." Ketcham now teaches fine art at high schools.
The Nineties, when Twin Peaks first aired, was a turning point in US pop culture. Grunge music was expanding beyond the borders of its Pacific Northwest home, where Twin Peaks was set, along with other "alternative" genres. And video stores were opening US audiences up to arthouse films that hadn't been widely available to people outside of major cities before. "It was a time when a lot of stuff that was subcultural or rare was starting to seep into pop culture," Ketcham says. "In a weird way, Twin Peaks was a part of all that."
A different kind of fandom was budding online—one that foreshadowed the online communities to come. Like Ketcham, many Americans in the early 1990s got their first taste of the internet in college. Email addresses attached to the archived Twin Peaks posts that Quartz perused were from universities like Swarthmore College and the University of Toronto. These students and other fans tried to unpack the show's mysteries and extract meaning from every door knob, deer head, nose touch, and knowing glance.
Apart from the proper grammar, exceedingly polite rapport, and total absence of memes, the Twin Peaks threads on Usenet in the 1990s would be right at home on Reddit and Twitter today. They analyzed quotes and scenes, made obscure connections, and theorized about the show. There was even a debate about spoilers that feels very Peak TV; it's become commonplace among fans of shows like Game of Thrones and Westworld.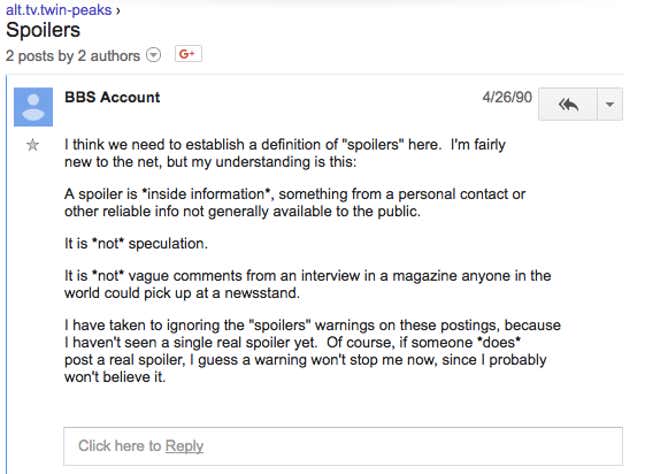 Part of the reason Twin Peaks's fandom lives on is that the story didn't end when the show was cancelled in 1991. The creators kept the flame alive.
The following year, Lynch released Twin Peaks: Fire Walk With Me, a prequel film that raised new questions about the surreal world. Episodes of the original series were later released on VHS and then DVD. In 2007, the entire series came out on DVD for the first time—making the full show available to watch and re-watch. By 2011 it was also available to stream on Netflix. And in 2014, Lynch released perplexing deleted scenes from Fire Walk With Me. Co-creator Mark Frost even wrote a book published in 2016 called The Secret History of Twin Peaks, which rooted the story in US history and conspiracy theories. (He has a follow-up novel coming in October after the revival ends.)
With each release came a wave of online threads dedicated to the show on fan pages and up-and-coming discussion sites like Reddit. The inkling that creators Lynch and Frost had more story to tell kept audiences hanging on. And when Twin Peaks returned to the air in May 2017, 26 years after the original series ended, there was no recap. It jumped right into the action, as did the obsessive theorizing. Showtime encouraged it all; this was a revival for diehard fans.
"It was the original social media show, the original discussion show, before any of the tools of fan engagement and social media really existed," Showtime CEO David Nevins said before the revival was released, according to Esquire. "That's one of the reasons why David [Lynch] is so particular about secrecy—it will really reward attention to detail." Devotees on Twitter and Facebook shrewdly connected the dots between new and old events, some from deleted scenes. There are hundreds of threads on Reddit devoted to the show, and even more on fan sites like Welcome to Twin Peaks.
Through it all, Lynch and Frost have managed to keep audiences guessing. Unlike Westworld, which Reddit solved before its release, few are sure of what to expect from the finale. And we've had years to contemplate the story—and oh, so many clues.
Ketcham, who joined Reddit recently to find out more about the revival, suspects that at least a few of the new hints are nods to the over-analysis Lynch and Frost knew would come. It makes sense. Lynch is known for subverting pop-culture tropes. And Frost's Twin Peaks novel uses historical fiction to explore what mystery and secrecy can do to society.
Whatever happens, it's unlikely Twin Peaks fans online will every really close the door on the story. Though perhaps they'll get answers to some of the burning questions they've been asking for over three decades. In the immortal words of Agent Cooper, "I have no idea where this will lead us, but I have a definite feeling it will be a place both wonderful and strange."