Companies have realized that reaching a big audience with online ads has its downsides. Earlier this year, JPMorgan Chase slashed the number of websites where it places ads after the New York Times told the bank (paywall) that one of its automated marketing campaigns—so-called programmatic advertising—had placed ads on a site called "Hillary 4 Prison." One of its ads appeared under a headline claiming actor Elijah Wood had revealed "the horrifying truth about the Satanic liberal perverts who run Hollywood."
According to the Times, the bank went from advertising on 400,000 sites using automated tools to just 5,000 sites whose content it inspected. Zero Hedge, a popular but controversial finance blog in the US, was supposed to be an excluded website.
But on the UK version of Zero Hedge, JPMorgan's ads continued to run. In August, a JPMorgan marketing article about political risk in Europe appeared near a headline with a pun about Jews being gassed. Now, after Quartz asked about the ads, JPMorgan says it has pulled them from Zero Hedge in the UK, too.
"We have a strict white list-only policy across display and video and purchase nearly all of our programmatic media internally to enforce it," a JPMorgan spokeswoman said in an email. "This was a campaign that was run by an outside agency that had a slip. We are working to ensure it doesn't happen again. As a brand, we are opposed to supporting fake news or sites that aren't consistent with our values."
The agency that placed the ads for JPMorgan is Dianomi, a content marketing platform. Though JPMorgan had forbidden its ads from running on the blog's US edition, the UK list hadn't been updated because there was little traffic from that version, according to Rupert Hodson, Dianomi's CEO. Dianomi's clients are mainly high-quality business and finance publishers, and Hodson says they are given full information about where their ads run.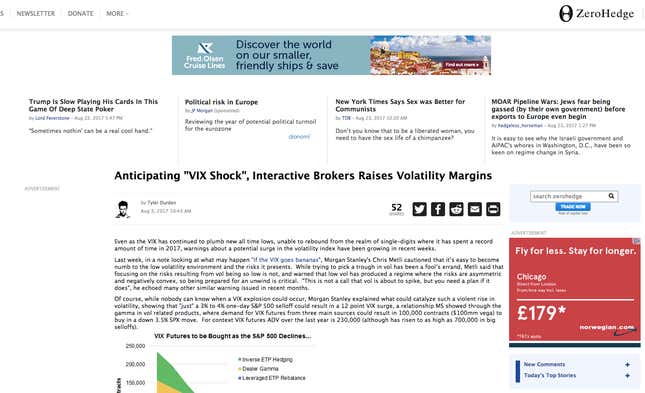 The mishap, while minor, highlights the growing scrutiny by big brands on where their name appears in cyberspace. Zero Hedge aggregates news and publishes financial analysis—with impending economic doom a popular topic—often under the byline "Tyler Durden," the name of a character in the novel and film Fight Club. Its website attracts around 3 million monthly visitors in the US, according to Quantcast.
The Center for European Policy Analysis, a non-profit whose funders include the NATO Public Diplomacy Division, says that wittingly or not, Zero Hedge may be a link in Russia's propaganda network. While Zero Hedge publishes real headlines and has broken news, the fact-checking site Snopes, in its analyses of how fake stories spread on the web, has described Zero Hedge as "conspiratorial."
In a dispute last year between Zero Hedge contributors, one of them accused the site of having a pro-Russian bias and an excessive focus on gaining traffic. A post on the site retorted that those were the unfair complaints of a disgruntled employee. Zero Hedge didn't respond to emails requesting comment.
However, there are people on Wall Street who take Zero Hedge seriously. Nick Colas, a strategist who has worked for companies like brokerage Convergex and Credit Suisse, says he has known Daniel Ivandjiiski—one of the site's Tyler Durdens—since he started the blog after the financial crisis. Colas says the former hedge fund analyst is a "flat out brilliant guy," and Zero Hedge has a wide following in the institutional finance world.
"Even if the content is often fringe-y, it forces you to expand your thinking in uncomfortable ways," Colas said to Quartz. "That is healthy, even if you return to your opinions in the end."
As brands insulate themselves from controversial publishers, it could dent the business models of sites like Zero Hedge, which, controversial as they may be, are popular and offer alternative viewpoints. JPMorgan's swift action suggests big brands aren't taking any chances with their reputations online.