Univision, America's top Spanish language TV network, says it's delivering a summer ratings beating to the big four US broadcast networks. While a month-long summer TV ratings survey  shows that English-language stations had more viewers in total, the most viewers that advertisers covet most—those in the 18-34 and 18-49 age brackets—watched Univision's Spanish-language programming.
This is the first time Univision (or any Spanish-language network) has led the ratings in those key demographics for the entire month-long period, according to the network's analysis of Nielsen data. Weekly averages that Nielsen shared with Quartz lend credence to Univision's claim, with the network leading second-place Fox by more than 400,000 viewers among 18-49 year-olds. The sweeps period is most valued by local network affiliates, and Univision's New York City and Los Angeles stations are the number one and two most-watched stations in the country.
Not that this hasn't been looking increasingly inevitable. The rise of Spanish-language TV has been coming ever since the 2010 census showed how fast the US Hispanic population is growing, and these ratings help confirm their economic clout.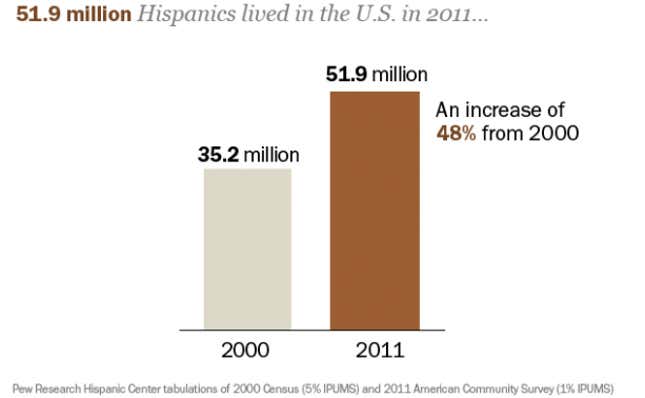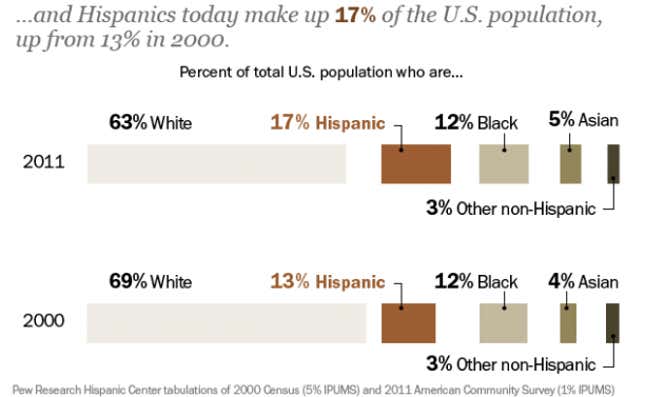 Still, it's not all demographics. The network is known for popular telenovelas like Amores Verdaderos, which outperformed ABC's entire weekly programming slate in the prime time slots. But there are other reasons that Univision is trouncing CBS, ABC, NBC and Fox in the ratings:
The summer sports season favors Univision. With popular sports like football and basketball in the off-season, summer is not traditionally a great time for ratings. But Univision has benefitted from airing the Confederations Cup, a quadrennial global soccer championship, and the Gold Cup, a semiannual regional championship featuring the national teams of Mexico, Cuba, El Salvador and other countries whose heritage is shared by the US's Hispanic population. Those competitions have so far driven a ratings bonanza, which will likely be repeated when Panama plays Mexico in the semifinals on July 24, the last day of the sweeps rating period.
Univision has the social media advantage. US Hispanics are very active on social media and mobile phones, with 68% of the population on Twitter, Facebook or other social media, compared to 58% of the general population. Univision goes out of its way to reach its viewers there, and it pays off. On the day of two big Gold Cup matches, Univision was the most-discussed sports network on major social media sites. Its youth music awards show, Premios Juventud, has ranked as the most-discussed entertainment shows.
There's less competition for their audience. The sheer diversity of English-language content on US TV—and, for that matter, off it—makes for stiff competition to attract the audiences advertisers value most. By comparison, Univision is head and shoulders above Spanish-language rivals like Telemundo.
Still, most of Univision's US audience speaks English and watches English-language TV as well, which adds some gloss to the company's win. That's a point that the company has emphasized in the past. "The critical mass that Univision has reached over the last few years is driven not only by having Hispanic viewership," Cesar Conde, the network's president, told me in 2011. "We can't get the type of mass numbers that we have without having large numbers of bilingual viewers which we currently have."