When coming up with new products and technologies, designers tend towards the average user—someone with average body dimensions, reach, and physical strength. Most of the time, this leaves the elderly and people with physical disabilities out of the equation.
But that will have to change. Today, 15% of the world's population have some form of disability, according to World Bank data. By 2050, nearly 17% of the world will be over the age of 65, according to a 2015 study by the US Census Bureau—double the percentage today. The demand for well-designed products for these groups of people can only rise.
It's hard to overstate how big this market is. A 2012 study by Nielsen suggests that people 65 and older control 70% of disposable income in the US. Business inclusion platform Binc estimates the global market for products and services for people with disabilities as being worth $8 trillion a year.
Product innovation firms are studying the aging market but have yet to come up with breakthrough solutions. Frog Design's "Aging By Design" initiative aptly summarizes the state of design today: "While there are a number of home care products and services on the market that intend to preserve the dignity of the seniors, most are piecemeal solutions that fail to integrate well with other products and services—or real lifestyles—and are often too confusing and difficult to be used effectively."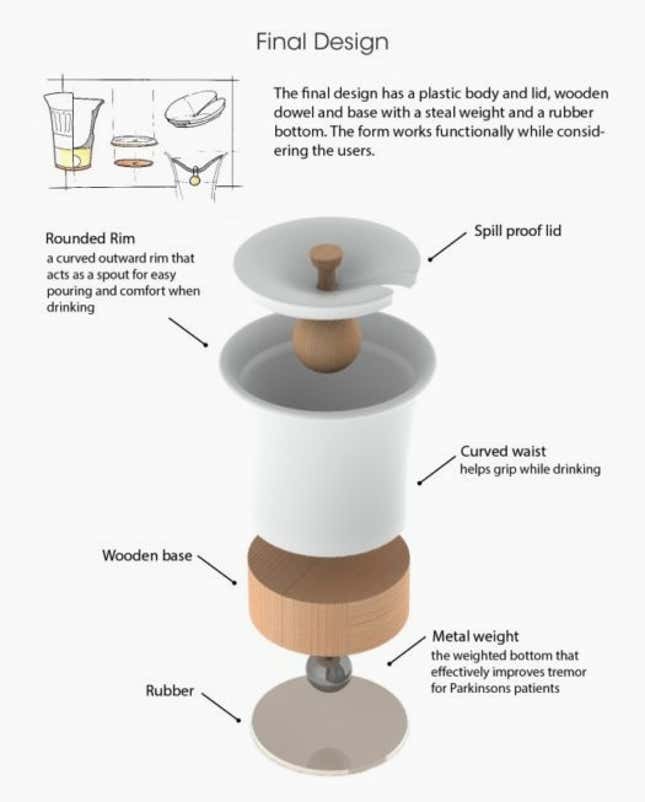 Industrial design student Andy Yu, who was crowned winner of this year's US national James Dyson Award on Sept. 7, is ahead of the curve. A junior at the Rhode Island School of Design, Yu created a prototype cup for people with arthritis or Parkinson's who have shaky grips and weak arms. Yu's "Ability Cup" has a weighted base and a built-in coaster to improve stability; a tapered body for grip; and a shock-absorbing rubber base that prevents the cup from breaking if it falls to the floor. The cup's lid helps its users both prevent spills and control the flow of liquid as they drink.
"I believe that a well-considered mixed group of audiences can help guide the direction of the design," Yu tells Quartz. "A lot of the inventions focus on medical and technological help that they need, but I want to focus on creating a comfortable product that matches their current needs for daily life."
Better-designed products for all
There's another reason for designers to rethink their target audience. Design to solve a particular problem often makes a product better for everyone. The iconic furniture designers Charles and Ray Eames, for instance, learned about the genius of moulded plywood while working on leg splints for injured soldiers. In the 2009 book Design Meets Disability, Graham Pullin predicted that designing for the elderly and disabled could invigorate the field:
At the moment, there are significant differences between the cultures found within design and medical engineering…Ultimately these could be harnessed as healthy tensions, the inevitable friction serving as a source of energy to catalyze new directions within each—perhaps even to fuse communities together.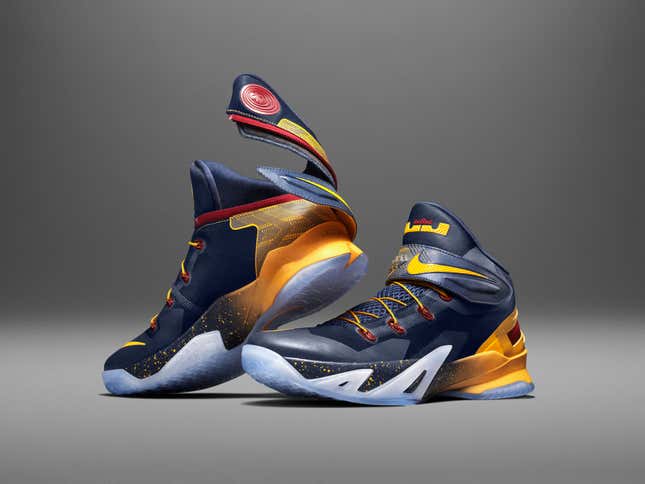 Evidence of Pullin's prediction is starting to emerge. Two years ago, Nike introduced Flyease, a self-lacing sneaker design inspired by a teen with cerebral palsy. Quartz fashion reporter Marc Bain described it as "smart, and the zipper system is attractive in a way that could make it appealing to customers beyond just those who need it."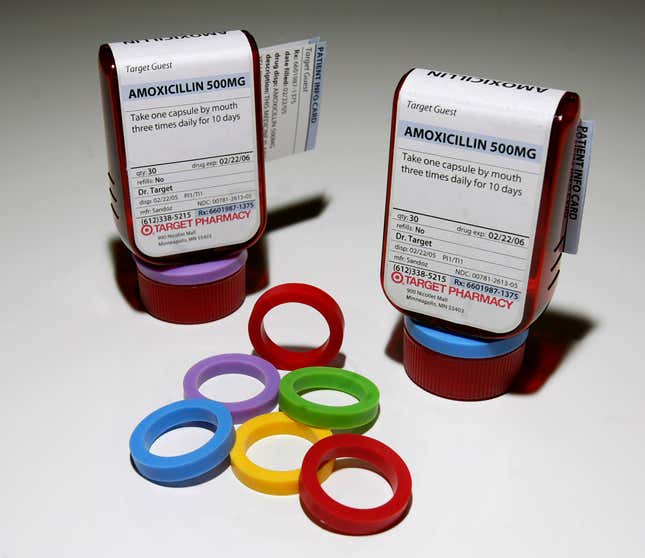 Similarly, the kitchen tool company OXO Good Grips emerged from inventor Sam Farber's desire to create a better vegetable peeler for his wife, who had arthritis. OXO calls its products "transgenerational tools."
And US retail chain Target won awards with its ClearRx prescription pill bottle. The idea came to graphic designer Deborah Adler after witnessing her grandmother accidentally take her grandfather's prescription because the tiny fonts on the pill bottle's label weren't meant for aging eyes. When Target discontinued the bottle after selling its pharmacy business to CVS last year, customers dug through their trash to rescue and re-use the bottles.