The home of the gas guzzler will remain so.
Joining France, the UK, and India, China announced Sept. 9 that it will go fully electric, eventually abandoning all sales of gasoline and diesel-fueled cars. The country's industry ministry didn't set a deadline for a complete changeover, but said it plans to strictly enforce rules that require hybrids to make up at least 8% of automakers' output next year, and at least 12% by 2020. The UK and France have pledged to be fully electric by 2040—the UK is investing  €1 billion in ultra-low emissions vehicles and close to €1 million in the country's charging infrastructure.
The move leaves the US as the last major stronghold for cars powered by gasoline and other fossil fuels. China's auto market is the largest in the world, with more than 23 million cars sold in 2016, greater than the 17 million sold last year in the US. China already dominates the electric vehicle (EV) market, making more than 40% of EVs worldwide. China's plan to go fully electric will upend the transportation and petroleum industries worldwide.
The US federal government offers some support for electric vehicles (EVs), with up to $7,500 in tax breaks for EV consumers. This tax break will continue until 200,000 EVs are sold by every manufacturer (no manufacturer has yet met this quota.) Individual US states also encourage sales of electric and hybrid vehicles by offering tax credits, rebates, grants, loans and other tax and fee reductions. According to a 2015 UCLA study (pdf), California offers rebates up to $2,500 for every battery-operated electric car purchase. Illinois offers up to $4,000 in rebates.
Still, according to the US Energy Information Administration (EIA), combustion of petroleum will remain the largest contributor (pdf) to overall energy-related CO2 emissions well into 2040. Vehicles powered by fossil fuels will account for the biggest component of such emissions. From 2000 to 2016, China's CO2 annual emissions grew by seven billion tons, largely due to burning coal by manufacturing and power plants.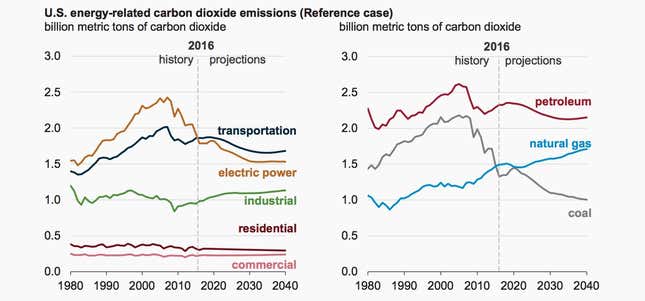 Emissions of CO2 in the US  have been trending down since 2000, though it's been rocky, with emissions rising periodically in the past few years. China, meanwhile, has experienced flat or falling CO2 emissions for a fourth year in a row.