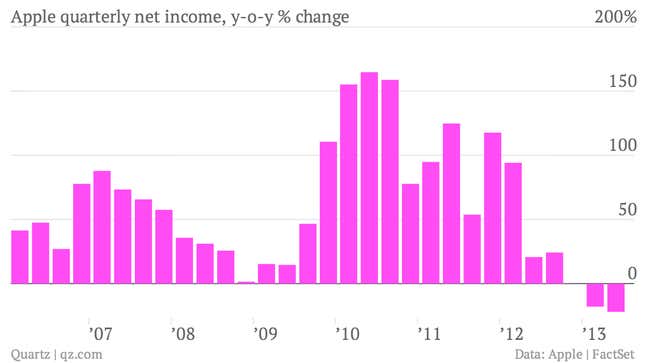 The numbers: Not as bad as people expected. The company reported net profit of $6.9 billion for the third fiscal quarter, down 22% from the same period last year. That's the seconds straight quarterly decline for Apple profits, the first time that has happened since 2003. Sales rose 1% to $35.32 billion. Apple shipped 31.2 million iPhones, up 20% from the 26 million it sold in the prior year. And it moved 14.6 million iPads, down 14% from the prior year quarter's 17 million. Shares rose.
The takeaway: The masses of Apple's enthusiastic shareholders might not want to admit it, but Apple's Tim Cook has essentially overseen the company's rapid-fire transformation from high-flying growth stock a more stable growth company, which focuses on cash flow and total return to shareholders: stock price appreciation + dividends. In short, Apple is sort of like the new Microsoft. Oh, and through today's close, the shares were down more than 21%, making Apple the sixth-worst performer in the S&P 500 index.
What's interesting: Even so, Apple still needs a new hit. And there are plenty of candidates for the next category the Cupertino, Calif., behemoth is rumored to be entering. Quartz's Christopher Mims pointed out the gathering evidence that Apple is going to be making a television. Likewise, he's previously spotlighted the prospects of an iWatch, although everyone else also seems to be considering a smartwatch too.