The wild side of your dog is what can turn a pet into a hero, the experts say.
It can be legitimate to ascribe courage to a dog that springs into action, as the American Humane organization does in its annual Hero Dog Awards, which recognizes heroism on both ends of the leash. The dogs nominated this year—winners are to be announced at a gala event Saturday (Sept. 16)—have accompanied soldiers into in war, sniffed out bombs, found missing people, tracked down criminals, and raised money for charity.
Still, only some of those dramatic feats can be considered courageous or heroic, animal experts say. Much depends upon whether a dog is going above and beyond what it was bred to do.
Yes, humans have a tendency to project human emotions onto dogs. Yet if you look at behavior on a case-by-case basis, there are indicators of bravery. The key is having a clear definition of what courage means. Barbara J. King, emerita professor of anthropology at the College of William and Mary and author of Personalities on the Plate, says, "I absolutely do believe some dogs show courage, and I don't think it's anthropomorphism."
For King, courageous is the right word to describe a dog that assessed potential danger, was aware of putting himself in harm's way, and acted anyway. If a dog jumps into a rushing river to save a person, that could be considered an act of bravery because the dog would sense danger from the moving water. Conversely, if the dog is bred to be alert and bark at intruders, its actions can be seen as part of a natural response rather as an exhibition of bravery.
The potential built into a dog's genes
Is there an evolutionary reason dogs can be moved to sacrifice themselves to keep us safe? Their biology certainly plays a role, which is why we tend to lean toward dog-hero awards and not ones for rabbits (or cats, generally).
Mark Derr, a journalist with Psychology Today and author of How the Dog Became the Dog, says dog heroism may be connected to their evolutionary link with wolves, animals that have an "innate protectiveness combined with the ability, enhanced in dogs through an extended early socialization period, to form strong, lasting bonds with other species." So, part of the reason dogs go to such great lengths to protect humans is because they form an emotional bond and know we are part of their "pack"—and they often will defend that pack at all costs.
Animals can show bravery among themselves (for instance, elephants can be courageous with other elephants, according to King). Still, there is something special about dogs: Their courage can be triggered because of their relationships with humans and is very evident, because it's directed towards us.
The red-carpet awaits
There are seven categories for the Hero Dog Awards: law enforcement/arson, service, therapy, military, search and rescue, guide/hearing, and emerging-hero dogs, the category for "ordinary dogs that do extraordinary things." Finalists and their owners are flown to Los Angeles, where they walk the red carpet, mingle with celebrities (both human and doggie), and receive their awards. Each finalist receives $2,500 for a designated charity partner. A top dog, the 2017 American Hero Dog, is chosen at the end of the night and its charity will win an additional $5,000.
The finalists were chosen by public vote. The label of "hero" can mean anything from saving lives to lending sight and hearing and providing companionship to those who need it most. The ceremony is primarily a way for American Humane, a 140-year-old animal welfare organization committed to ensuring the safety and well-being of animals, to raise awareness for its mission. (There is no livestream of the event, but the ceremony will be broadcast on the Lifetime cable channel as a special this fall.)
Meet the 2017 American Humane Hero Dog finalists
Abigail, Emerging Dog Hero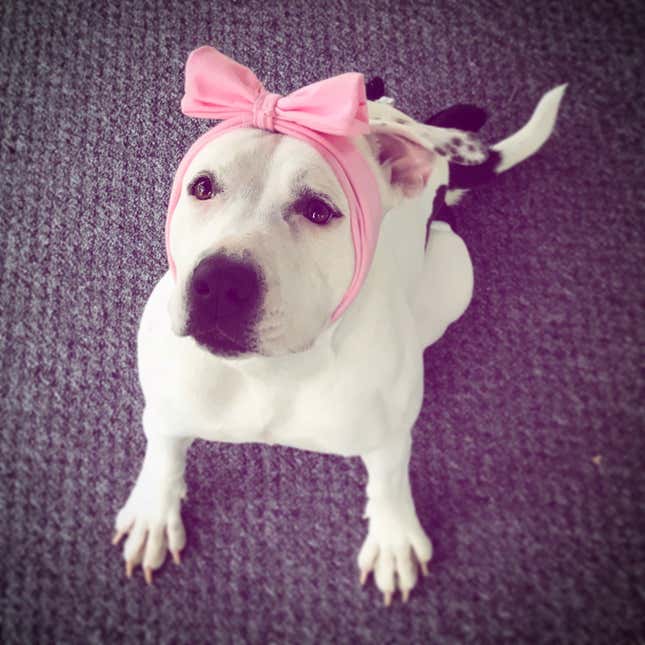 Abigail and her colorful "bonnets" are bringing awareness to the importance of ending the cruel practice of dog fighting.
The year-old pit mix was found as a stray in Miami, Florida. She was anemic, with scars all over her body and half her face missing, leading vets to suspect she had been used in fights.
During Abigail's weeks of hospitalization, her vet tied her gauze bandages that covered her missing ear into a bow and called them her "bonnets." Since then, her rescuers launched a Facebook page,"Bonnets for Abigail," which now has over 20,000 likes, to bring awareness to the cruelty of fighting. People now send Abigail bonnets from all over the world.
Adak, Military Dog Hero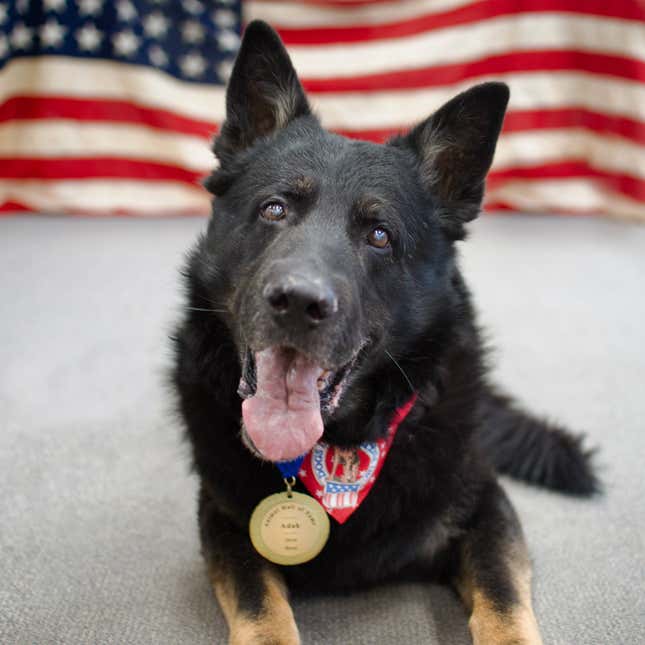 Adak is a 13-year-old German Shepherd with extensive experience in explosive detection. He has provided support for dignitaries, celebrities, and events internationally and across the country.
During a deadly terror attack at the Kabul Serena Hotel in Afghanistan in 2008, many guests were trapped inside, and Adak was in the first K-9 team to arrive. With the terrorists still active inside the hotel, Adak led an evacuation-combat team. Six people died, including one American. Adak's work helped save the lives of more than 20 other people.
Aladdin, Therapy Dog Hero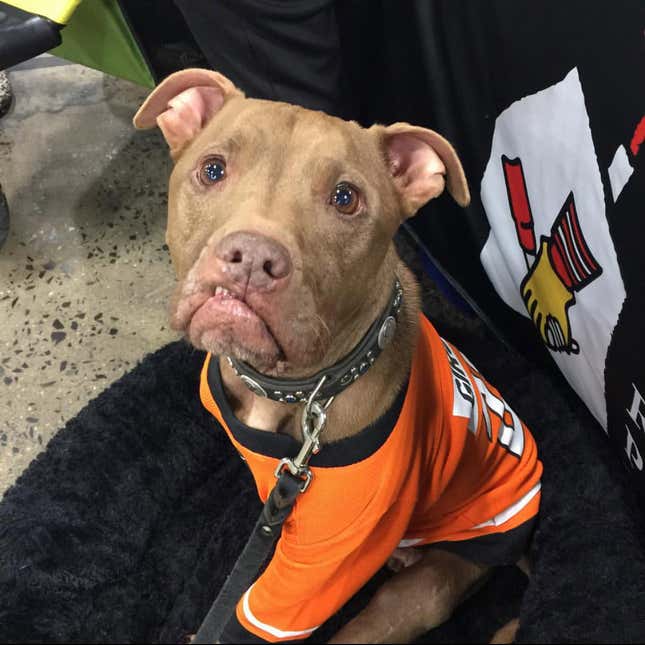 In 2013, Aladdin was found severely emaciated, with both of his back legs and tail broken, 12 missing teeth, and open wounds. He had a rough recovery, then within a year was certified as therapy dog.
Aladdin is a Ronald McDonald House Ambassador dog. He visits schools with an educational, anti-bullying program. A trained crisis-response dog, he spent a week in Orlando, Florida last year with the victims of the Pulse Nightclub shooting. He also works with the Philadelphia police pepartment, PACT for Animals, is an ambassador for Show Your Soft Side (an anti-animal abuse campaign), and represents Lilo's Promise, a rescue organization that takes in medical needs dogs like Aladdin.
Atlas the Wonderdog, Service Dog Hero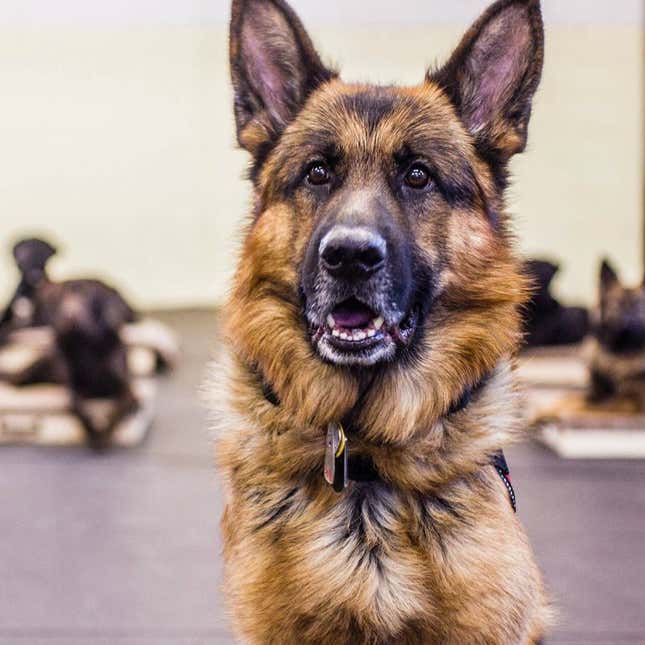 Atlas's owner is a US Marine veteran who sustained a brain injury from a roadside bomb while deployed in Iraq and suffered from PTSD. After 10 years of therapy, he was lost and feeling "locked in a personal prison." Then he met Atlas, who he calls his lifesaver.
Atlas has been trained to sense emotional changes and acts to redirect his owner's attention and focus when under distress. Atlas's owner credits him with allowing him to have an active, positive role in his children's lives.
Atlas is the inspiration behind the Battle Buddy Foundation, a charity that provides highly-trained psychiatric and mobility service dogs to disabled veterans with an aim of re-integrating them back into society.
Ice, Law Enforcement/Arson Dog Hero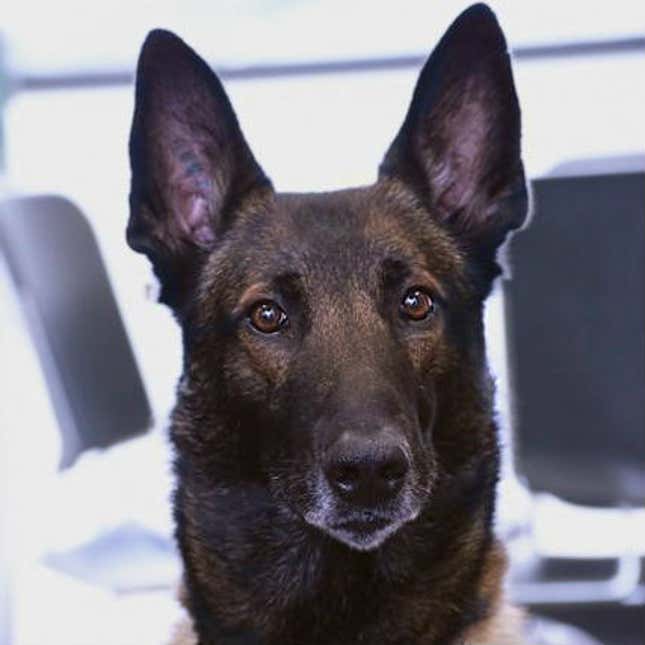 Ice put himself in harm's way last summer when US Forest Service and sheriff's deputies from Trinity County, California investigated an illegal marijuana field on public lands, capturing a fleeing suspect.
As Ice apprehended him, the suspect stabbed him twice in the chest, as well as in the head. Ice continued to hold him until he was taken into custody, likely preventing other officers from being injured.
Ice was airlifted to VCA Asher Animal Hospital in Redding and taken immediately into surgery. Ice has since made a full recovery and returned to duty.
Luca, Search and Rescue Dog Hero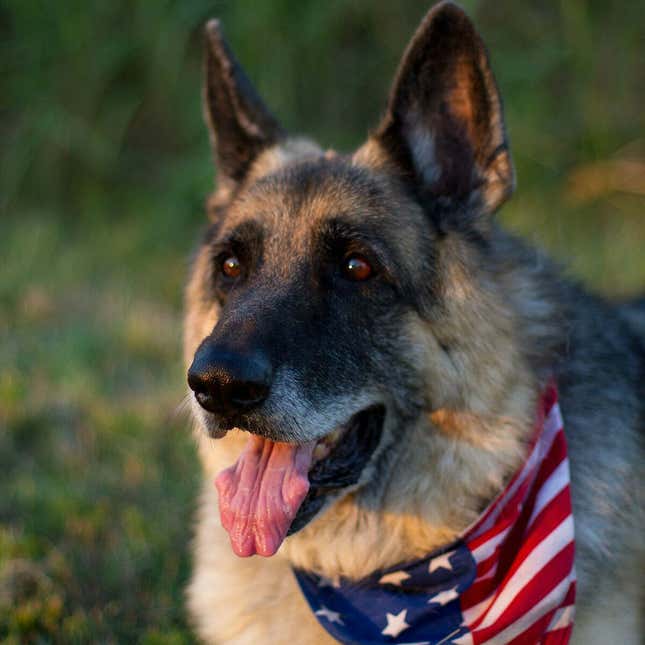 Last April, Luca helped Fort Worth, Texas police locate a missing elderly man with Alzheimer's.
Luca was a retired search and rescue (SAR) dog who was 10 years old at the time his owner and former police-officer partner got the call.
The German Shepherd immediately fell back into his SAR training at an opening of brush near a river that led to a steep hill and drop off. A police helicopter found the lost man in the river, stuck in waist-high mud.
Pierce, Guide/Hearing Dog Hero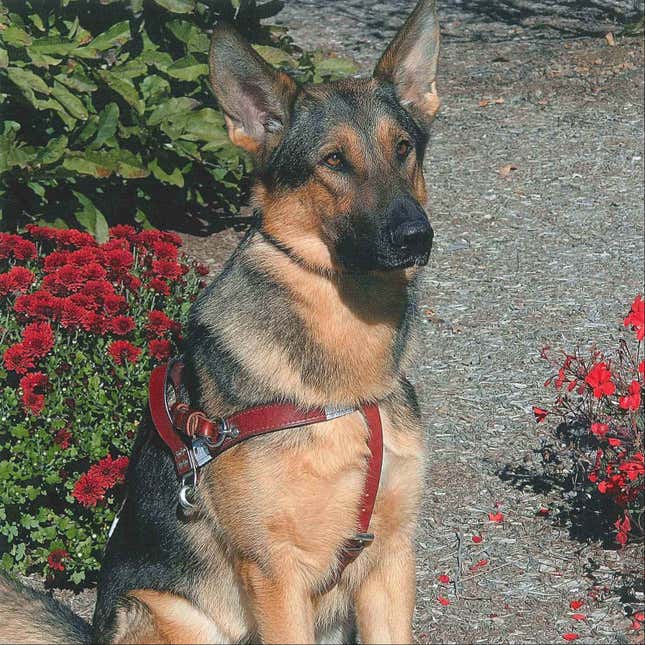 Pierce is a guide dog for Don, who served with the US Army's 82nd Airborne Division during the first Gulf War. Don sustained an injury that eventually claimed his vision, forcing him to rely on a cane and family members for over two decades to get around.
When Don realized how much his wife and two children were giving up to help him, the family adopted Pierce through Fidelco, a foundation that partners the blind with their "elite breed" of German Shepherd guides. According to the family, they've all fallen in love.
"I've used a cane for the past 25 years, and when I first took hold of the harness of my new Fidelco guide dog, I felt free," Don says.