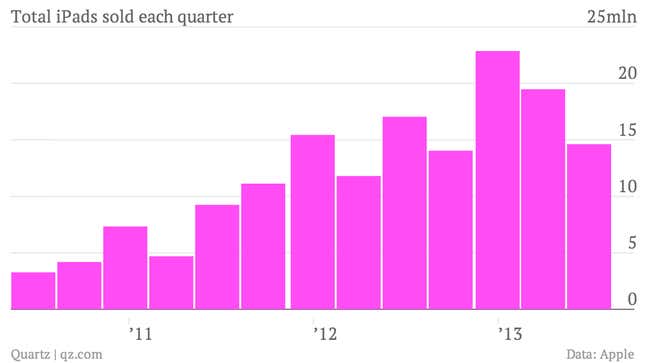 Apple sold 5.4 million fewer iPads in its most recent quarter than it did in the same three months a year ago. That's despite having introduced a whole new iPad, the Mini, in the intervening year. The drop in iPad sales, from 17 million to 14.6 million, is all the more surprising because iPhone sales continued to grow, from 26 million to 31.2 million.
Use of those iPads, however, is running in the opposite direction. Data just released from Adobe show that, as of this month, tablets overall are driving more traffic to websites than smartphones. And, of course, Apple dominates the market for tablets.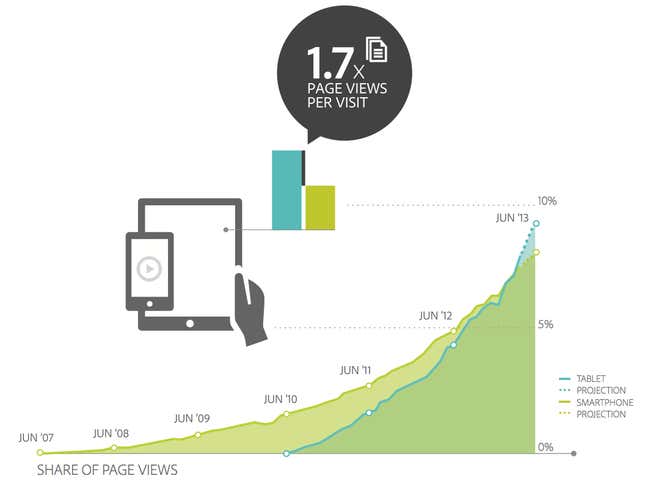 In other words, it's not that tablets aren't useful—clearly, people are using them more than ever, and primarily to replace PCs. Nor is it the case that Apple's iPad itself is suffering (all that much) at the hands of Android. Overall, Apple's mobile iOS is beating Android in terms of web traffic, in the US at least, precisely because of heavy use of the iPad.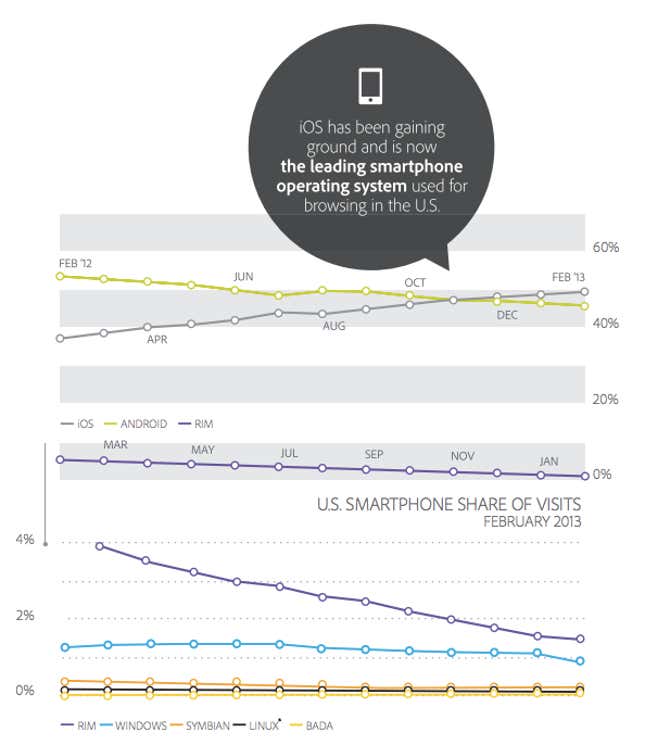 Rather, it seems that the overall market for tablets is beginning to saturate, leading to slowing sales of the iPad. Pew recently found that 34% of American adults now own a tablet, with even higher penetration among households earning $75,000 or more (56%) and college graduates (49%). It's certainly possible that the drop in iPad sales is due to cannibalization by Android tablets—which now have almost the same global market share as iPads and are shipping in greater numbers each quarter—but many of those tablets are of the cheaper, lower-end variety.
The same trend toward cheaper tablets can be seen in Apple's own numbers for average revenue per iPad sold. As consumer preference shifts to the cheaper iPad Mini, this revenue continues to drop.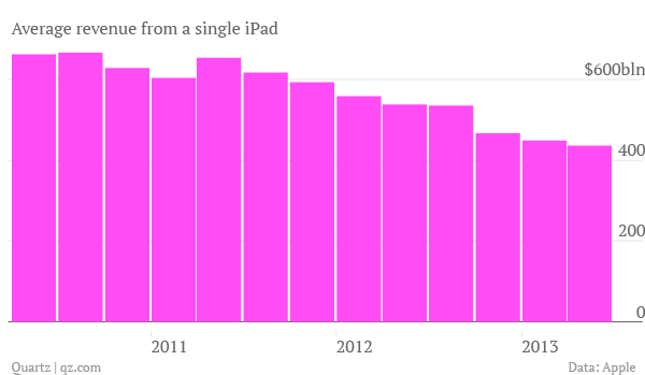 And, just to prove that the trend in iPad revenue isn't due to increasing costs per unit, here's a chart of Apple's overall revenue from iPads, which exactly tracks the number of iPads sold each quarter (the first chart in this piece).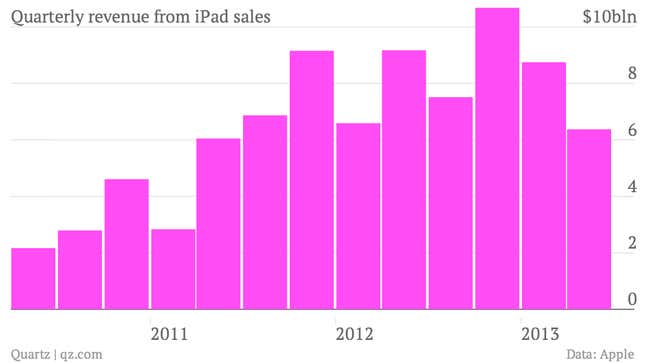 Both the relatively high penetration of Apple's iPad among the affluent and well-educated and the success of lower-end Android tablets point to the same conclusion: The market for iPads, which consists of people ready to pay $320 for an iPad Mini or $500 for a full-size iPad, is saturating.
At those price points, and given the limitations of an iPad compared to a notebook computer, the iPad is only a "PC replacement" for people who can afford to buy both a PC and a tablet. That's not as big a market as, say, the billions of people who might buy a cheap Android tablet instead of a PC or even a smartphone, and Apple's latest numbers suggest the company is now exploring the limits of that market.
There is one more thing these numbers suggest: People are happy to replace their phones on a regular basis, as new models cram in substantial new features (a larger screen, a better display) and the devices are lost, stolen or broken. But tablets simply last longer, leading to a longer replacement cycle.