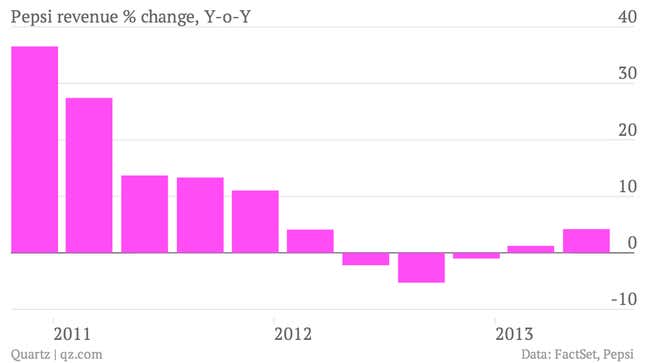 The numbers: They were ok. Pepsi reported earnings per share of $1.31, which beat analysts estimates. Revenues came in at about $16.8 billion, in line with expectations.
The takeaway: Pepsi did increase margins by improving productivity and increasing prices for some products. But its revenue for Pepsi's Americas drinks business declined by 1% while volume fell by 3.5%. At the same time, the snacks business continues to boost revenue both in North America and in emerging markets. That gives a bit more ammunition to activist investor Nelson Peltz, who is pushing for changes at Pepsi. Last week, Peltz publicly declared that Pepsi should get rid of its lagging drinks business, and the remaining Frito-Lay snacks business should acquire smaller rival Mondelez International. Mondelez is itself the product of a breakup of Kraft Foods, a move that Peltz had pushed for in 2011.
What's interesting: In its earnings release, Pepsi didn't address Peltz's suggestions but the company said it was confident in achieving its 2013 goals to create long-term value for shareholders. Pepsi also said it was on track to return $6.4 billion to investors this year through dividends and buybacks. In the past, Pepsi CEO Indra Nooyi said the company was conducting a strategic review, which could mean an assessment of a breakup, but it resisted doing any big deals.