When this year's Emmy nominations went public in July, and Issa Rae's HBO comedy Insecure wasn't on the list, critics and fans of the show's acclaimed first season saw it as a major snub.
Now that Insecure's second season has wrapped up, ending with the complicated, moving, and excellent Sept. 10 finale, it's even more clear that the Emmy voters missed the mark on this one.
Insecure is part of that growing crop of shows that defy easy characterization. Its lead, Issa Dee (played by Rae herself), is an anti-hero complex enough that you can cheer her and want to shout at her in the same episode. It tackles heavy social issues, such as wage discrimination, but never falls into the trap of turning characters into allegories. And while many have applauded the groundbreaking success of a show with almost all black characters on premium cable TV, what makes Insecure a standout is how well-crafted it is.
That starts with the writing, which gives you the feeling that you're watching a scripted show about real people. Like all of us, they're capable of wanting several conflicting things at once, and not knowing how to respond. You're never quite sure if whip-smart Molly (played wonderfully by Yvonne Orji) can be as confident and determined to be properly valued in her personal life as she is in her professional one. You wonder whether Lawrence (Jay Ellis) will ever get over his neuroses enough to be present in a relationship.
The feat is tricky to pull off. Aziz Ansari's Netflix series, Master of None, which is nominated for best comedy, offers viewers a lot of different pleasures as it follows Dev, its protagonist (played by Ansari). But while Dev's romantic interest, Francesca, often feels conflicted, she still seems conjured up during a binge on Italian movies just to serve as the object of his lovelorn affection. "Master of None Fails to Give Its Female Lead a Personality," ran one critical headline from The Cut.
An HBO show about complex, multi-dimensional women and their friendships of course sounds like it treads the same ground as the network's best-known comedy on the subject, Sex and the City. But while Insecure may occasionally rhyme with it, it never repeats it. Sex and the City often felt completely detached from the real lives of most New Yorkers, let alone people from elsewhere.
The characters on Insecure aren't insulated from reality, and the show doesn't shy away from portraying their experience as black Americans, with storylines such as Molly discovering she's paid far less than a white man. Subtle hints—Lawrence getting nervous when he's pulled over by cops, for example—make statements about black identity or social issues, even when the story is focused elsewhere. One of the many graphic t-shirts Issa casually wears says, "FBI Killed Fred Hampton," referring to the activist and member of the Black Panther Party killed in a police raid in 1969.
One of the best parts of Insecure is the dialogue, which brings its complexity to life. Some of the most memorable scenes, such as the kitchen scene between Issa and Lawrence, her ex, in this season's finale, are just conversations that artfully show the characters grappling to explain themselves and their feelings. The exchanges between Issa and Molly, who are really the show's emotional core, are raw, honest, biting, and often hilarious. They have a rhythm that feels developed over years, thanks to the terrific acting of Rae and Orji.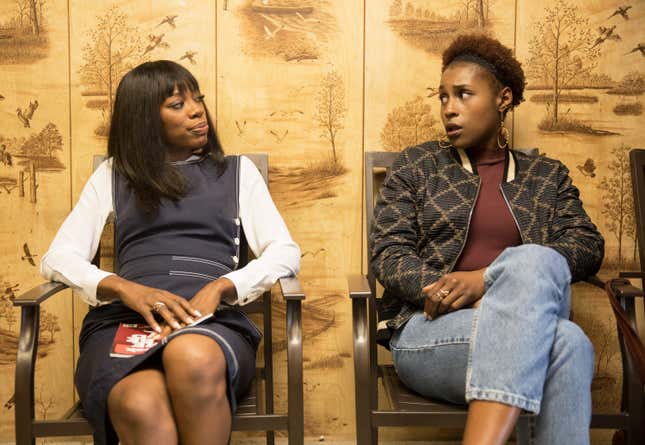 They aren't the only ones getting good lines. Kelli (Natasha Rothwell) delivers jokes far funnier than most of what you'll hear on Modern Family, an Emmy nominee for comedy yet again, even though the show is way past its prime. Insecure may not offer the belly laughs of the scatological language in Veep (which also got an Emmy nod for comedy), but then who can right now?
Visually, Insecure delivers something fresh too. It has a look that is subtly but distinctly its own, from its shooting locations in LA to Rae's unique wardrobe. As Mic revealed when talking to its cinematographer, Ava Berkofsky, even the lighting is unconventional. It was designed specifically to capture and show off black skin.
There were other nominated comedies that deserved the recognition. Silicon Valley finally found its footing this season, after repeating the same plot line a few too many times early on. Black-ish stands out among the family sitcoms on network television right now. But Insecure is better than most of what's on television, on any platform.
For her part, Issa Rae isn't worried. She has said the snub just motivates her to do more. I'll be looking forward to season three.