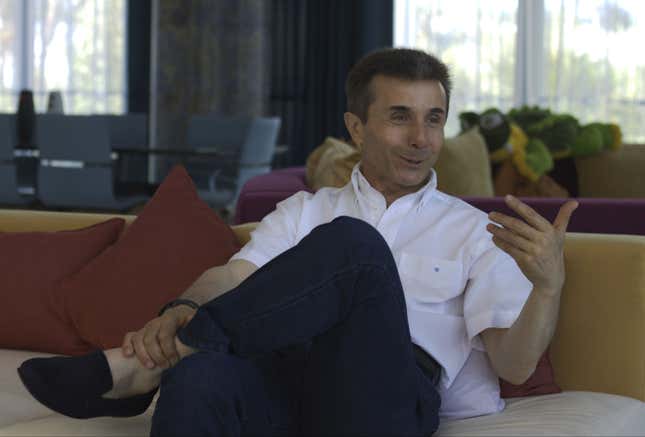 If you want to run a country for life, the former Soviet Union may be your place. Leaving aside the occasional revolution in the streets, only rarely since the 1992 Soviet collapse has any incumbent national leader "lost" an election in the 12 core states. Two incumbent presidents of much-disparaged Ukraine have stepped aside in election defeats, and one did so in Moldova. But it's never happened in Russia (Boris Yeltsin did not lose but resigned), the Caucasus or Central Asia.
Now we have the dismantlement of a political machine in Georgia, where the smooth but tough-guy president, Mikheil Saakashvili, on Oct. 2 conceded defeat in parliamentary elections to a billionaire metals tycoon (more on him below). That's crucial because next year, the country shifts to a parliamentary system in which the prime minister, and not Saakashvili, will dominate the system.
Saakashvili, who graduated with a master's degree from the Columbia University Law School, has routinely charmed visiting dignitaries with his animal magnetism and savvy. Yet he isn't half as interesting as the comparatively unpolished billionaire, Bidzina Ivanishvili, who upstaged him and appears likely to be prime minister.
A Georgian friend calls Ivanishvili "rich and greedy and revengeful." He lives in a 108,000-square foot compound overlooking the capital of Tbilisi. It is a home filled with fake pieces of art masterworks (he has told journalists that he shifted the originals to London in case Saakashvili's government attempted to snatch them). Western visitors often call it the "James Bond House" because of all the modernistic metal and glass. In the countryside, Ivanishvili has another home with a menagerie of penguins, a kangaroo and lemurs.
What will be his ruling style? In a meeting with journalist Julia Ioffe in March, Ivanishvili made himself sound like the usual. To get his way in a tough country,"you have to jail one minister—two, max—to show everyone that there will be no forgiveness," Ivanishvili said. "Show that there's political will up there, and it will all line up quickly. We need two, three years for a European-style system."