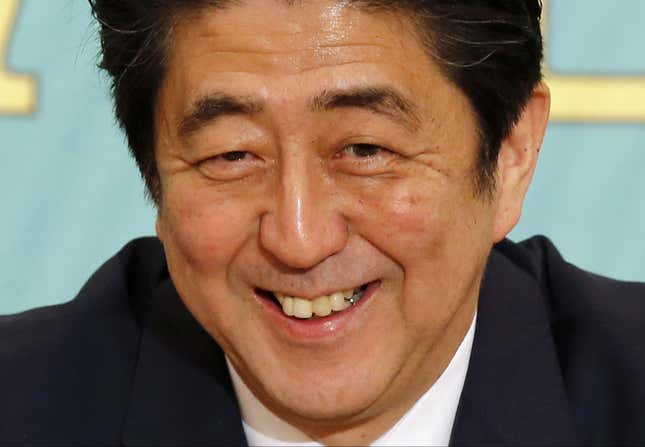 It's been a good week for Japanese prime minister Shinzo Abe.
First his Liberal Democratic Party won big in Japan's elections for its upper house of parliament.
And now there's fresh sign his economic program is bearing fruit.
Simply put, Abe's aggressive plan to jolt Japan's economy forward—known as Abenomics—is aimed at beating back deflation. Since it suffered its own real estate bust and financial crisis in the early 1990s, Japan has been dogged by periodic bouts of declining prices, a major drag on economic growth.
And so, new inflation data showing Japanese prices rising for the first time in over a year is a big deal. "Core" inflation, which excludes perishable food items, rose 0.4% over the prior year in June. And it was the largest one-month gain since 2008.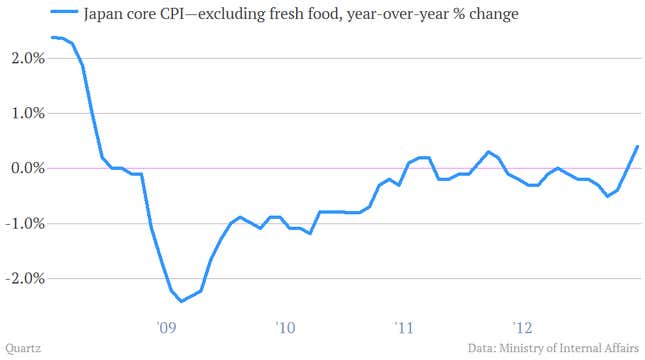 The price rise, though, wasn't driven by a surge of demand from Japanese consumers. Rather, it's largely a function of the higher prices  Japan is paying for its important energy imports. (They've gotten more expensive in yen terms as the Japanese currency has weakened, another important part of Abenomics.)
But as students of Japan—such as one Ben Bernanke—have pointed out, there are important psychological aspects to deflation. Once expectations for falling prices become entrenched, they can be a self-fulfilling prophecy.
(If consumers expect lower prices, they put off purchases. And when consumers do that en masse, it undermines demand, which puts downward pressure on prices, which reinforce expectations that prices will continue falling. Rinse and repeat.)
So even if the recent rise in Japanese prices is driven by the weak yen, rather than surging domestic demand, it's still a really big deal.