Spoiler: The Earth is not flat, as evidenced by centuries of careful scientific scrutiny.
American rapper B.o.B, who was biggest in 2009, isn't sure—and has started a GoFundMe campaign to double-check. It began last week with a $200,000 goal which yesterday was kicked up to $1 million. The artist himself donated the first $1,000. "I would like to send one, if not multiple, satellites as far into orbit as I can to find the curve," B.o.B explains in an accompanying video: "I'm looking for the curve."
B.o.B actually revealed himself to be a member of the Flat Earth community—a small, but deeply fervent, group of people in the (conclusively round) world—last year, when he got into a Twitter spat with astrophysicist Neil deGrasse Tyson.
On September 26th, as attention toward B.o.B's project on the internet mounted, GoFundMe released a statement announcing that the company is placing the campaign's funds on hold" until it can ascertain that "funds are managed appropriately." So far, $2,681 has been raised. The quality of donations has also been high: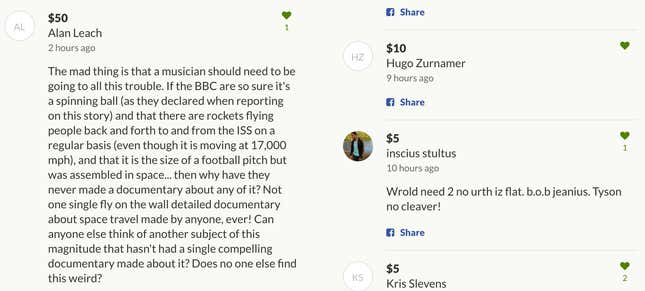 Even "on hold," people can still donate to it—which is a troubling example of the loose accountability around online crowdfunding schemes. Concerns about that have been raised with increasing volume in recent years about other precariously regulated fundraising platforms as well, the most prominent of them being Kickstarter (paywall). B.o.B's project to shoot satellites into orbit around the Earth to "find the curve" is highly unlikely to ever be funded or actualized; the ease with which money can flow into such projects and never be returned is also a bit absurd to consider.
As Gizmodo points out, B.o.B. technically may have already raised enough to prove the Earth is not flat: launching a camera into the stratosphere—where the curvature of the Earth can be seen—can cost as little as $150, though estimates for a small satellite launch are closer to $45,000, per the Wall Street Journal (paywall). All of this is not to mention that there are already about 1,450 operational satellites in orbit, according to a survey earlier this year, many of which have captured images showing distinct curvature of the Earth and are only possible because of the gravitational pull of the (spherical) Earth.
Now, can we pretend that airplanes in the night sky are like shooting stars?