Modern Meadow's leather doesn't grow on a cow.
The company has spent five years and millions of dollars developing a material so new that it's hard to characterize. The common definition of leather in use for thousands of years is that it's made from animal hide. This is an animal-free leather, but it isn't quite a synthetic imitation either.
It's made of actual collagen, the main structural ingredient in natural animal skin, only Modern Meadow's comes from genetically engineered yeast. "Biofabricated leather material" was the term used by Amy Congdon, the company's senior materials designer. "It is animal-free, but it is built from the same building blocks as leather."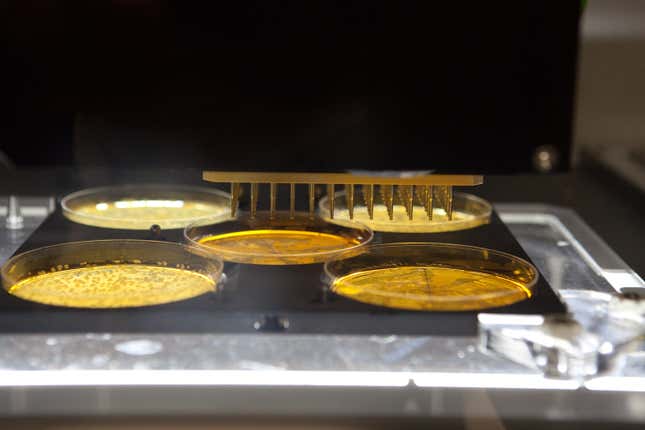 The product starts with natural leather as its inspiration, but aims to be better than the real thing. Modern Meadow's engineers can build in different performance qualities, making it stronger or stretchier than natural leather for instance, as well as blending colors or growing new textures entirely. And it doesn't require animal slaughter, the huge quantities of resources that go into raising cattle, or many of the disturbingly toxic chemicals used to tan conventional leather.
After years of talking about it, the company is finally showing off its animal-free leather. It has an ongoing exhibit in New York's SoHo neighborhood that opened Sept. 27 and runs through Oct. 12 (at 14 Crosby St., by appointment). A t-shirt the company created by mixing its biofabricated leather material with cotton and mesh panels appears in Items: Is Fashion Modern?, a sprawling exhibit at New York's Museum of Modern Art that opens Oct. 1 and runs through Jan. 28.
I stopped into the SoHo exhibit to get a look at Modern Meadow's materials, which are technically under its newly launched materials brand, Zoa. The process to create them, which uses genetically engineered yeast, is similar to how companies are creating synthetic spider silk. As Karen Hao explained in Quartz previously:
Using DNA-sequence editing, ordinary cells are transformed into little factories that churn out collagen, which is the main structural protein found in animal skin. As they churn, the cells are rapidly grown on a diet of nutrients until their collagen forms into a network of fibers. The fibrous sheet is then processed into a "hide" that can be tanned and fashioned into various products.
Only one material I was able to handle deliberately mimicked leather, but it looked and felt just like the top-grain leather commonly used for upholstery. It had a heavy grain embossed on, just as top-grain leather does, and it was sturdy, with a luxurious shine. Nothing about it seemed fake or substandard as I bent and folded it.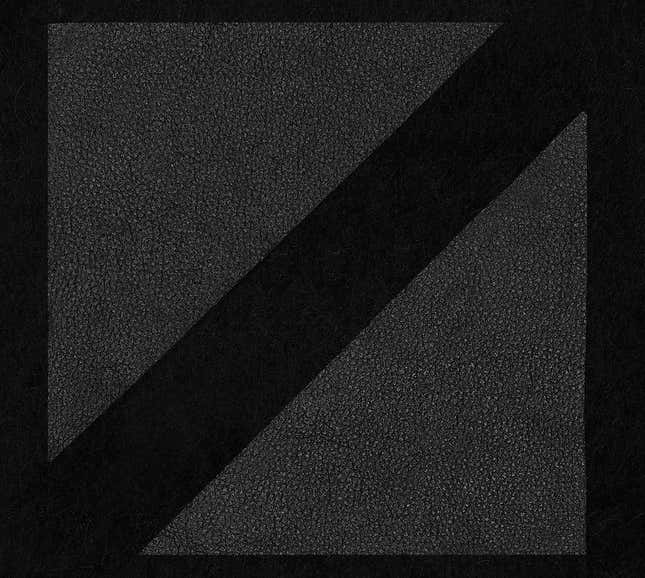 I was slightly disappointed the company didn't show a sample that mimicked calf leather, which is the smooth, soft-yet-durable leather frequently used for shoes, jackets, and other products. The other samples on hand were there to show the range of capabilities Modern Meadow's technology offers. One had a grain, if you could call it that, in a large hexagonal shape that wasn't like any leather you would find in nature. Others blended colors into smokey swirls.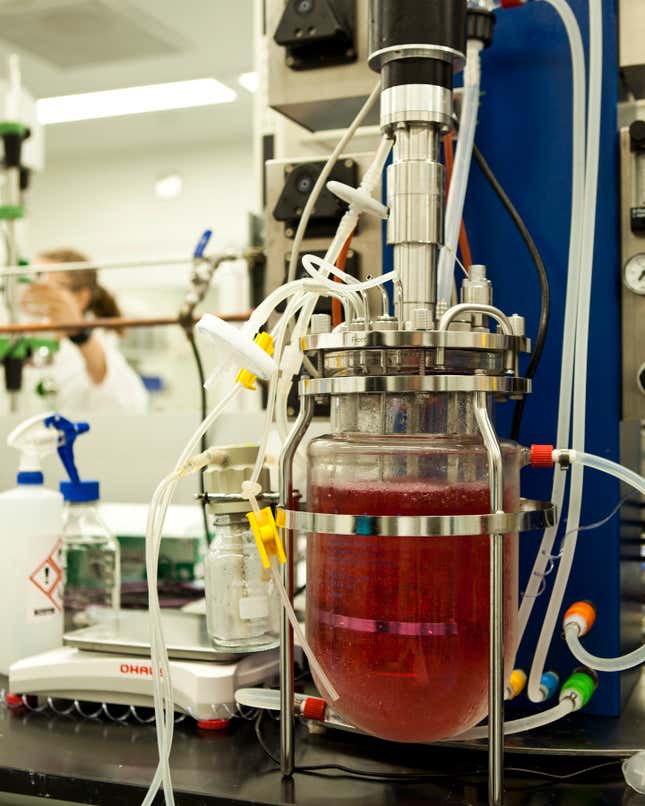 A big test will be how these products wear over time, since that's one of the main attractions of leather. Congdon explains they're still in the research-and-development phase with their products, and they're testing aspects such as how their products age with use. "We have in-house material analytics," she says. "We have a whole lab that we do, tensile [strength] and flex and all of those things." They also test the collagen itself, measuring its purity and other properties.
All the samples were on a textile backing of some sort, such as mesh of the sort used in sports jerseys, or natural materials such as cashmere. It turns out they were all examples of "liquid leather" that could be poured onto a textile or used for whatever purpose you might think up. Modern Meadow wants to show that its technology goes beyond any traditional notion we have of what leather is and how it could be used. The t-shirt on display at MoMA uses the leather to create stitchless seams. It was cut apart, and then the pieces were bonded back together using just the leather-like material.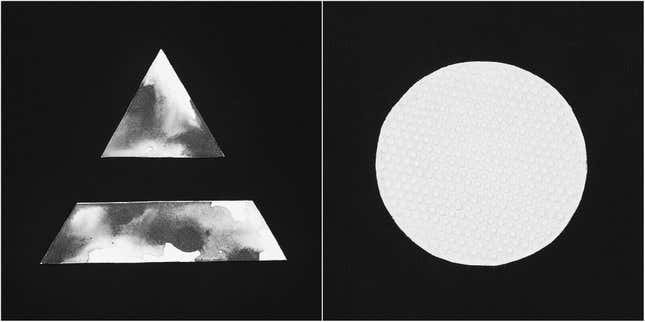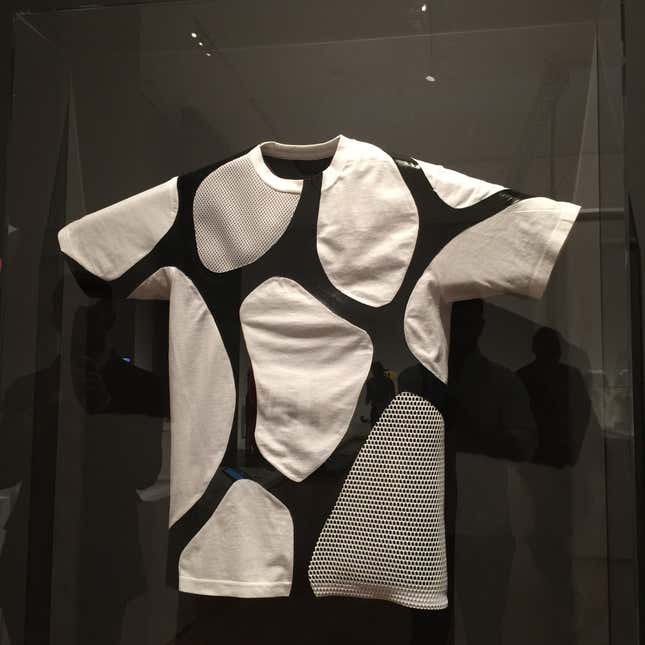 To start, the animal-free leather won't come cheap. "We're certainly not looking to compete with commodity leather. We're not trying to go mass market," says Natalia Krasnodebska, the company's head of communications. "If you look at high-end leather or exotics, that's where we'd like to enter at."
The price should come down as the company scales production up, though. One immediate cost benefit is that the leather can be grown into a specific shape, or used to make a uniform roll that is much less wasteful than cutting out pattern pieces from blemished, irregularly shaped animal hides.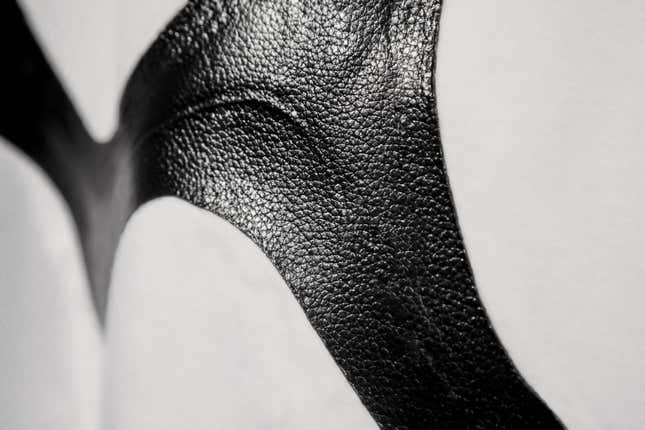 But you won't be able to walk into a store and buy Modern Meadow's biofabricated leathers off the shelf. The company is only offering them to partners that will collaborate to develop materials for specific uses, Krasnodebska says.
She wouldn't reveal which companies are involved, except to say they are in the luxury and performance-sport industries, both big users of innovative textiles and leather. Congdon says the first products using a Zoa material could be in stores some time next year.
An earlier version of this article misstated the amount Modern Meadow spent developing its animal-free leather, based on information the company provided and then later corrected.