China's Communist Party is getting into app development big time, with dozens of apps to educate and promote social networking among party members hitting the country's Apple and Android app stores.

The party has long put special focus on "party construction," a key plank of which involves inspiring fervor in its young members. During Mao Zedong's era, the party used self-criticism (paywall), where members confessed transgressions, and uprooted and sent millions of young people to the countryside to toil and learn to be true revolutionaries. For decades, the Communist Youth League was a vehicle for nurturing the party's youngest and most promising minds, but in recent years it has been sidelined.
China's communist leaders are increasingly treating the internet as a crucial battlefield, particularly this year in the run up to a leadership reshuffle that begins Wednesday (Oct. 18). Promoting the development of party-themed apps that are listed right alongside Angry Birds or Candy Crush is one way to reach—and control—the youngest and most connected of its 90 million party members.
Let the app tell the party who you are
The University of Electronic Science and Technology of China in the southwestern city of Chengdu, which is positioning itself as a tech hub, developed the Smart Red Cloud, an app that aims to use artificial intelligence to educate and evaluate party members, the Chinese newspaper Science and Technology Daily reported (link in Chinese) in June.
The app allows members to receive party-related activity notifications, ideology tutorials, or chat with peers under the same party branch organization, according to Liang Lihua, marketing director of Yunshu Weilai, the startup founded by the university to develop the platform. It collects basic information such as work experience and family background, and also gathers party members' online activities because the internet is "closely connected with life habits," Liang told Quartz.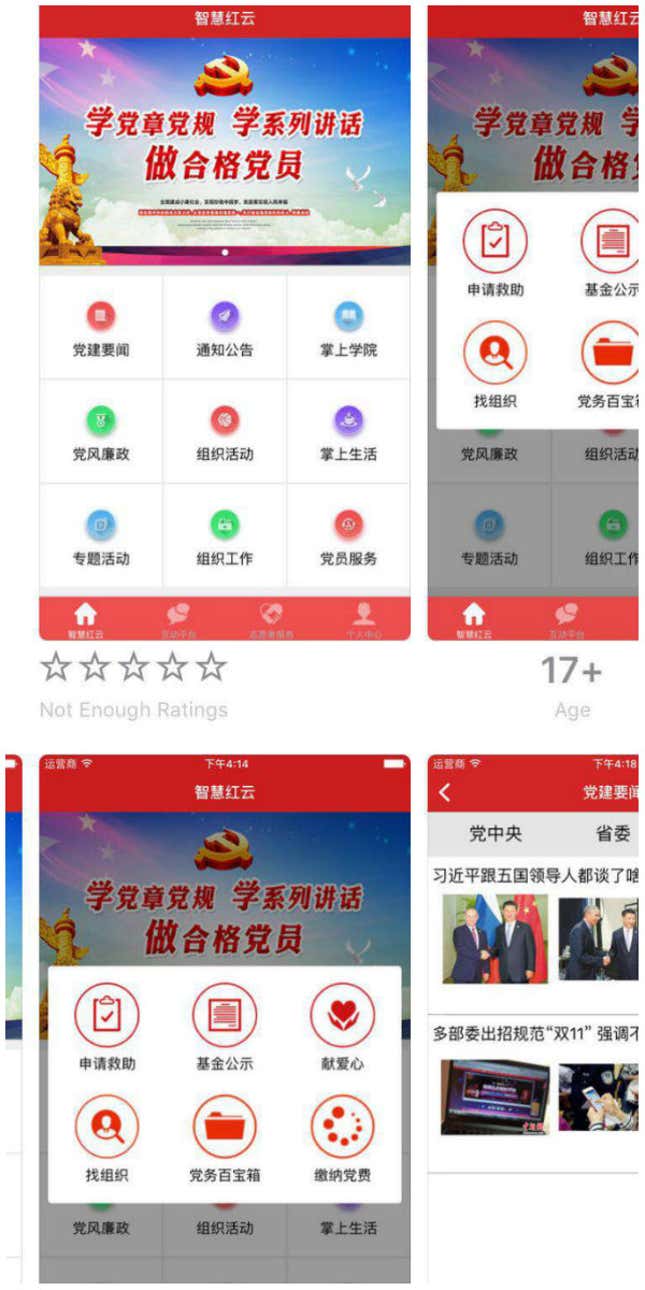 "We gather information from every aspect of one's life," Liang said on the phone. "But it's impossible [for the platform] to gather private personal information since those are protected by laws… the platform abides by the laws and regulations." He didn't clarify whether it was mandatory for a member to report or grant log-in access to their social media accounts when setting up a profile.
Liang said the app will compile information to generate a portrait of a cadre's political orientation—for example, is the person a reformist? Or a conservative? In the past, understanding a cadre's views required more manual efforts, like looking at a cadre's paper resume and conducting live discussions. Already, the Sichuan Administration Institute, a local party-backed school that trains local and regional policymakers, has partnered with Yunshu to use the platform.
The app was first developed in 2012, and as of September had gathered more than 2 million party member users, according to Liang.
Monitor anywhere, anytime
Smart Red Cloud is just one of hundreds of apps that do more or less the same thing. There's even an "app factory" that cranks out apps for any party organization that asks for one.
Zeng Ying, project director at Fujian-based online education company Hua Yu, says his company was among the first to develop apps for party education, in early 2015. Soon several party-affiliated organizations got in touch. Hua Yu then established the "Good China Party Members" project, which specializes in developing party apps on request. The company says it's developed more than a hundred apps for about 300 clients, including local party branches and party organizations in companies. Hua Yu's apps have about 6 million registered party member users, according to the company.
Zeng estimates there are now about 300 to 400 of these apps on the market, including those from Hua Yu. Nearly all of them can be found by entering an app store and searching for dang jian (党建), which means "party construction."
Feature-wise, these apps are largely indistinguishable from one another—they collect user profiles, disseminate party-related information and lessons, and offer some version of a chat tool. But they all serve an important purpose—to keep track of and evaluate the performance of millions of party members in a "visible, traceable and interactive manner," said state-run tabloid Global Times in September.
China Tiesiju Civil Engineering Group, a state-owned company with construction projects around the world, uses a Hua Yu app to hold online meetings with its farflung employees who are party members, explained Zeng. The company also ranks its over 10,000 party members on a monthly and weekly basis on factors like scores on tests of party knowledge, the head of the company's party organization department told Global Times.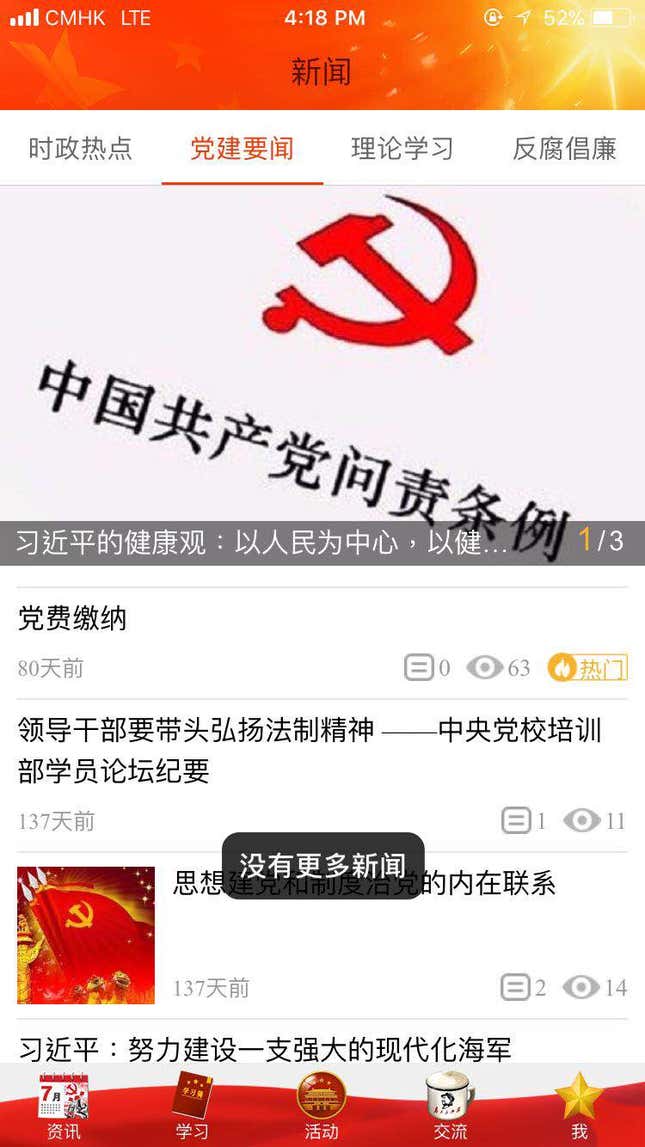 Meanwhile, in Laizhou, in China's northeastern Shandong province, nearly 70% of the county's 60,000 party members are using a Hua Yu app called Dang Yuan Le E Xue, which loosely translates as "party members learning happily online." Zeng said it has been helpful in organizing members from the largely rural area, which sees many people migrate away for work.
Hua Yu is now testing a chat bot to answer users' queries about the party. But as for incorporating AI in their apps to analyze personal information, Zeng said that is right now seen as "too sensitive."
The cost of developing an app can exceed 1 million yuan ($152,000), and Hua Yu charges companies and organizations annual fees for using its apps. Zeng wouldn't say if the app project is profit-making, but expressed optimism about the business. "The party will definitely continue to emphasize party construction on a long-term basis; as long as the big environment stays, there will be business for us."
A political show
To a certain extent, the surging emergence of party apps reflects China's broader ambitions for its technology industry.
In July, the country said that it wanted to become an AI world leader by 2030 and apply the technology "everywhere," including using the technology for "emotional interactions functions," and in military security. Social media giant Tencent and Alibaba, the country's e-commerce titan, are pouring resources into AI development enabled by the huge datasets they have gathered. Tencent's WeChat messaging app, for example, has nearly a billion monthly users.
Perhaps for this reason, party apps have been in high demand as this week's key leadership meeting, the 19th Party Congress approached, as the Global Times tabloid noted. On the surface, they appear to be vehicles through which local party organizations can keep tabs on their members and also promote party ideology. But some are skeptical that the current generation of party apps can effectively use the technologies the party wants to promote.
Andy Chun, an AI expert and computer science professor at the City University of Hong Kong, told Quartz it's hard to tell how sophisticated the AI technology behind Smart Red Cloud is, for example. "It remains vague as to what type of big data it will be collecting," Chun wrote in an email. The app could, for example, apply sentiment analysis to determine political views or inclinations. That would mean using AI algorithms, perhaps in conjunction with speech recognition, to analyze if the cadres' thinking as expressed in meeting discussions is in sync or out of line with party thinking, Chun explained.
"If the cadres are aware of this system, I suspect they will be careful as to what they say during those discussions," he said. Yunshu did not respond to Quartz's request for comment on Chun's remarks.
Critics also argue that these party-construction apps have an element of political performance. Huang Haifeng, associate professor in political science at the University of California at Merced with a focus on authoritarianism, said that local party branches appear to be using the apps to show their bosses that they are actively monitoring party members. As a result, app developers like Hua Yu are getting business opportunities.
But as for really helping the party exert ideological control, or suss out wayward thought, the apps could have the opposite effect by signalling that members are being watched and making them more cautious. "People are not going to reveal what they are thinking," he said.
"In the long term, I am not sure if it is helping the party," said Huang. "It's probably going to backfire."