Facebook and WhatsApp can be a migrant's best tools on a perilous journey from North Africa to Europe. Or they can be a threat to their life.
Smugglers use WhatsApp and Facebook to advertise risky sea crossings to African migrants seeking to reach Europe, posting misleading ads, some filled with photos of yachts gliding on serene waters, according to the UN. But after paying the smugglers exorbitant fees and traveling through several countries to reach the boats, many migrants arrive to be crammed on an unseaworthy dinghy. An estimated 2,400 have drowned attempting that crossing this year—some after being deliberately forced into sea by the smugglers. Others are held captive in detention centers where they are tortured, filmed, and their families extorted for ransom.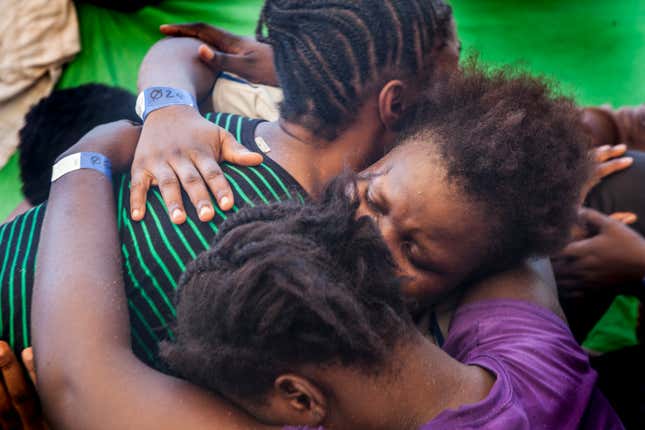 A wide, complex human-trafficking network has emerged from the migrant crisis, and it is being "turbocharged" by the ease with which criminal deals can be made on Facebook's platforms, Leonard Doyle, a spokesperson for the UN's International Organization for Migration (IOM), told a group of journalists on the sidelines at the UN General Assembly in New York this month. (Facebook purchased WhatsApp in 2014.)
"The problem is the tech companies—Facebook—think it's all about us telling them which Facebook pages are supported by criminals," Doyle said. "First of all, that's not our job, and we don't have the resources. It's their platform, not ours."
The UN hears of pages mostly by word of mouth, and says it doesn't have the capacity to attempt a wider campaign to infiltrate and map the network of pages. And after one page is shut down, smugglers can easily reopen another. There's no way to tell the scope of the problem on Facebook and WhatsApp.
"We are like a little pin in the haystack compared to the problem. We think the tech companies need to step up," Doyle said. "They're starting to engage with us, but to be brutally frank, it's way too little and way too late. For example, we pointed out some Facebook pages being run by smugglers four or five months ago. It took several reminders and three months to get it closed down."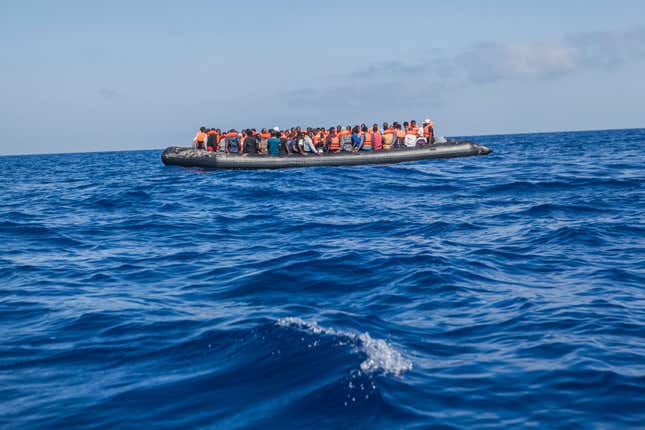 In a conversation with Quartz, a Facebook spokesperson countered that the company usually gets back to people who flag pages within 24 hours. If it stays up, they said, it's probably because it didn't violate Facebook's standard.
"At Facebook, we work hard to keep our community safe and foster a respectful environment while preserving people's ability to use the platform to describe the world around them," Facebook emailed Quartz in a written statement. "We take the issue of human smuggling seriously; offering services to take part in, support or promote people smuggling on Facebook is against our Community Standards."
That has been a thorny issue: About a month ago, Facebook refused to take down a video of Somali and Ethiopian migrants being tortured in Libya. The video was shot and posted by a Somali journalist on June 9, who recorded a video call when the human traffickers who were torturing the African migrants reached out to him, presumably to amplify their ransom demand. In the video, a "visibly starving" boy lay face-down with a large stone on his back, according to the IOM. Luca Lamorte, a UN migration office employee who watched the video, described the boy to Quartz as being probably 11 or 12 years old.
"I was asked for 8,000 US dollars," the boy says, according to a transcript from the UN, when the Somali journalist asked why the traffickers were punishing him. "They broke my teeth. They broke my hand. I have being here 11 months…. This stone has been put on me for the last three days. It's really painful."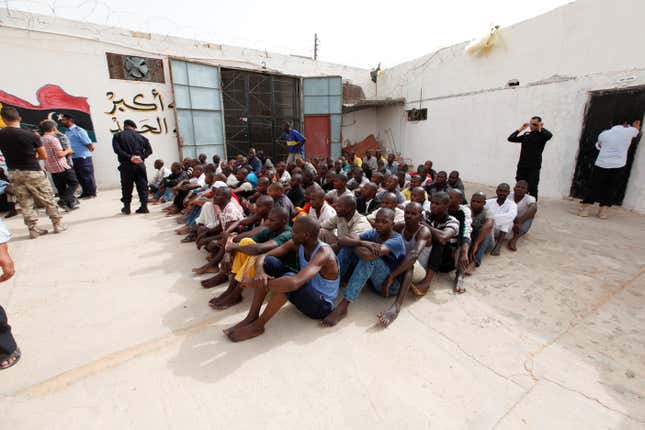 But the UN doesn't think that's good enough. They wanted that video taken down, and more resources spent addressing the issue of smuggling pages in general.
"They're being negligent. They're being delinquent in allowing entire generations to fall into the hands of smugglers, traffickers, sex abusers, murderers, and then in turn really badly affect the politics of so many European countries," Doyle said.
Facebook also confirmed it relies on individuals reporting harmful pages to its moderators, and that they don't have another system in place at the moment. While the company agreed that the model wasn't sufficient to address the problem, it said that the technology to automatically flag human-smuggling content does not yet exist. As of now, Facebook has tools that reliably block videos of beheadings and pornographic videos from ever going online, but content like ransom videos are more nuanced and harder to detect automatically.
But, Doyle says, if it can't yet figure out how to block the pages, Facebook should at least be running ads warning potential victims that they may be about to get scammed. "They're not going to shutdown Whatsapp, obviously, but maybe we can message to people and say, 'Don't believe everything you hear.'"
"It's the unhappy side of the social media story, insofar as people can reach people much easier, they can lie to them, there's no one contradicting them," Doyle said. "And by the time people do find out about it it's too late. There are literally pages which are saying; 'The boat's leaving, 5 o'clock, this date, be here, give us your money…. There is no messaging to people except the lies of the smugglers."
Doyle says the UN migration office is staging "awareness-raising campaigns" to try to tell vulnerable communities about the danger of trusting smugglers. "But the impact is nothing unless we have the real support of the tech companies. It costs them nothing—they [can] give you credits so you can do free advertising on their platforms. That's all we're asking for. It would make a massive difference, we think."
"They're obviously very interested in the market share of these countries, and that's great, but with that goes responsibility," Doyle said. "Not just to suck the advertising dollars out of that country. You've got to also give back."