The catastrophic devastation that Hurricane Maria brought to Puerto Rico has been made worse by the island's struggling economy and the US government's poor efforts to help aid its recovery. When the hurricane made landfall on Puerto Rico over a week ago—as the worst storm to hit the island in almost 90 years—it left it completely without power. It could take months to restore access to electricity, while a public health crisis is in danger of emerging as huge swathes of the population don't have access to safe drinking water.
In comparison to relief efforts in Texas and Florida after hurricanes Harvey and Irma, Puerto Rico's plight is shocking. The Trump administration says part of the problem is access to the island but Trump's slowness to acknowledge the disaster, focusing instead on picking a fight with NFL players, and a new tax plan, seemed to indicate that Puerto Rico hurricane relief wasn't the administration's top priority. And that's possibly a view shared by others on the mainland: A recent poll found that nearly half of Americans didn't even know that people born in Puerto Rico are US citizens.
It is true that the economic situation of Puerto Rico would be entirely unrecognizable to people living elsewhere in the US. While all are American citizens, they do not have a shared experience of being American.
The economy
Puerto Rico's economy has been almost continuously in a recession for more than a decade (only in 2012 was GDP flat instead of negative). By the end of this year, the economy is expected to have shrunk back to the size it was in 2000, while the US economy will be 35% larger. Puerto Rico's economy has failed to become self-sufficient and suffered from US policies, in particular the removal of Section 936 of the IRS code that gave tax incentives to US companies operating in Puerto Rico. This was enacted in 2006, the same year the latest recession began.  
Population loss
Worsening Puerto Rico's ability to grow its economy is its drastic decline in population. In 2016, the population was estimated to be just 3.4 million, down more than 10% since a peak of 3.8 million in 2004. By 2025, it is projected to fall below 3 million. The Puerto Rican statistics office said that in 2015, all indicators of migration hit new records, as net emigration to the US reached 64,000 (pdf link in Spanish).
Cost of living
Despite the typical household income in Puerto Rico being less than half of what it is in the poorest US state, the cost of living is exceptionally high, and more than 40% of people live below the US poverty line. A report last year found that the cost of living in Puerto Rico's capital San Juan was 11.6% higher than the average US metropolitan area (pdf link in Spanish), with supermarket prices more than 25% higher. Prices are so high because of a draconian law, the 1920 Jones Act, which stipulates that goods shipped between US ports must be moved on US ships staffed by US citizens. Puerto Rico must therefore get even the most basic supplies by moving goods on expensive ships. The Jones Act was waived temporarily by Trump to help with Hurricane Maria relief efforts.  
Unemployment
In August, Puerto Rico's unemployment rate was 10%, compared to 4.4% in the US, which is near the lowest it's been in 16 years. Worse still, the number of adults participating in the labor market is steeply declining. The labor force plummeted by 20% between 2006 and 2015. The labor force participation rate now stands at about 40%. About a quarter of the workforce are employed by the Puerto Rican government. For comparison, in the US the labor force participation rate is just under 63%.
Debt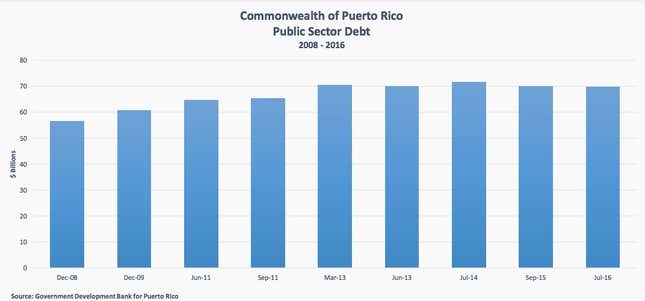 One of Puerto Rico's biggest problems is its debt. With about $74 billion in bond debt and another $49 billion in unfunded pension obligations, the island filed for a form of bankruptcy in May of this year, the largest restructuring in history for a US state or territory. A special tax status helped Puerto Rico pile up debt to cover budget deficits throughout its recession, with help from Wall Street, where banks have reaped nearly a $1 billion helping to manage the island's bond sales. In Sept. 26, Trump sent a series of tweets saying that Texas and Florida were doing great, but Puerto Rico was in "deep trouble," highlighting the island's debt troubles. Trump said "much of the Island was destroyed, with billions of dollars…owed to Wall Street and the banks which, sadly, must be dealt with."